We use affiliate links. If you buy something through the links on this page, we may earn a commission at no cost to you. Learn more.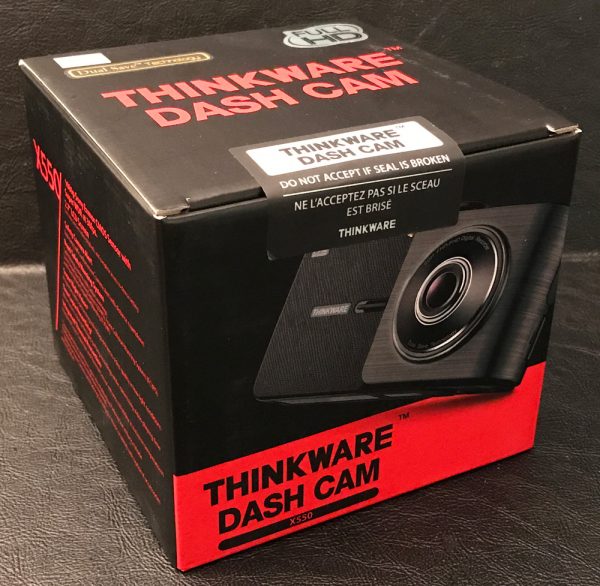 Last year I reviewed Thinkware's F50, a minimalistic, plug & play dashcam that does a great job capturing video while motoring down the road…quick to setup and easy/simple to use. For this review, Thinkware sent me their new upper end X550, a more feature-rich, GPS-enabled dashcam with 2.7″ LCD screen and driver assist that fills the gap between the F50 and their flagship, the F800. The X550 definitely has more bells & whistles than the F50 that should only add to the dashcam experience. But we shall see… 
Note: Photos may be tapped or clicked for a larger image.

The Thinkware X550 is an upgraded version of their X500 dashcam. Its overall design is similar to a high quality digital point & shoot from back in the day. The X550's metal and dark plastic construction give it a premium look and feel. The X550 is a relatively feature rich device even in the crowded dashcam world, including built-in GPS, SONY CMOS image sensor, (optional) dual-channel recording, driver assist notifications, backup/dual-save, etc.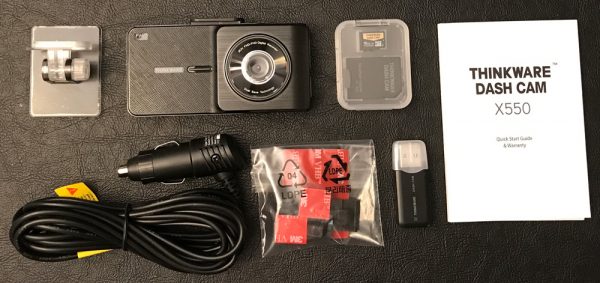 Package Contents:
X550 Dashcam
Mount with 3M tape (1ea)
Car Charger
Adhesive Cable Holder (5ea)
microSD memory card with adapter (consumable)
USB Micro SD card reader
Quick Start Guide / Warranty / User Manual (stored in the Micro SD card)
Specifications:
| | |
| --- | --- |
| Dimension: | 104.3 x 51.4 x 29.3 mm / 4.1 x 2.02 x 1.15 inches |
| Weight: | 111 g / 0.24 lbs (Excluding microSD) |
| Camera: | 2.4M Pixels, 1/2.9″ (SONY CMOS Image sensor) |
| Display Panel: | 2.7″ Clear Display (320×240) |
| Viewing Angle: | Approximately 140° (diagonally) |
| Video: | ALL Full HD (1920X1080) for front & rear view camera when connected |
| Capacity: | Micro SD Card 16GB / 32GB / 64GB UHS-I |
| Recording Modes: | Super Night Vision / Time Lapse / Continuous Recording Mode, Incident Recording Mode, Manual Recording Mode, Parking Surveillance Recording Mode, Audio Recording |
| Acceleration Sensor: | 3-Axis Acceleration G-Sensor (3D, ±4G) |
| GPS: | Built-in GPS (Glonass supported) |
| Power: | Input Voltage: DC 12/24V (Max 35V), Power Cable Port x 1 (3.5pi) / Power Consumption: 5.3W (mean) – 2ch,30fps , 3.5W (mean) – 1ch,30fps / Super Capacitor |
Hardware: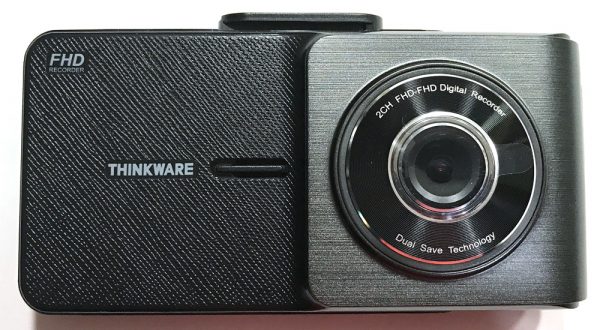 Like I said, the X550 is pretty and looks just like a digital camera from a decade ago. Its dark textured plastic and brushed metal housing give it a polished, stealthy look. The X550 records in standard/full HD (1920X1080 @30fps) and is dual channel capable, enabling you to record front and back views with Thinkware's optional rear facing camera. The X550 uses the A7 processor instead of the latest and greatest A12 that is in their new flagship the F800 but that does not seem to be an issue with overall performance.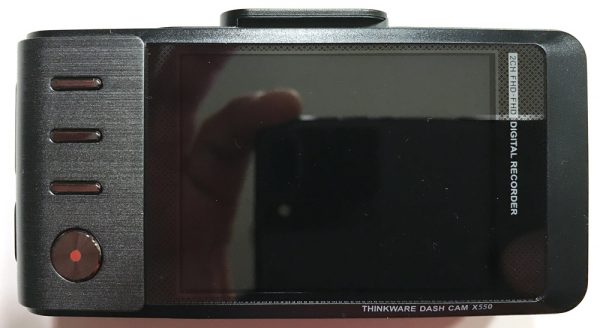 The back of the X550 sports a 320 x 240 resolution 2.7″ color LCD display that can be easily seen in daylight. Left of the display are four buttons for managing the user interface and manual recording option. The display enables you to tweak the X550's settings whenever you like without the need for your smartphone. The screen also allows you to view video footage without taking the microSD card out or need for a computer. All of Thinkware's X-series dashcams have this form factor featuring a display.

The top of the X550 has the mounting hard point, propitiatory power port, micro USB for Video-IN (rearview camera), and micro HDMI port. I find it interesting Thinkware uses a micro USB port for connecting the rear camera but not to power the device (which is pretty standard these days).

The base of the dashcam has the reset button, microphone, and serial number/production date sticker.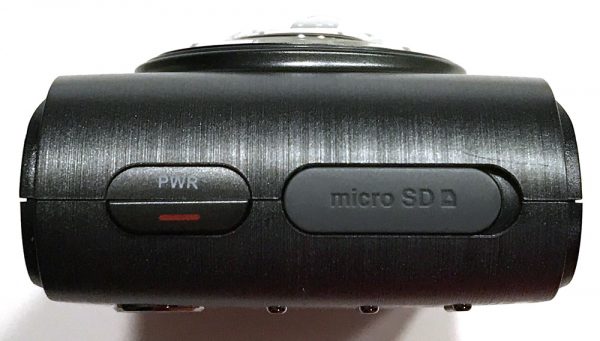 The right side has the microSD memory card slot and power button. The X550 supports up to a 64gb microSD card. Which seems a bit small by today's standards especially considering the dashcam's dual-channel recording ability. Thinkware also considers the microSD card to be a "consumable", stating "it will need to be replaced periodically". They also suggest reformatting the card every 2 weeks to reduce recording issues and to get greater life out of it. The X550 actually reminds you to reformat the card and continues to nag until you do. That said, reformatting is an easy one button click process that doesn't take long at all.
Noteworthy Features:
GPS sensor with GLONASS – the X550 has built-in GPS, and is able to track both US and Russian positioning networks, for faster lock-ons and greater accuracy. I found the X550 ability to get a solid GPS lock one of the fastest I have ever tested.
Driver assistance – Includes lane departure, forward collision avoidance, and forward vehicle departure warning.
Speed camera alerts – the X550 has an internal database that warns you when you're coming up to an intersection or location with a known speed camera standing watch.
Dual Save Mode – The dual save technology enables the dashcam to save the video to the camera's internal flash memory when an incident is detected (via the G-sensor). Giving you an internal backup copy in case the SD card is lost or damaged.
Optional second camera – Thinkware also offers a rear camera that captures HD video @30fps.
Optional Parking Mode with permanent installation – Thinkware has an optional wiring kit that allows you to hardwire their dashcams directly into your cars electrical system. This enables you to use the X550's Parking Mode with time-lapse recording to capture video when you leave your car or regular video if it detects an impact.
Installation: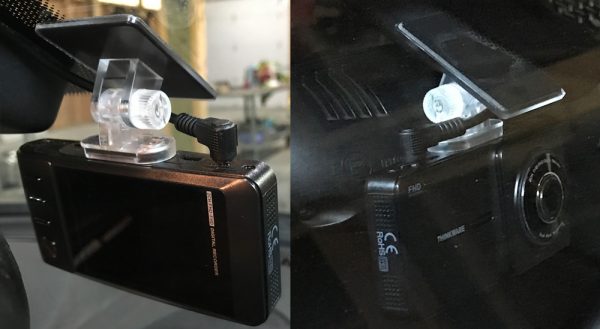 While not the smallest dashcam I have ever used, the X550 mounts nicely behind my rearview mirror with the power cable tucking away so you can barely tell the system is there, especially when sitting in the driver's seat. The mount itself adheres to the windshield via 3M double sided adhesive pad. The X550 slides onto the mount from the left and clicks into place. The mount does a good job of reducing vibration but my little roadster is pretty unforgiving when it comes to bumps and rough roads. It would be nice if Thinkware integrated active image stabilization into their higher end devices.
Daytime Video:
The X550's daytime video is good with average resolution and better than usable image quality. Even though the X550 sports a 2.4MP SONY CMOS image sensor some details are lost at HD (1920X1080) quality video. I firmly believe Thinkware needs to up its game in this department, bumping its higher end dashcams up to 4MP – 2K (2560 x 1440 @30 fps) HDR video. The lens has 140 degrees of viewing angle with little fish-eye effect.
Nighttime Video:
Thinkware's Super Night Vision and 2.4MP SONY CMOS image sensor are very good at capturing light, producing excellent nighttime video when it is dark.
Thinkware Viewer: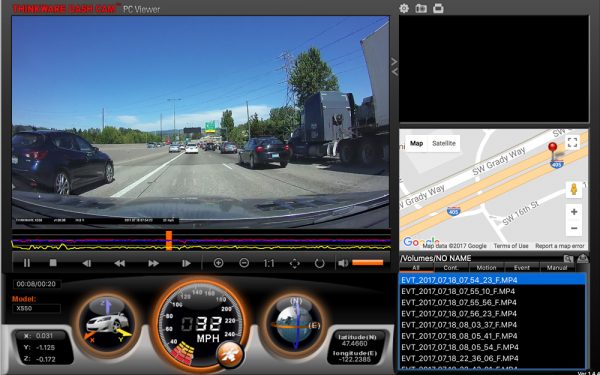 I found the Thinkware PC viewer one of the best perks of using their dashcams. It is an excellent integrated tool for viewing not only your driving video but speed, lat/long, Google map location, and three-dimensional G-forces the car is experiencing at any particular moment. These G-forces are illustrated in the bar graph under the video and the dial with a car in it with X- Y- and Z- axis in the lower left corner of the window. The X550 records in 1:00 minute chunks that are approximately 85mb in size. The only issue I had with the viewer was the Google mapping integration was a bit hit or miss.
Screen Capture: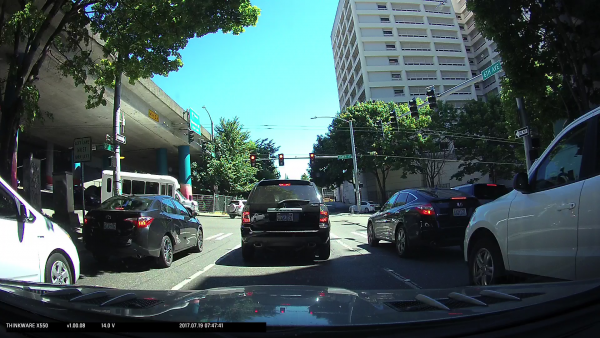 Even under perfect conditions (sunny, no glare, little to no movement, vehicle distance), you can barely make out the license plates of the vehicles directly in front of me (picture captured from the viewer).
Overall the X550 dashcam's HD video quality is good but far from the best I have seen. I hate to say it, but there are definitely a few specs and features Thinkware needs to raise the bar on for their upper end devices. The lack of SuperHD or 2K video capture is the X550's biggest limitation followed closely by image stabilization.Itss overall feature-set is very good especially if you're in the market for a dual-channel/camera set-up. Bottom line is that the Thinkware X550 is a solid middle tier dashcam with excellent higher end features, viewer, and overall product support.
Source: The sample for this review was provided by Thinkware. Please visit their site for more info and Amazon to order.
Product Information
Price:
$249.99
Manufacturer:
Thinkware
Retailer:
Amazon.com
Pros:

Great build quality
Good video quality (especially Night Vision)
Dual channel/camera capable
Quick GPS lock
Excellent PC viewer
Easy to install/use
LCD screen viewable in daylight

Cons:

Needs 2K resolution
Some of the driver assist features need work