We use affiliate links. If you buy something through the links on this page, we may earn a commission at no cost to you. Learn more.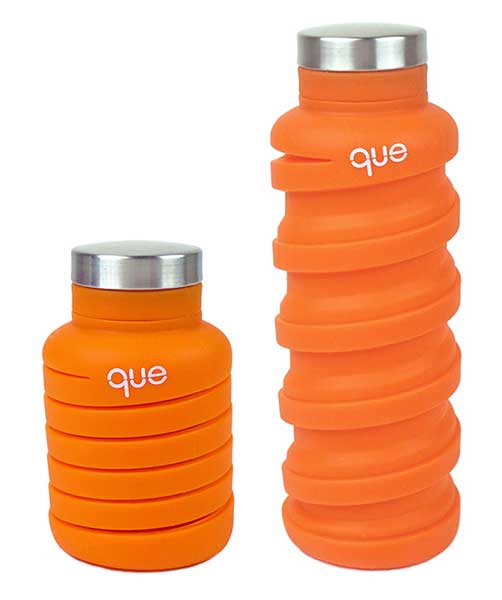 I joined a gym last week. Although I regularly work out at home on my own equipment (an inexpensive Total Gym and a treadmill), this is the first time I've gone to an actual gym to work out. So now I'm on the lookout for cool sports gear to talk about and review. In my web searches, I found the Que collapsible water bottle.
Que bottles have a leak-proof stainless steel screw on cap, are made of food-grade silicone and feature an unusual spiral design that allows the bottle to extend to 8.4 inches tall with a 20-ounce capacity when you are ready to fill it and then shrink back down 4.8 inches tall when the bottle is empty. The idea is that the collapsed bottle will take up less space in your gym bag.
The only thing that concerns me about this type of bottle is cleaning it due to the internal ridges. The bottles are dishwasher safe, but I personally would not use them for anything other than plain old water.
Que bottles are available in several colors and are priced at $24.95. You can read more about them at quebottle.com and order one from Amazon. SkyyHi is another company that sells similar bottles, but their bottles have a cap with a handle and they cost about $5 less than Que.