We use affiliate links. If you buy something through the links on this page, we may earn a commission at no cost to you. Learn more.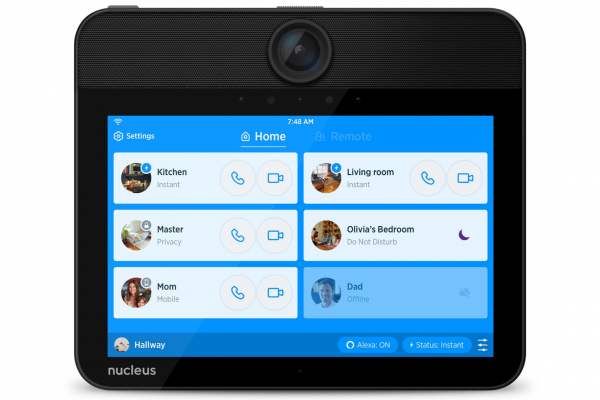 I never get tired of trying out new smart-home devices. Whether they are security cameras, home automation devices, or smart assistants, I absolutely love playing with these new gadgets.
Imagine the joy I experienced when I heard about Nucleus, a tablet sized Wi-Fi intercom that can function as all of the above.
In the box
Nucleus
Wall mount
Power adapter
Power cord
Desktop stand
Adhesive cord clips
Anchors and screws
Level
Cable fasteners
Specifications
Dimensions – 8.08" x 6.85" x 0.95"
Screen size – 8 inches diagonally
Resolution – 1280 x 800
Wi-Fi – 802.11 b/g/n
Bluetooth Low Energy
Power – DC adapter or Power over Ethernet
Sensors – Temperature and Humidity
Stereo Speakers
Camera – 5 MP, 120 degree wide angle with night vision
Design
Nucleus looks somewhat like a square tablet with an over-sized camera at the top.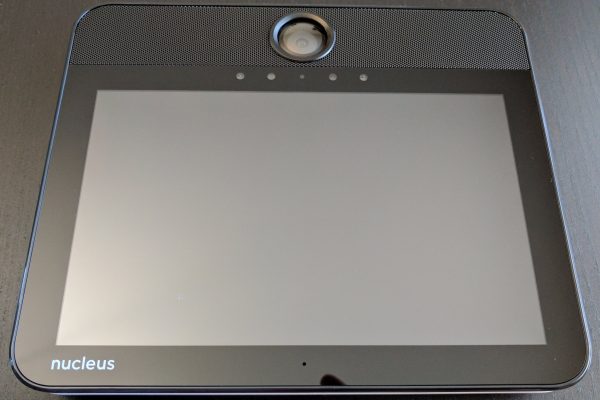 The front of the device has a 5 megapixel HD camera, a notification LED, stereo speakers, and a microphone.
The back of Nucleus is where you insert the desk or wall mount, and where the power port, mirco-USB port, and Ethernet port are located.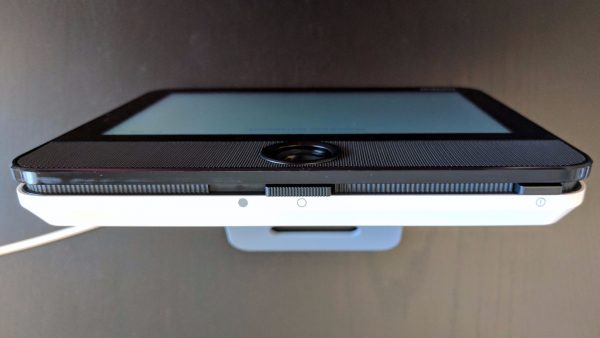 The top of the device contains the power button and a manual camera shutter for privacy.
There really isn't much more to the design of Nucleus. It's an uncomplicated design that should allow for ease of use.
Setup
Setting up Nucleus is very simple.
First, you have to choose whether to mount the device to a wall or place it on a desk/table.
If you're going to mount it to a wall, it's suggested you find a stud to mount it to. Wall mount installation is made simple by an included level and wall anchors.
Once you've mounted or placed Nucleus, you power it up and go through the setup wizard. You select your Wi-Fi network, create an account with Nucleus, and sign into your Amazon account.
After creating or signing into all relevant accounts, Nucleus will then ask you to name and take a picture of the room you're placing the device in.
During the setup process, Nucleus will also check for updates and install any that are located.
After setting up the physical Nucleus device(s), you can also download the Nucleus app for Android or iOS.
The process for mobile setup is roughly the same as a standard setup.
You first enter a home code provided by the physical Nucleus device(s). You then select which permissions to grant the app. Finally, you take a photo to identify yourself to callers.
The Nucleus can also connect to Nucleus devices in other homes; unfortunately, I don't know anyone else with a Nucleus so I was unable to test this feature.
As long as you know your Wi-Fi and Amazon account passwords, setup is very easy.
Home screen
Pictured below is the Nucleus home screen. This is where you will primarily interact with Nucleus.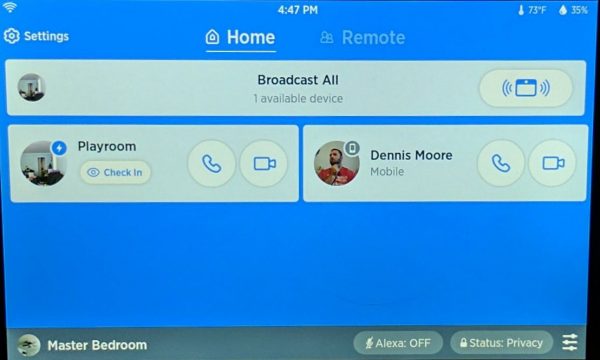 From the home screen, you can access all your contacts, the settings menu, disable/enable Alexa, change your privacy settings, and broadcast.
You can choose from three different privacy settings:
Instant – all calls from a "Home" contact are automatically answered
Privacy – you can choose to accept or deny all calls
Do Not Disturb – no calls will come in
There are also several different settings to adjust.
Most of the settings are exactly what you'd expect; however, I was surprised to see there was a setting for the "Ring Video Doorbell".  The website doesn't make any obvious mention of this feature and you're not given the option to sign in during the setup wizard.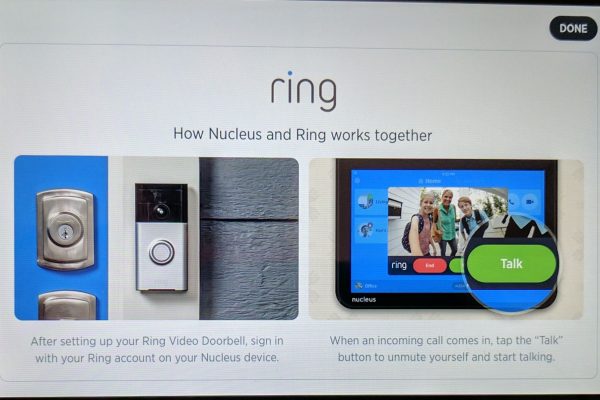 I own a Ring doorbell; this is a terrific feature that shouldn't be buried in the settings.
Call Quality
Nucleus is capable of making several different types of calls:
Audio calls
Video calls
Check ins
Broadcasts
Audio and Video calls need no description.
To make an audio call press the phone button; to make a video call press the video camera button.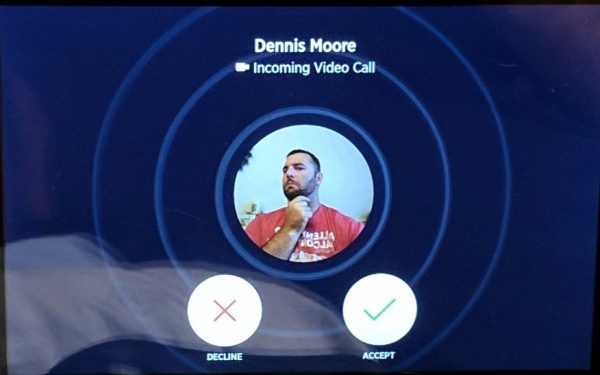 Depending on privacy settings, the location you are calling will have the option to decline or accept the call.
If the call is accepted, you will see live video from the Nucleus you called.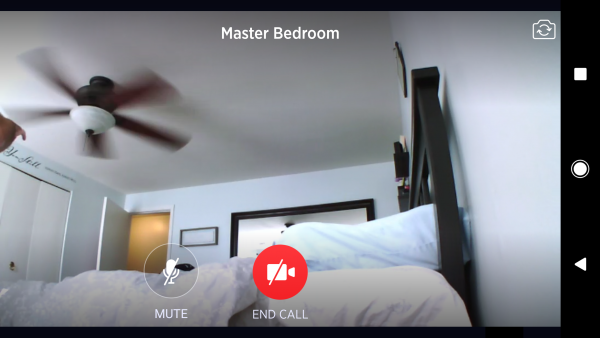 While in the call screen, you have the option to mute or end the call.
An audio call is roughly the same, with the obvious exception of live video footage.
A check in is basically baby monitor mode.
It allows you to see a live view from the Nucleus you're connecting to; however, that Nucleus doesn't receive any audio or video footage from you.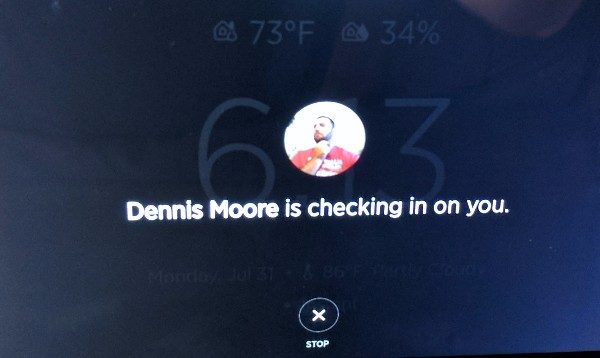 The Nucleus you're checking in on notifies anyone in the room they are being watched and allows them to end the connection.
Broadcast mode is like a reverse check in mode. It allows you to send live video and audio footage to all of your available Nucleus devices, but you don't receive any footage in return.
Making and receiving phone calls was extremely easy. It was something my kids picked up on immediately.
Video and audio quality were acceptable – not great, but good enough for video chat.
Alexa Integration
Perhaps one of Nucleus's most intriguing features is its Alexa integration.
Like Amazon's series of Echos, the Nucleus can be set to "always listen" and respond to the "Alexa" hotword. As far as I can tell, there are no limitations on the available Alexa functions.
While testing the Alexa integration, I did discover two issues.
First, the hotword recognition was too sensitive. Several times Alexa was activated even though no one actually said "Alexa".
Second, when you do intend to use Alexa, the voice recognition doesn't appear to be as good as an Echo's voice recognition.
I can't say for certain, but I'm guessing this is an issue with the Nucleus's microphone; I assume the actual voice recognition is done via Amazon. If the microphone isn't picking up high-quality audio, it may impair Amazon's ability to recognize your voice.
Ring Integration
Another great feature is Ring's integration with Nucleus.
Anytime someone rings your doorbell you get an alert on the Nucleus.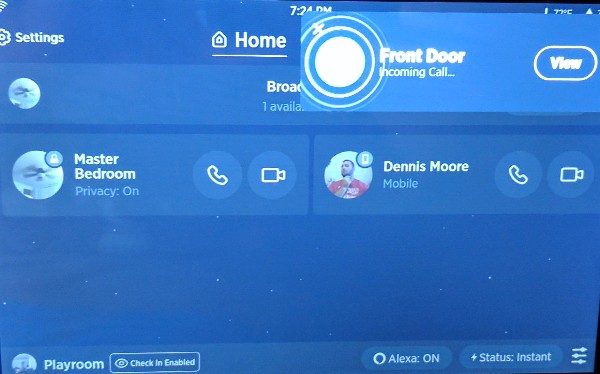 If you choose to answer the call, you get a pop-up window similar to what you see on the Ring phone app.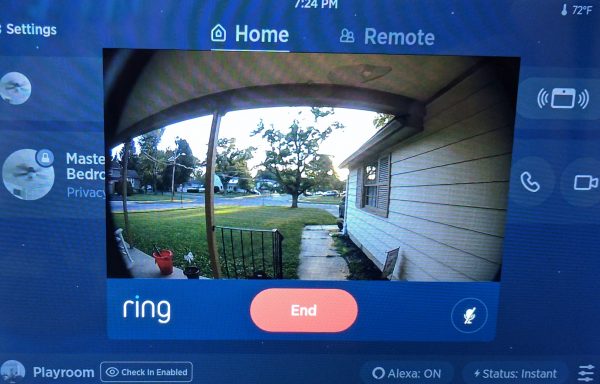 This is a really great feature and I'm not sure why Nucleus doesn't bring it to the forefront.
Conclusion
I'm really thrilled I got to review Nucleus; it was incredibly easy to set up and use.
It's a great Wi-FI intercom system with a variety of calling options.
Integration with Alexa is almost flawless. The hotword detection and voice recognition could use some work, but overall it works great.
Even though its integration with Ring isn't as well advertised as its Alexa integration, it's a wonderful feature.
As I said in the intro, Nucleus is several different smart devices wrapped in one; the best part, you can get all of this for only $99. That is almost half the price of an Echo and $130 less than the new Echo Show.
If you're looking for a great Swiss Army gadget for your home, you won't go wrong with Nucleus.
Source: The sample for this review was provided by Nucleus. Please visit their site for more information and check them on Amazon to order.