We use affiliate links. If you buy something through the links on this page, we may earn a commission at no cost to you. Learn more.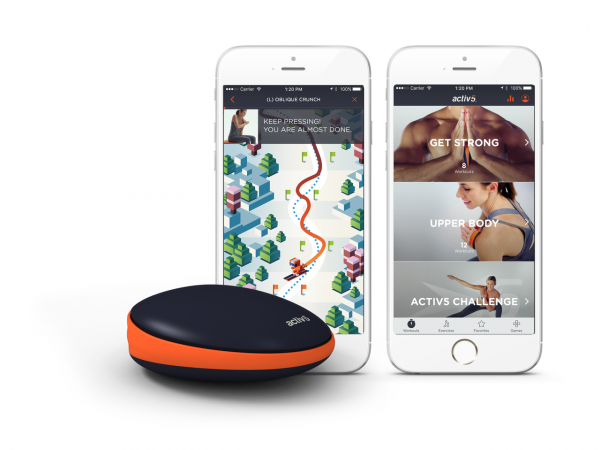 The Activ5 handheld system, by Activbody, is a portable isometric workout program that can be used for 5 minute (or longer if you choose) workouts at home, at the office, or while traveling. I'm a fitness junkie,  so I was more than excited to give this a try!  Let's take a look…
What's in the box (See pic below)
1 Activ5 handheld device
1 Stand for your smartphone during workouts
1 Towel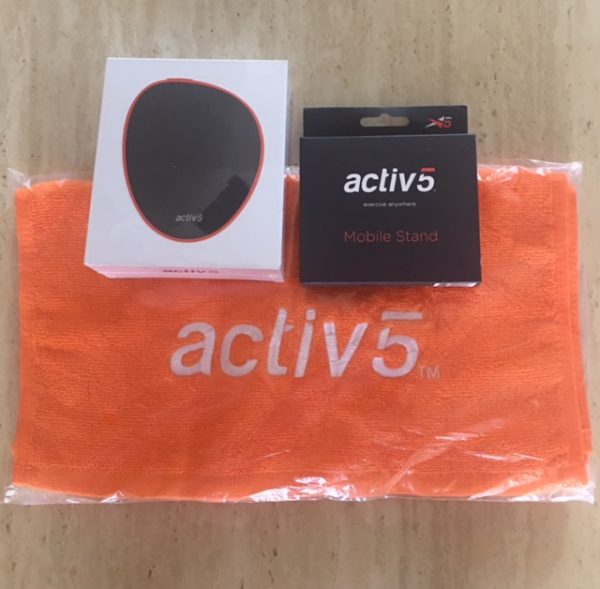 Setting it up
The first thing that is required is to go to the app store (Apple or Android) and get the free Activ5 mobile coaching app.  After you follow the directions to register, you will be instructed to power on the device. There is only one button and it is located on the side of the unit next to a little indicator light.  You need to hold down that button for 2 seconds and the indicator will turn blue, which means it's looking for a Bluetooth connection. After it's connected, the light turns green and when not connected, the light will be red.  Very straightforward and easy to set up.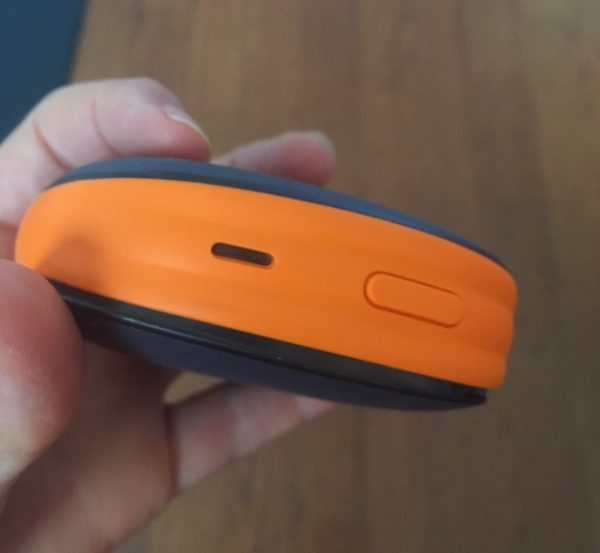 Now comes the fun part!  The screen appears below that runs you through a quick tutorial on where to place your hands on the unit to get the maximum benefit and most precise readings on the display.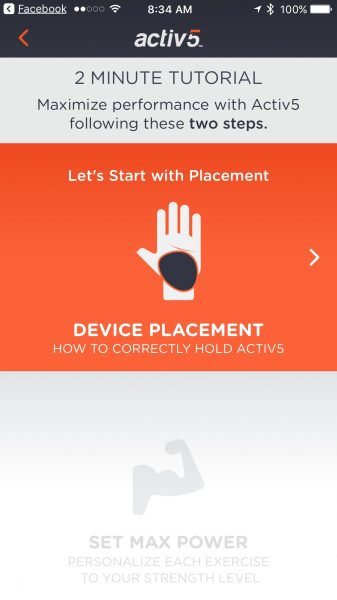 Now you get to set the max power for each exercise as they come up so you have a starting point and you can track your strength as time goes on. As you can see for the shoulder press, I set my new personal record at 22 lbs. of pressure.  After you set the max power, you go on to the actual exercise.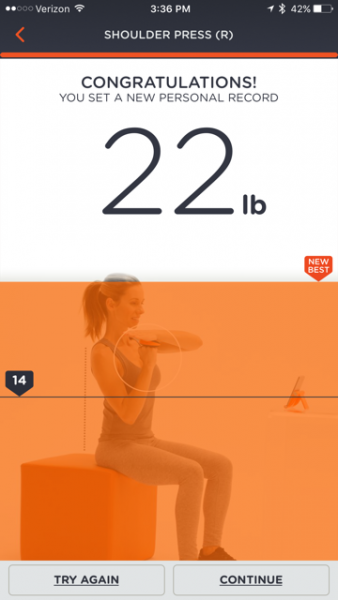 How it Works
There are many different kinds of exercises and workouts. There is the Activ5 challenge, which is a 6-week workout that you do three times a day for 15 minutes.  Circumstances didn't allow me to do that for this review, but I will be doing that next and I'll post an update on my results.  Other types of workouts to choose from are: Upper Body, Lower Body, Get Strong, Get Toned, Yoga Pilates, Awesome Abs, Butt Burner, Lean Legs, Office, Watching TV, Car/Plane/Train, Hotel, and Surprise me! Below are examples of some exercises that you can do (Click on the pics to enlarge).
You can also choose between over 100 sitting, standing and advanced exercises that target the shoulders, chest, biceps, triceps, forearms, core, obliques, back, glutes, hip flexors, quads, abductor and adductors, hamstrings, or calves and shins.  Each exercise has very detailed instructions on how to do them and give you a diagram on what specific muscles are being targeted.  So, depending on your mood or what you want to accomplish, you just pick a workout, follow the instructions and away you go!
When you are actually doing the exercises, the screen looks like the ones below depending on which you choose.  When you squeeze and put pressure on the device from whatever position you are in, you try and keep your indicator stream (the squiggly orange line) as close to the dotted line as you can.  You will be required to push harder at certain times and the goal is to keep as steady as you can on the line.  In general,  I think isometrics are challenging and keeping a position for any length of time requires some mental discipline.  With the Activ5, you don't think about how long you are holding a pose because you are concentrating on staying on that line!  It's pretty amazing.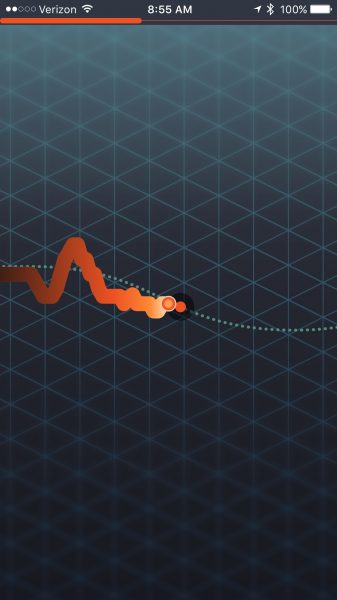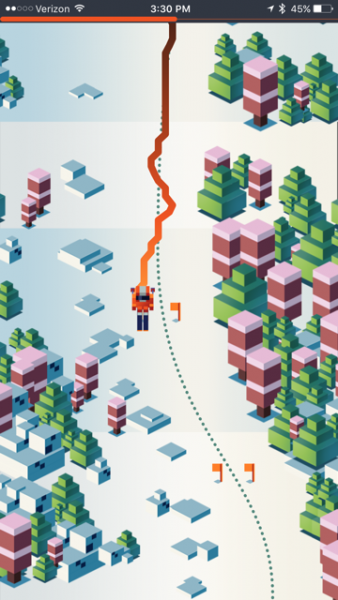 I personally like the top one because I like it to go horizontally across the screen rather than vertically in the skiing screen.  Just my personal opinion.
Additional Uses
There are games on this thing!!!!!  Sorry, I've been waiting to blurt that out.  But seriously, if there are days when you just can't mentally get yourself to focus on exercise (we've all been there), playing these games can make you feel accomplished anyway. There are independent gaming companies that have made games that may just get you addicted to exercise.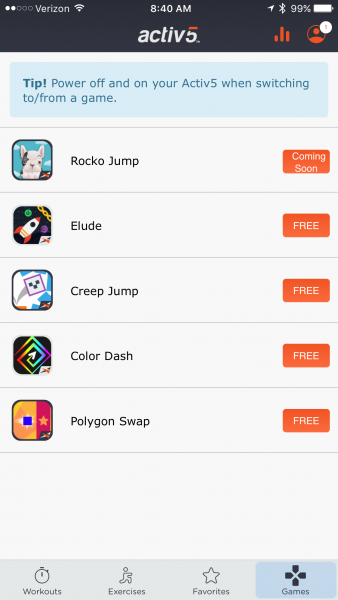 My personal favorite is Creep Jump (see screenshot below).  If you remember the game "Flappy Bird" from a few years ago, this is a lot like it, but you have to apply pressure to the device to keep the square from dropping or hitting anything. See the screenshot below.  You can play it on different difficulty levels and use different parts of your body to squeeze the device for an extra challenge.  The first time my daughters and I played this game, we all couldn't put it down and we were very sore the next day!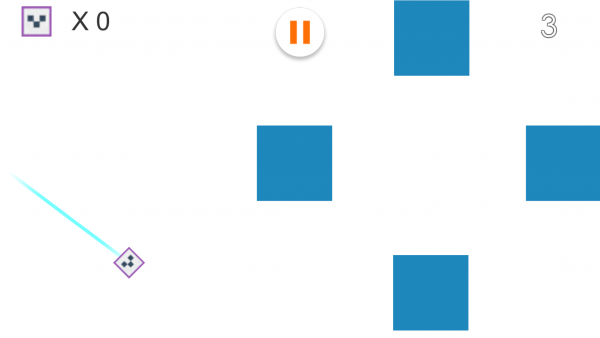 Final thoughts
All in all, I was very impressed with this device.  I can see people at any age and activity level benefitting from its use. I used to work with patients in an elder care facility and I led chair exercises.  This would have been a great tool to use to help motivate them to move.  I think it would also be a great tool for people recovering from injuries that need lower impact exercise to stay fit while they recover.  As with anything, to see results you need to DO IT and the nature of this program makes you want to keep going.  The results are trackable so you get input from each exercise and each week as you go forward.  It was my intention to complete the 6 week Activ5 Challenge right off the bat and report my results, however, a vacation and a broken phone interrupted that process.  I realized I had used it enough to do a Part 1 review and now I will begin Part 2, which will be the Challenge and I'll see first hand how my strength improves. Stay tuned!
Source:  The sample for this review was provided by Activbody, Inc. please visit their site to learn more and Amazon to purchase.

Product Information
Price:
$119 for the Activ5 Fitness Package or $159.90 for the Activ5 Deluxe package
Manufacturer:
Activbody, Inc.
Retailer:
Amazon
Requirements:

iOS or Android device with Bluetooth

Pros:

Portable
Fun
Can be used by a person at any fitness level
Requires only 5 minutes per workout

Cons:

If you don't like isometric exercise this is not for you