I'll be honest, I like nice things. I have a brand new LG G6 smartphone on the table next to me, a 12″ MacBook at home, and a MINI Cooper in the parking lot. I save my money and I buy above average quality products with a hope that they will last longer than cheaper products and that I'll enjoy using them. That said, I don't blow my money on stuff just because it is perceived as being the best by its price tag. That's why this MacBook stand from de Domomieu has flipped my WTH trigger.
Why does this laptop stand made me grumpy? Because the de Domomieu BLOCK MacBook stand is priced between €3,200 and €3,600. That's $3634 – $4092 in US dollars, and why I'm putting it firmly in the WTH category.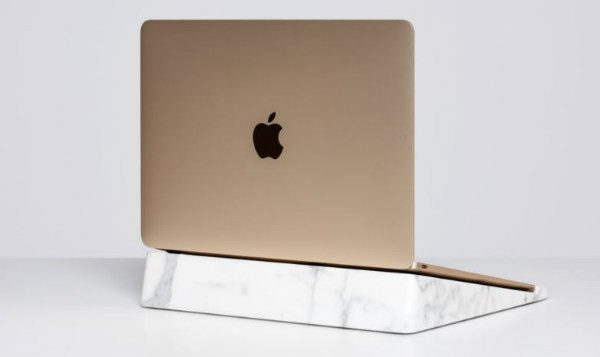 What is it? The BLOCK is a German made wedge-shaped MacBook stand that's made from one piece of Statuario Marble from Carrara, Italy and weighs between 6-10kg (13.25 lb – 22.0 lb).

Does the de Domomieu BLOCK MacBook stand look like something you wish you had on your desk? If so, let me save you several thousand dollars. Buy yourself a marble leather tooling slab. Just prop up the back of the slab with a rolled up towel and bingo! You have yourself a luxury MacBook stand for $69. And FYI, shipping on the leather tooling slab is free if you order it through Amazon. You're welcome.
Support The Gadgeteer
:
We may earn a small affiliate commission from purchases made from buying through links on our site. As an Amazon Associate I earn from qualifying purchases. Learn more.