We use affiliate links. If you buy something through the links on this page, we may earn a commission at no cost to you. Learn more.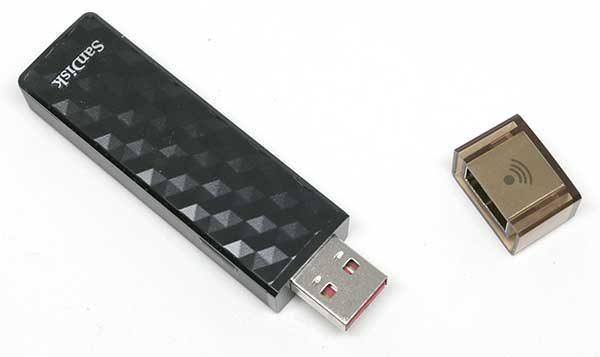 Most smartphones and tablets do not have expandable memory. One way around this is to purchase the device with as much built-in memory as possible. But for those of you that didn't think that far ahead when you bought your device and now find that storage space is low, you might want to consider a solution like the SanDisk Connect Wireless Stick.
What is it?
The SanDisk Connect Wireless Stick is a USB flash drive that allows you to wirelessly transfer and access your photos, videos, and files with your mobile device, Windows PC or Mac computer via WiFi or the USB port.
Design and features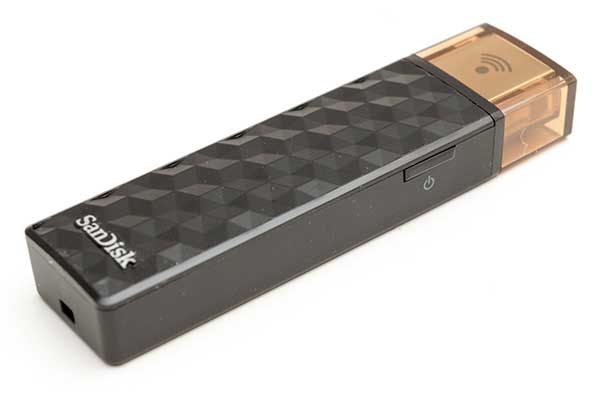 The Connect Wireless Stick looks like a slightly oversized USB flash drive that we're all familiar with. It has a black plastic case with molded facets that give it a cool look and feel.
One end of the stick has a removable cap that reveals a standard USB 2.0 connector that is used to charge the stick's internal battery and to transfer files to a computer. On the other end of the Connect Wireless Stick is a lanyard attachment slot.
There's also a tiny status LED on top and something which you don't normally see on a flash drive which is a power button.
How does it work?
The SanDisk Connect Wireless Stick is available in capacities from 16GB up to 256GB and works just like you would expect a flash drive to work. You can plug it into your PC or Mac computer and save and copy files to it.  But the stick can also create its own WiFi hotspot that you connect to with your mobile device using the SanDisk Connect app to transfer or stream files to and from your mobile device.
To use the stick, the first step is to install the SanDisk Connect app on your iOS or Android device. I tested the Connect Stick with my LG G6 Android smartphone.
After the app is installed, and the stick has been charged by plugging it into a USB port, you can press the power button on the side of the stick and launch the app. The app will detect the stick and connect to its WiFi hotspot.
The stick has some files already saved on it to give you an idea of how to use it. There is a music, video, and photos folder, but you can create other folders and transfer other file types too.
In the Connect Wireless Stick settings, you can set a password to protect the stick and a timeout setting to automatically turn off power when the stick is idle.
You can also enable the photo backup feature that will save the images in your device's photo gallery to the stick. This can come in handy if you don't use Google's Photo's backup feature or back up your iOS photos to iTunes.
Copying files to and from the stick from your mobile device is as easy as selecting the files and telling the app which folder to place them.
Transfer speed did feel a little slow though. It took a few minutes to copy a 211MB video file stored on the phone to the stick.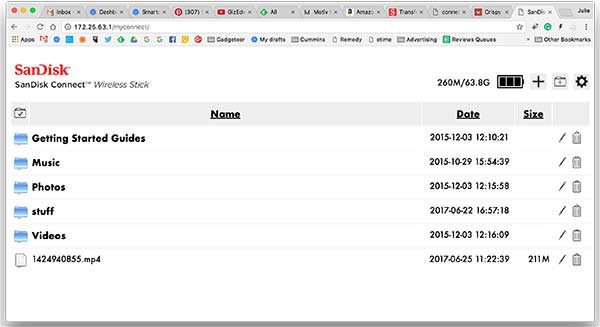 You can even access the contents of the SanDisk Connect Wireless Stick from a web browser on your PC or Mac. You have to be connected to the Stick's WiFi network to use this feature.
Since I have a 12″ MacBook that only has a USB Type-C connector, I used the web browser option to access files on the Stick from my Mac. I even streamed a 211MB video on the stick through my MacBook which worked pretty well, but there were a couple 1-second pauses at the start of the 2-3 minute video. I don't know if this was the fault of the stick or my phone. When I tried it later, there were no pauses.
The SanDisk Connect Wireless Stick can stream music and video to 3 devices at a time. I tried streaming two different videos to 2 different devices and the same video 2 devices at the same time. One time there was a 1-2 second pause at the start of playback, but for the most part, it video streaming was stutter free.
Final thoughts
One of the best things about the SanDisk Connect Wireless Stick is that it works anywhere because no internet or cables are required. The only issue with this is that while your mobile device is connected to the stick, it isn't connected to its primary WiFi hotspot. If you are using a phone, you can still use your regular cellular data connection though.
The Connect Wireless Stick is really easy to use and its size makes it extremely portable. The only thing I'd like to see would be a Type-C version of the stick, but other than that, it's a handy accessory that makes it easy to expand device memory without wires.
Source: The sample for this review was provided by SanDisk. Please visit their site for more info and Amazon to order.