We use affiliate links. If you buy something through the links on this page, we may earn a commission at no cost to you. Learn more.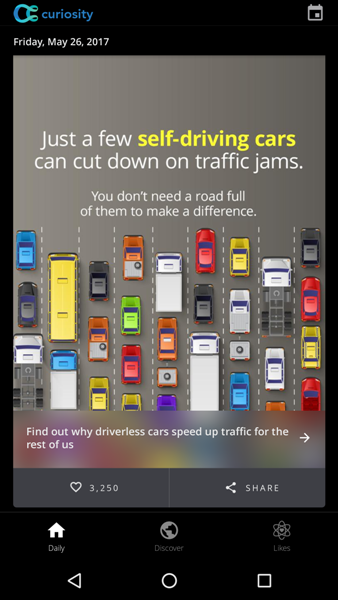 Did you know that having only 5% of self-driving cars on the road can improve start-and-stop traffic jams? It can according to the National Science Foundation's Cyber-Physical Systems program. Click here to read more about it. Did you know that cats meow for us? They do it to communicate to us and rarely do it to communicate with other cats. Click here for more information. These are just a couple of fascinating short articles that you can read about every day on the Curiosity app (Android, iOS, Kindle, and web versions). This awesome app has something for everyone. The app spotlights five articles per day in their Daily Digest. In addition, it has hundreds (if not more) articles and short videos on subjects like Animal IQ, Aztec Empire, Beards, Beer, Dogs, Drones, Etymology, Finance, Hair, Jobs, Memory, Myths, Pain, Painting, Parenting, Rain, Relationships, Social Behavior, Teeth, Tickling, etc. The articles and related videos are short and to the point and there are links to additional articles and videos. The app cites many reputable sources for their information like the National Science Foundation, NASA, National Geographic, World Health Organization, several scientific magazines, and several university studies to name just a few.
The Curiosity app even has mind puzzles like this one: "Alice comes across a lion and a unicorn in the forest. The lion lies on Monday, Tuesday, and Wednesday, and speaks the truth the other days. The unicorn lies on Thursday, Friday, and Saturday, and speaks the truth the other days. Today, the lion tells Alice, 'Yesterday I was lying.' The unicorn replied, 'So was I.'" Which day of the week is it? Find out the answer here.
This wonderful app has even enticed both of my children (middle school / high school age) to read almost every day solely for enjoyment purposes (one of which who professes to hate reading)! Both think it's a treat to read the articles and if they miss a day, there is even more to read about later. WIN!!! Even younger readers may love this app with articles like "Dogs Have Music Preferences, And Most Like Reggae". Give it a try! The Curiosity app is available for free in the following formats: Android app, iOS app, Kindle app, or the web version.  I'm sure you'll get hooked on it just like my family.