We use affiliate links. If you buy something through the links on this page, we may earn a commission at no cost to you. Learn more.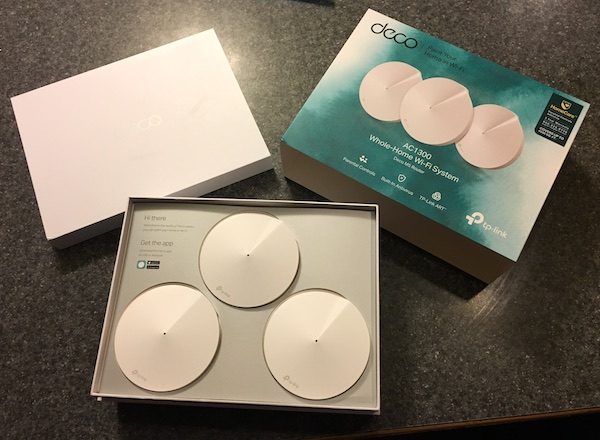 Here at Bob's house, we're awash in technology. Between computers and gadgets, we probably have 15-20 different Wi-Fi enabled devices. But I'm not a gearhead. I don't like spending hours tinkering with network settings to keep everything up and running. When our current Wi-Fi router started to drag, I was offered an opportunity to test Deco's M5 WiFi System. TP-Link promises whole-house coverage (up to 4500 square feet), drama-free network management, and a host of control features managed through a simple app. Will it bathe your home in glorious, trouble-free WiFi? Let's find out!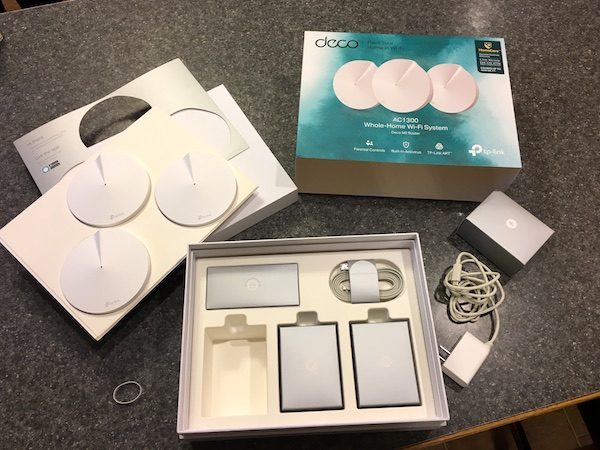 Out of the Box
I like how TP-Link has designed the Deco packaging to set the stage for an easy experience. Upon opening the box, you're greeted with the network pods and a friendly message to go and download the app to get started. All of the cables, power supplies, etc. are individually packaged in a second tray underneath. It's a simple, classy setup that's easy to follow.
The wifi pods are streamlined and elegant. Each is about the size of a home smoke detector, all white, with a little-whorled contour that adds a touch of art-deco design. There are no protruding antennas, only a single led light in the center of the device. The subtle design blends well in any corner of your house, and the low profile allows you to stash them easily in out-of-the-way places. You'll see pics of the pods around my house a bit later in the review.
Rounding out the package, you get a power strip for each pod (also in white), and a network cable to connect to your modem.
Installation & Network Management Features
Installation and setup are all driven through the app you download for your Bluetooth-enabled Android or iOS device, which you will also use to manage your network. Download the app and it walks you through the process of connecting to your modem and establishing the network. You'll connect the first pod to your modem using the provided cable. After setting up the new network, you identify the location of each pod as you set them up (office, living room, bedroom, etc.), and follow the instructions to bring each one online. It's really easy and user-friendly, with the app providing all instructions (and troubleshooting) if necessary. The whole setup took me about 10 drama-free minutes to get fully operational. I've included some sample screen shots below:
Once installation is complete you have complete control over the network via the app. Real-time reporting provides continuous updates on upload and download speed availability as well as the health status for each pod. You can see all the devices that are connected at any given time, and are notified as new devices are added to the network. Network settings can be tweaked to prioritize specific activities such as gaming, streaming, or web surfing. TP-Link also provides antivirus protection for the whole network that includes blocking malicious content, preventing external intrusions, and quarantining infected devices. You'll also be able to pull reports on all of these activities, including network usage by individual devices. 
You can also access and manage your network controls from anywhere that you have Internet access, at home or on the road. I was at the car dealership the other day, and was able to check in on my network and see what was happening. The screen shot below shows the current status snapshot I took while I was away: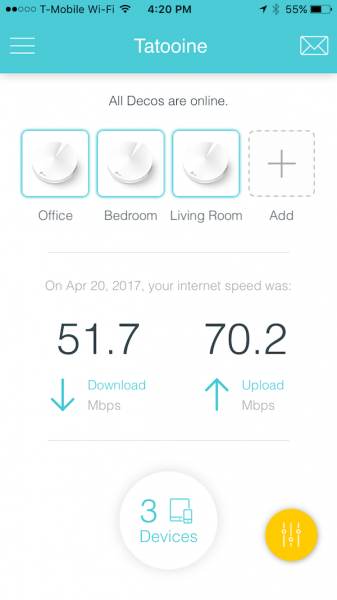 Got kids in the house? You can completely control network usage and access to content for individuals in your household with an impressive degree of customization. First, you set up a profile for the individual user and assign an age level to set default access to various content (adult content, gambling, downloading, social networks, etc.). You can then customize that access to your desired preferences, and/or block access to specific apps/websites for that individual. Once you have the permissions established, you assign all the appropriate devices to that profile to lock it in. You can also define the number of hours of allowable network access per day (weekdays and weekends), and/or establish bedtime settings that will disable network access at specified times. The app interface makes this all a lot easier than it sounds with an intuitive interface that makes it easy to set up, manage and remove profiles.
Some Important Points about the Network and Hardware
While the features of the Deco M5 Wi-Fi System are excellent, there are several important elements that you'll need to consider before you buy with respect to network and hardware requirements as well as the security package. I think these issues are important enough to address before we proceed.
Using this system requires you to set up a new network that, along with the app, are connected to TP-Link at all times. This gives you the benefits of continuous worry-free network security and remote access, but your data can be reported to the company and/or may be subject to privacy risks. This is true with any cloud-based service (such as Google's suite of tools and enabled gadgets), so you'll have to decide if this is a concern for you.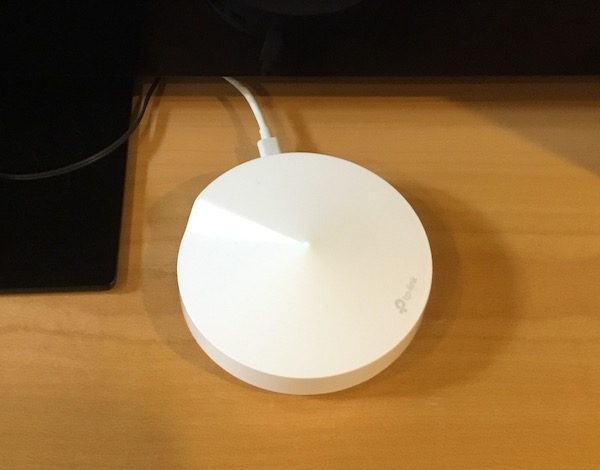 It's also important to note that this system is not designed to augment/extend your current network. There is no support for access-point mode, so you can't use your existing router. You must set up a new network on the system, so you'll experience compatibility/sharing issues if you wish to continue to use your existing router and network for some devices. If you're looking to extend your current network and use your existing hardware, this won't be the right solution for you.
In my house, we have Verizon Fios as our internet provider and use a Verizon-provided modem/router combo. I also have an Apple Time Machine that can act as a router. Both are older & slower Wi-Fi units, so I was completely OK with ditching both and connecting the modem directly into the Deco. I'm also OK with the TP-Link connection because I find that remote access and the antivirus/security features are worth the trade off.
Finally, the network security features are provided by Trend Micro. You get three years for free with the system, after which it looks like you'll need to pay for the service. I was unable to find pricing at the time of writing this review… the TP-Link site claims that the service is a $360 value, but I am not clear about what future pricing will be after the initial agreement expires.
Setup and Daily Use
As I mentioned before, I don't like tinkering with technology. I like products that work as defined, are easy to use, and don't require constant maintenance to keep operational. With a solid month of operation, I feel that the Deco M5 WiFi System delivers a hassle-free network experience.
I'll set the stage for our test. Our home is a standard colonial, roughly 2500 square feet of total space. The cable modem is installed on the second floor in the middle bedroom, on the inside front wall of the house facing the street. We have three full-time household occupants (not including the dog) that are actively using tablets, laptops, smartphones, and gaming systems throughout the day and evening in addition to peripherals including a network printer and streaming media devices. We've always seen slower performance towards the rear of the house, especially in the backyard and the basement that were farthest away from the router.
The first Deco pod is installed & connected directly to the modem by the provided Ethernet cable: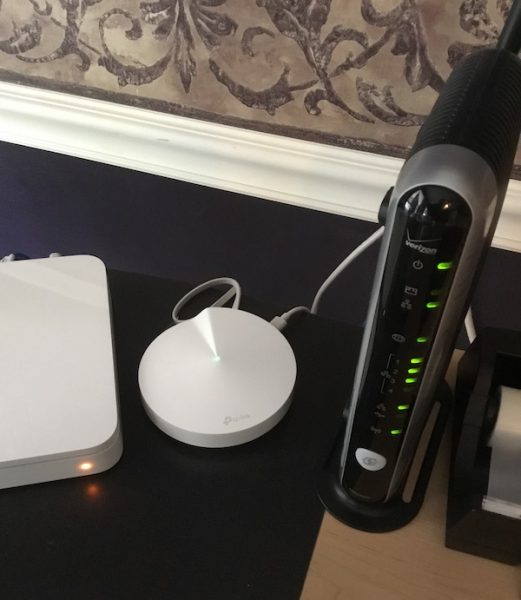 I set up the additional pods towards the rear the back of the house to cover trouble areas. One is installed on the second floor in my son's room to support his myriad of Wi-Fi gadgets (computers, peripherals, gaming systems, etc.) and to cover the back yard: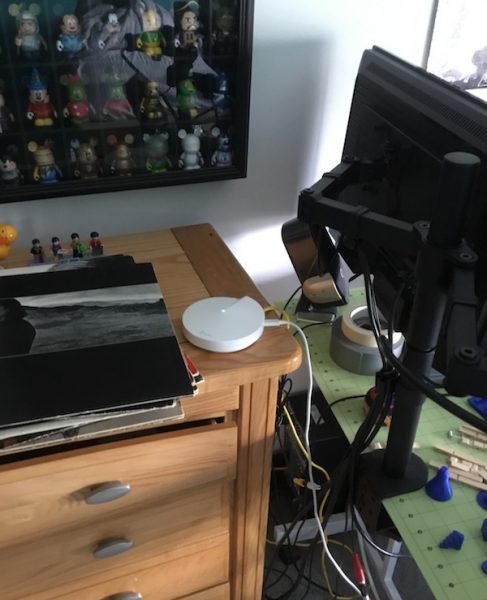 The final pod is installed on the opposite end of the house in our family room, which is the hub for most activities and subject to heavy usage of tablets, laptops, and accessories: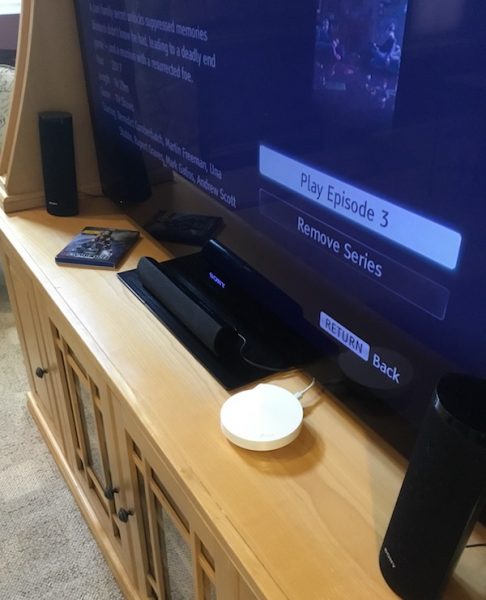 The difference in performance in all locations has been significant. After a month of continuous use, we have seen little to no latency in streaming, browsing and gaming devices that used to continually plague parts of the house. Where the old routers would occasionally need to be rebooted, we've seen no drops in Wi-Fi service since installing the new system. 
Here's a quick example: the picture above shows my entertainment system which includes Wi-Fi for streaming services, but it's about 10 years old at this point so signal strength is not great. Prior to installing the Deco Wi-Fi setup, we always had issues with downloading speeds, latency, downsampling of video quality, and connection problems with the old router. This was especially true when multiple devices were active on the network, which could be very frustrating when trying to catch up on shows ion Netflix or Amazon prime. With a pod installed right on top of the entertainment center, I now get full-band streaming with no issues… even when the rest of the family is gaming and streaming away in other parts of the house.
The Deco M5 leverages the latest in network technologies to optimize performance. It's a dual-band system that supports throughput speeds of 400 Mbps on the 2.4GHz band and 867Mbps on the 5GHz band if you can support that kind of speed in your home. The Deco M5 Wi-Fi system utilizes adaptive routing technology, leveraging all three pods to adjust bandwidth to optimize delivery to each device on the network based on current use. It also supports MU-MIMO technology, which creates greater network stability and allows data-hungry users to play nicely with other devices on the network. This all leads to stability and consistency in performance, which I can say was borne out in our day-to-day testing.
I recognize that we're not using the latest modem for our network, and could probably get more performance out of the system if I upgraded. In all honesty, however, we have found that the system is more than adequate for our needs and looks like it will support even higher bandwidth if I were to upgrade. The bottom line: when no one is complaining that the network is slow, Bob is a happy guy. And it's been happy in my house for the past month, with no issues to report.
Conclusions and Pricing
The TP-Link Deco M5 Wi-Fi System is simple to install, reliable provides outstanding coverage up to 4500 square feet, and provides a comprehensive range of control/management features in an easy to use package that also provides the benefit of hands-off antivirus and security. But is it the right choice for you home? That depends on what kind of user you are.
If you are a person who likes low-maintenance, plug-and-play solutions (think Apple products), then this will be great for you and your family. You're probably going to be OK with letting the system do the work and not having to worry about it. Know that you are giving up some potential privacy issues due to the continuous connection to TP-Link for your network, but you're probably doing that already with your Apple accounts and Google cloud-based tools. You'll also be OK with ditching your old home network because you're not that attached to it anyway. You'll like this for all the reasons stated above.
If you are a power user that likes control of your systems, I'm not sure that this will be right for you. Your current routing hardware can't be utilized here, and you may have some concerns about not having complete control over your network privacy. You'll also not have the ability to tweak your network to the level of detail that you might like, especially if you have things tuned to certain devices that are heavy data users. If any of these examples seem like you, you'll probably want to look into network extenders to provide the extra home coverage you are looking for.
Finally, you'll want to consider the long-term fees for the security package. As I mentioned above, there's no price set that I could find once you get beyond the initial three-year free period. TP-Link sets the value at about $10 a month based on the promotional materials. I like the idea of not having to mess with security for my network, but you'll have to determine if its worth it for you.
In my opinion, the TP-Link Deco M5 Wi-Fi system is a solid buy for the casual network user at $299. You can also buy an additional pod for further coverage for $129. You can check it out at TP-Link's web site for more information.
Updates 09/27/17
Back in August, we upgraded our Verizon FIOS to 100 Mbps. This included a new modem, which we decided to relocate to the basement from the upstairs office. The FIOS guy was prepared to spend an hour helping me reconfigure everything… no need for that with the dedicated network! I plugged the base Deco unit into the modem & repositioned the pods around the house to maximize coverage. Two minutes later, and every device in the house came online automatically with screaming 100 Mbps without tweaking a single setting or password. Glorious.
I also find the monitoring app to be more useful than expected. I'm notified every time a new device connects, and have complete control over all access. I also get regular reports if there is ever an attempted security breach. It's a great system.
Source: The sample for this review was provided by TP-Link. For more info visit their site and Amazon to order.
Product Information
Price:
$299.99
Manufacturer:
TP-Link
Retailer:
Amazon
Pros:

Easy to install.
Robust management and user control features.
Excellent coverage.
Consistent, reliable performance.
Excellent, hands-off antivirus and intrusion security.
Remote control features allow you to manage your network from anywhere.

Cons:

Need to replace your existing network.
Continuous data sharing with TP-Link could present some risks.
Long-term pricing for the security package is unclear.