We use affiliate links. If you buy something through the links on this page, we may earn a commission at no cost to you. Learn more.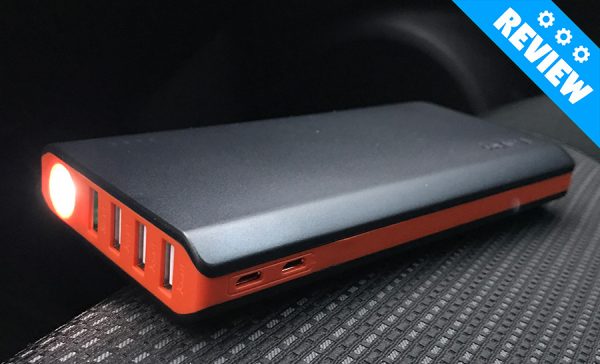 In a world where mobile devices are proliferating, the need to keep them topped off and rapidly charged is a constant struggle. While battery life is slowly improving, so is the demand on our phone and tablet processors, making them easier to drain than ever.
Fortunately, there's also a huge market for external battery packs. The EasyAcc Quick Charge Power Bank is another entry in a sea of similar devices, so what makes this one different from the others?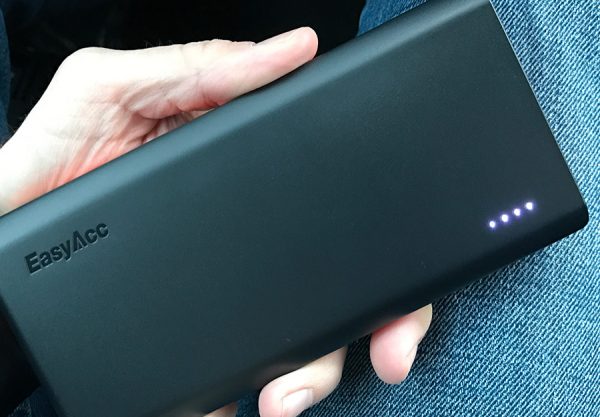 EasyAcc's entry into the mobile charger arena is exceptional. The aesthetics are clean and simple. I like the color scheme, mostly black with an orange strip running along the sides. It made it easy to find in a dark backpack pocket. I wouldn't call it rugged, but it could survive some drops.
The Power Bank sports 4 USB charging ports, one of which is a Qualcomm® Quick Charge™ 3.0 output for use with devices that can utilize this. The other ports are "smart" in that they detect the maximum charge your device can receive and sends that amount of power through.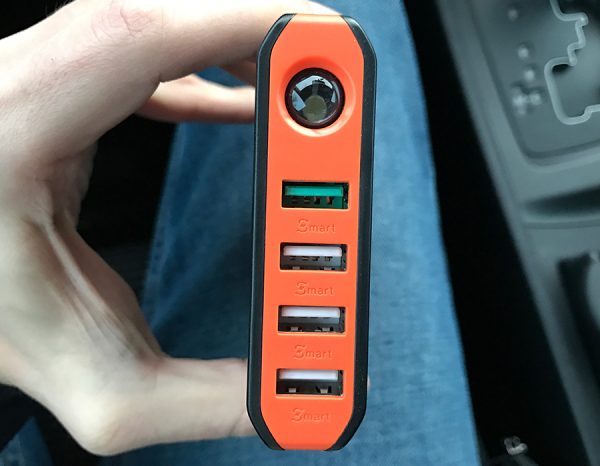 It didn't come with a wall adapter, so you'd have to either have one handy or charge it off of a USB outlet charger or some other powered USB source, like a desktop computer or laptop that is plugged in. I imagine most people would have some way of getting some energy to the power bank. It did come with two short micro USB cables, both of which can be used simultaneously on the pack's two micro USB ports to bring the 20,000mAh battery to a full charge in just 5 hours.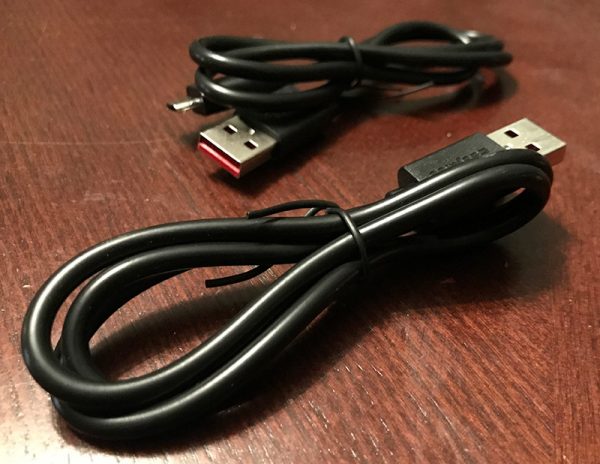 I suppose it's worth noting that it didn't come with a lightning cable, which I've seen other battery packs ship include, but I had some extras laying around.
Rated at 20,000mAh, the battery holds enough juice to charge an iPhone 7+ over five times, or an iPad mini twice.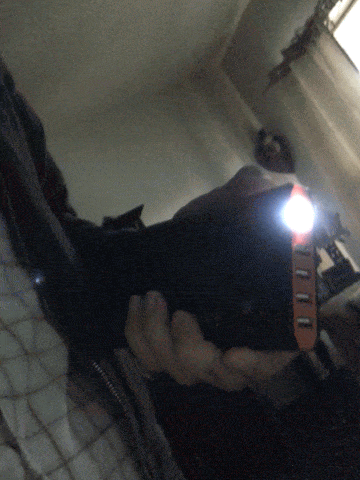 That's all well and good, but to me, aside from the double-barrel input charging, the standout feature has got to be the built-in flashlight. Seriously. When I opened the box and realized that this thing had a light built into it I thought to myself, "That's genius." Is this a relatively new thing? Probably not, I just don't think I've noticed that as a normal inclusion on mobile USB chargers.
Their site states that the light should last about 100 hours and it's pretty darn bright. The light is also in a good spot to handle the power bank like a proper flashlight. Making this part of my EDC kit, I could leave the other medium-sized flashlight in the car or somewhere else outside of my bag. Nice.
The one oddity I could find is when plugging in a device, sometimes it would start charging the device right away and other times I would have to turn on the battery pack first before it began charging. It seemed random. Perhaps my phone was registering as fully-charged since it was getting pretty close, and the pack was shutting off to preserve energy.
To be honest, this was the first battery back I'd ever used, but to me it's quite a nice entry in a very saturated market.
The EasyAcc Quick Charge 3.0 Power Bank is available now on Amazon for $39.00. That's a sale price, by the way, so I'm not sure how long it will stay that price, but what a great deal!
Source: The sample for this review was provided by EasyAcc. Please visit their site for more information or order directly from Amazon.