We use affiliate links. If you buy something through the links on this page, we may earn a commission at no cost to you. Learn more.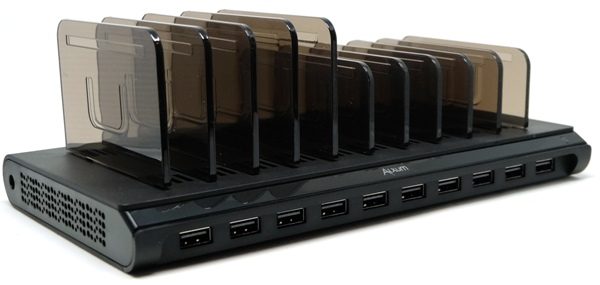 I really love products that help me to organize my house and thus when the Gadgeteer was offered the Alxum 10-Port USB Smart Charging Station & Organizer, I jumped at the chance to review it. I have a side table in the living room that has been functioning as my kids' gadget depository (four iPad Mini's, two phones, and three over-ear headphones) that sorely needed some organization and the gadgets needed charging. The Alxum 10-port charging station worked like a charm.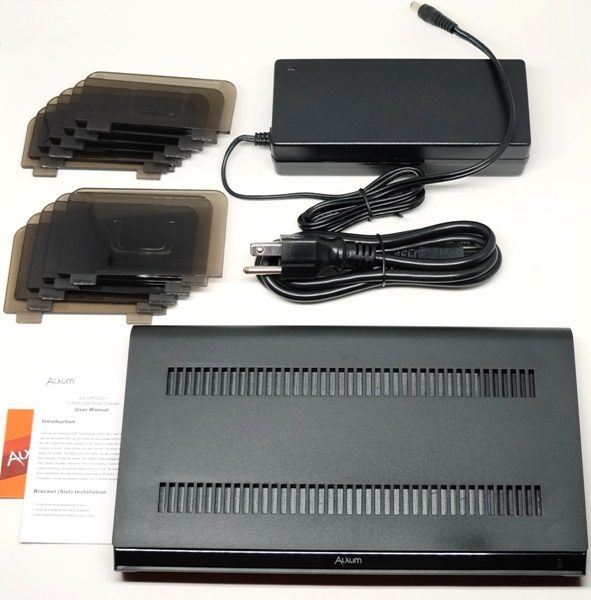 Package Contents
Alxum 10-Port USB Smart Charging Station & Organizer (AX-10 PCS031)
5 large brackets
6 small brackets
AC adapter and power cord
User Manual
Design & Build Quality

The Alxum 10-port charging station is made of matte black hard plastic and the brackets are made of a hard transparent gray plastic.
There are 10 USB-A ports in this smart charger which will detect your devices automatically and will provide up to 5V/2.4A each based on the demands of your devices (there are no Qualcomm Quick Charge ports). This charger provides a maximum of 108 W of power total and will charge up to eight iPads at their full rate simultaneously (and up to 10 less-demanding devices simultaneously)
The charger is equipped with intelligent power management technology that will place the charger in sleep mode when not charging. It also provides protection against over-voltage, overloading and short circuiting, and over-heating.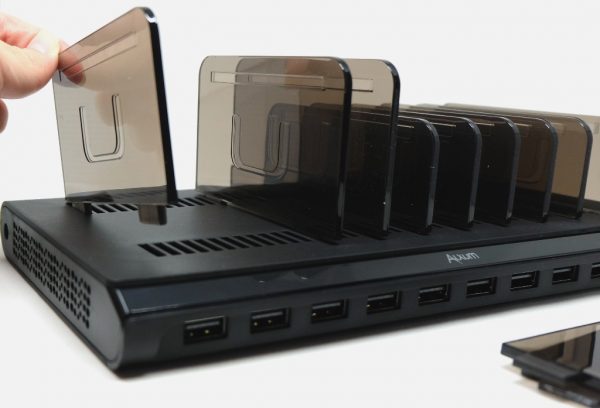 Each bracket has two tabs located along the lower edge that fit perfectly into slots on the top of the charger. The brackets are easily adjustable and at the same time stay in place such that when removing your device from the charger, they don't come out.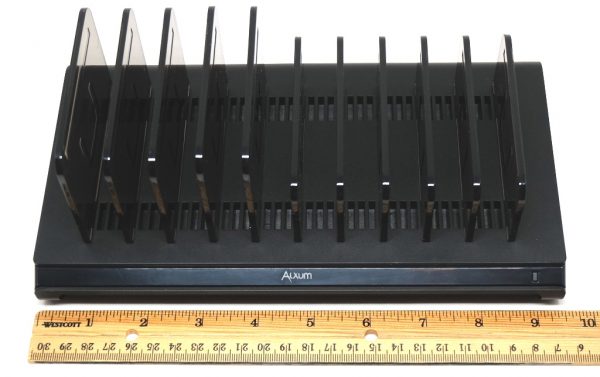 The charger is about 9.375″ L x 5.25″ W x 3.25″ H with the large brackets installed (24 cm L x 13.5 cm W x 8 cm H).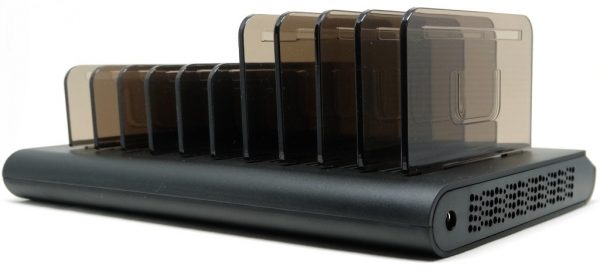 Each side of the charger has vents to disperse heat and one side has a DC port to connect the power cord.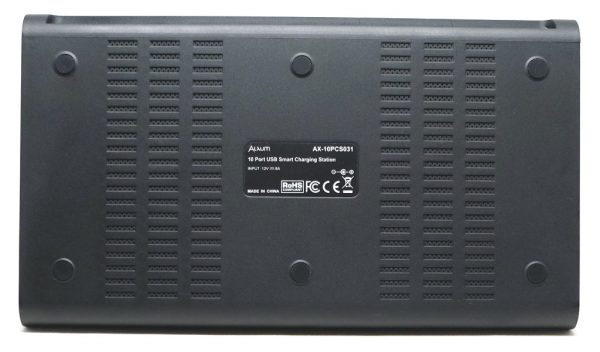 The bottom of the charger also has vents to disperse heat. In addition, it contains six rubber pads to help prevent the charger from moving around on furniture and from scratching the furniture as well.
Use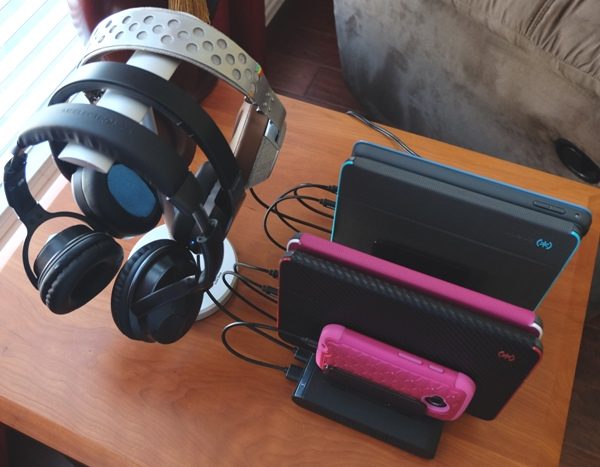 Here is the current setup of all the gadgets connected to the charger. We have two iPad Mini 4s, two iPad Minis, two Motorola Moto E (2nd gen) phones, and three sets of over-ear headphones – nine devices total. This setup is so much tidier and organized and now all of the devices can be charged at once (I did have to purchase the short 8″ cables separately).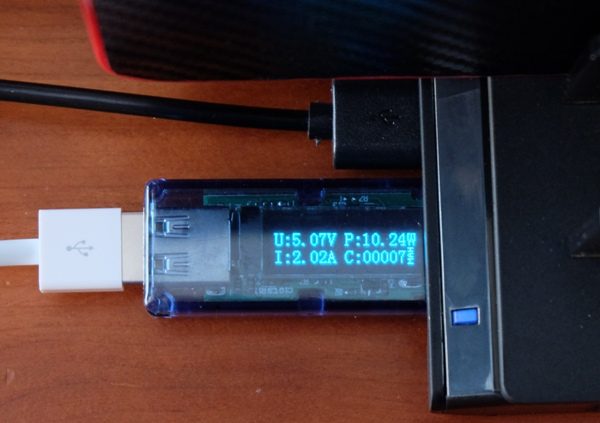 When this iPad Mini 4 was connected to the Alxum 10-port charger via an OEM Apple Lightning cable, it was able to charge at 5.07V/2.02A/10.24W.
You'll also notice that the charger has a blue LED light that is illuminated when the charger has been plugged in (illuminated LED does not mean that it is charging a device).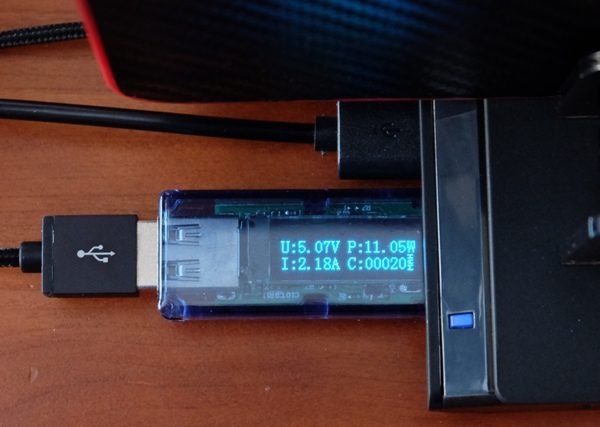 This is the same iPad Mini 4 as the previous one, only this time it was connected to the charger using an off brand Lightning cable. As you can see, the tablet was still able to charge at approximately the same high rate (5.07V/2.18A/11.05W) using this cable and charger.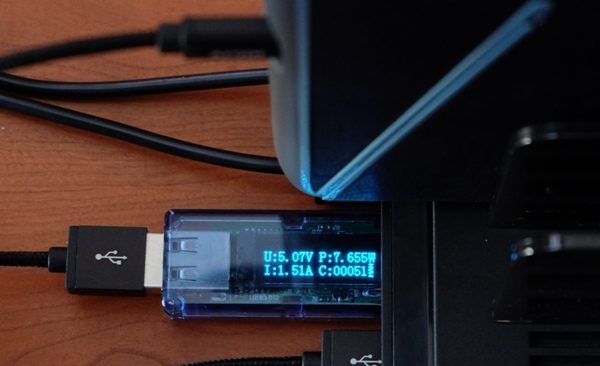 This is another iPad Mini 4 that was connected to the charger. The charger was able to provide 5.07V/1.51A/7.655W. The difference between this iPad Mini 4 and the previous one already mentioned is the fact that this one's battery started with a higher battery level than the previous one and thus charged at a lower rate than the other. NOTE: the smart charger alters (decreases) the amount of power to devices as the batteries of each approach full charge; this is typical when charging any device using their OEM chargers or smart chargers.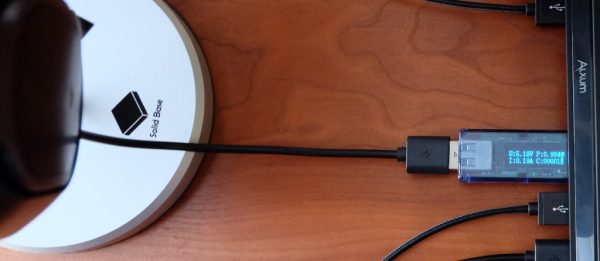 The charger was able to charge our Phiaton BT 460 headphones at 5.18V/0.19A/0.984W…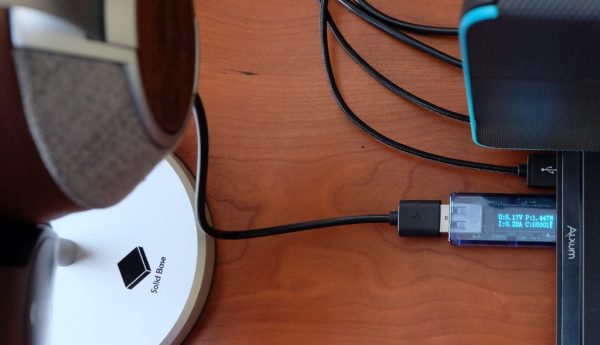 …and our House of Marley Liberate XLBT Bluetooth headphones at 5.17V/0.28A/1.447W.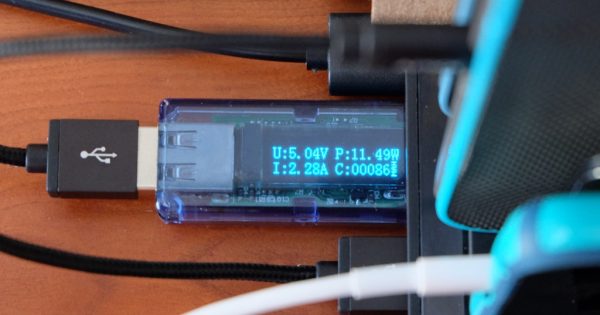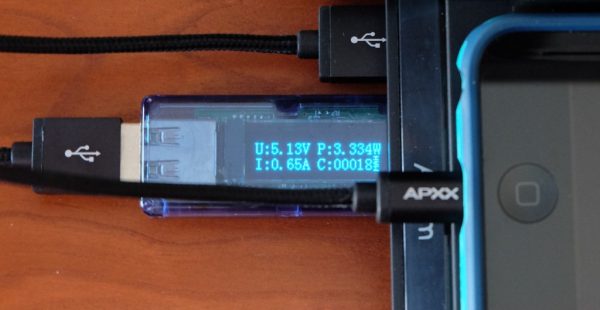 When several devices were plugged into the charger and charging at the same time, the charger was still able to provide the maximum power to the device that it needed (above photo: iPad Mini charging at 5.04V/2.28A/11.49W; iPod Touch 6G charging at 5.13V/0.65A/3.334W).
There were a couple of potential drawbacks that we noticed about the Alxum 10-port smart charger. The charger has a large transformer in line with the power cord to convert AC power to DC before being connected to the charger. This may be cumbersome to some people. Also, my kids noticed a faint high-frequency sound being emitted from the charger at various times (not all the time). This appeared to occur when the devices were fully charged but still plugged into the charger. I did not notice the sound because of my high-frequency hearing loss so it must be over 15,500 Hz.
Final Thoughts
The Alxum 10-Port USB Smart Charging Station & Organizer did what I expected it to do. It organized my kids' nine devices and allowed all of them to charge simultaneously at the rate that each device needed to charge. The power cord does have a transformer that may be considered cumbersome to some people and there is a faint high-frequency sound that the charger emits periodically when devices are fully charged but still plugged into the charger. Overall, we found the 10-port charger to be a wonderfully useful addition to our gadget accessories.
Price: $64.99
Where to buy: Alxum and Amazon
Source: The sample used in this review was provided by Alxum.
Product Information
Price:
$64.99
Manufacturer:
Alxum
Retailer:
Amazon
Pros:

Organizes up to 10 devices
Charges up to 8 iPads simultaneously (and up to 10 less-demanding devices)

Cons:

Emits high-frequency sound when devices are fully charged but still plugged in
Has large transformer in line with the power cord