We use affiliate links. If you buy something through the links on this page, we may earn a commission at no cost to you. Learn more.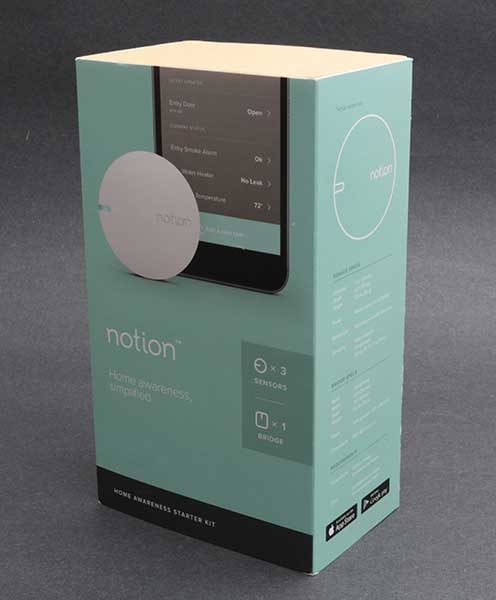 Home automation, security, and remote monitoring are all hot topics right now. The ability to know that everything at your property is fine when we're not physically there is a priceless gift for chronic worriers and people who like to feel in control. There are many systems on the market that will let you install cloud-enabled smoke alarms, window and door alarms, temperature alarms, leak detectors and more. But I'm going to tell you about a system where one sensor can do all of those things. Let's take a look at the Notion home awareness sensor kit.

What is it?
The Notion home awareness sensor kit is a home monitoring system that uses a bridge and wireless sensors that will tell you if a door has been opened or closed, a window has been opened or closed, if there's a leak, if the temperature is higher or lower than a set temp, and if there's a smoke alarm. But instead of picking and choosing different sensors to monitor different things, each Notion sensors can do everything.
What's in the box?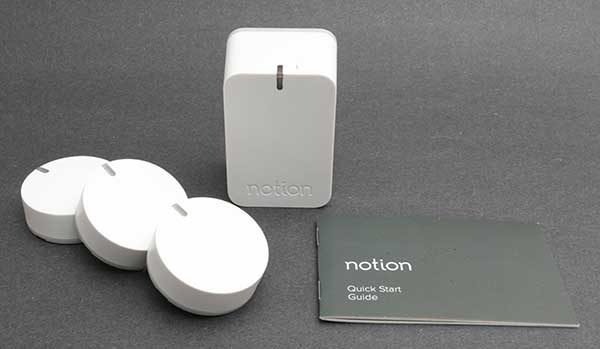 You can buy Notion systems with 3 or 5 sensors. I received the 3 sensor package which includes:
1 Notion bridge
3 Notion sensors
Quick start guide
Design and features
The Notion system consists of a bridge and a set of sensors. The bridge shown above looks like an AC adapter. It's made of white plastic and has an LED on the top edge that blinks green to indicate that it's communicating with the sensors.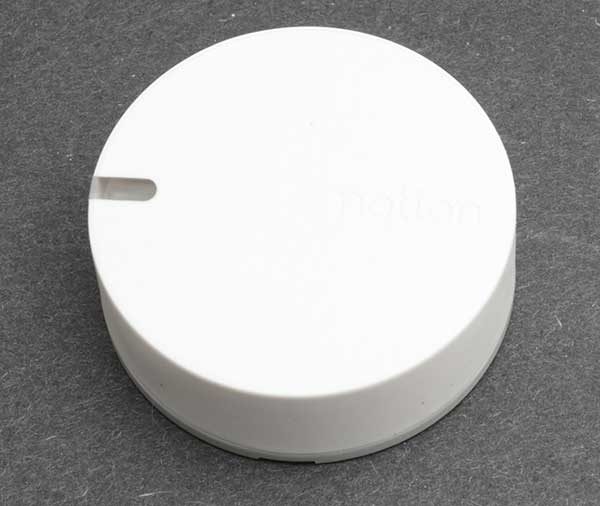 The sensors are also made of white plastic with an LED at the 9 o'clock position.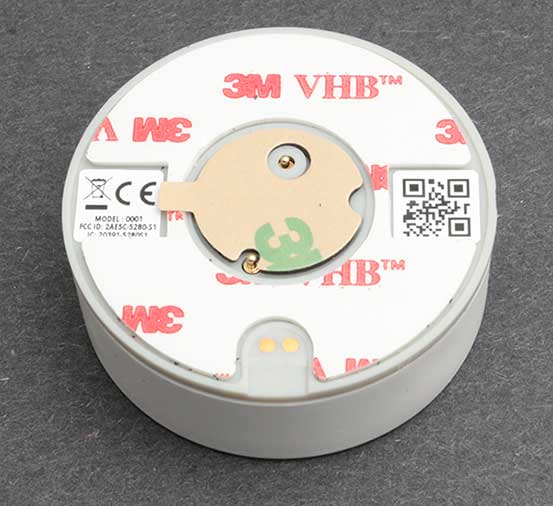 The sensors are 2-inches across and have adhesive on the bottom that can be used to stick the sensor to a door, window, ceiling, etc.
You'll also notice the QR code on the bottom, that's used during the setup phase to identify each sensor that you want to install.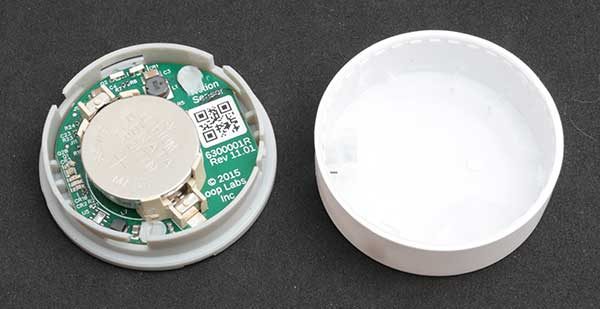 The sensors run on a CR2477N coin cell lithium battery. According to their online FAQ, that battery should power the sensor for about a year.
Installation
Setting up the Notion system is extremely easy. The first step is to install the Notion app on your iOS or Android device. You'll then create an account and follow the step-by-step instructions to add the sensors to the bridge.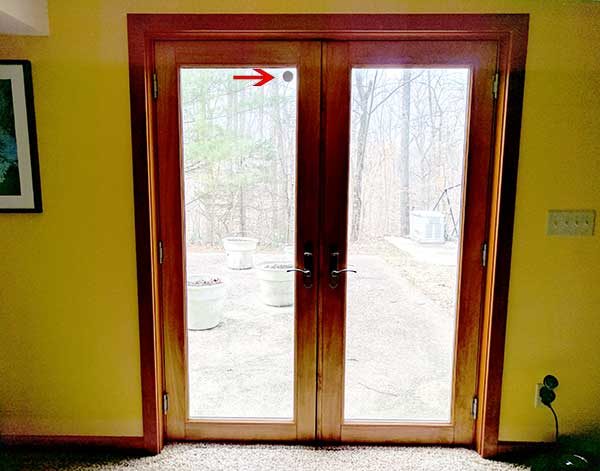 I installed one sensor on my basement door by peeling and sticking the adhesive.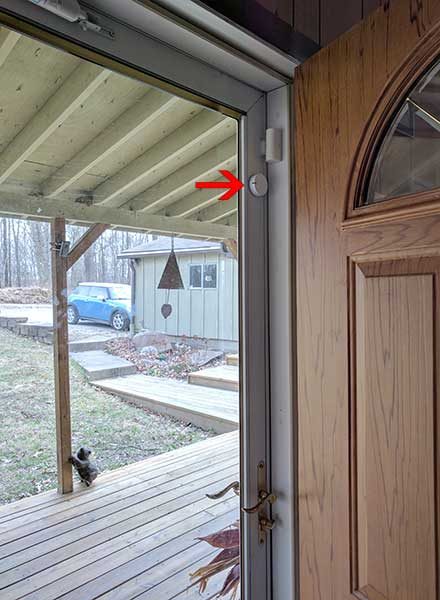 I placed another Notion sensor on the front door. If you notice the oblong sensor above the Notion in the image above, that's a sensor from the SimpliSafe security system that I reviewed almost 8 years ago.
I put the third sensor in the bedroom.
Note that each Notion bridge can handle up to 15 sensors on its network.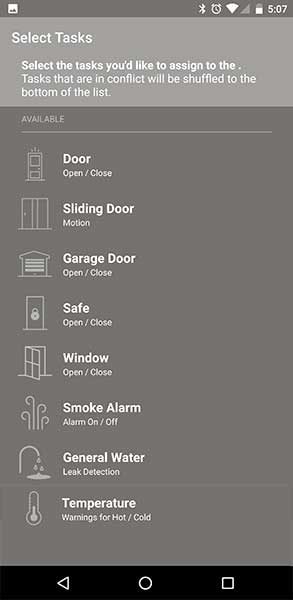 Each sensor can have a maximum of 3 tasks that can be chosen from the list above. When you add one task, it affects the rest of the tasks that you can add to that one sensor. For example, if you choose Door as one of the tasks, you'll not be able to also add the window task to the same sensor.
Some of the tasks can be customized to alert based on a certain condition like the temperature going above or below a specified temp.
Once you've setup the tasks for each sensor, you can view their status through the app's sensor screen. Clicking on each task will show you more details about that task including a log of alarms and the ability to customize how you would like to be alerted when an event is detected.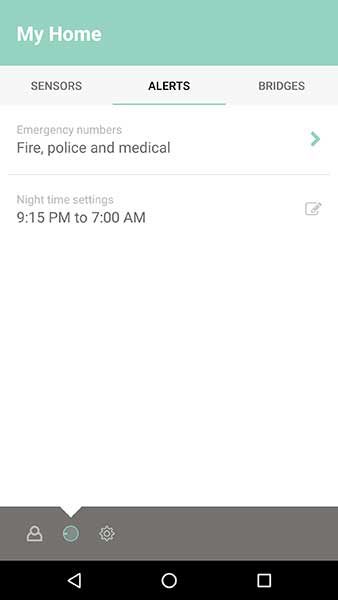 You can add multiple people to your Notion account who will be notified when an alarm is detected and you can also set a quiet time when you will not be notified of an alert or you can set the system to only notify you when you're away from home.
The screenshot above might lead you to believe that the Notion system will alert fire or police if an alarm is detected. It won't. The app just detects the emergency numbers based on your location and puts them on a screen for your reference. Of course, you really just need to call 911.
Using the system
After the Notion bridge and sensors are installed and configured through the app. You can just sit back and wait to be notified about alarms. The notifications show up on your mobile device like you see above.
Sounds fantastic right? Yeah, that's what I thought. But unfortunately, it has not been all rainbows and unicorns…
Problems from the start
Things worked pretty well for the first day when I was mainly testing the door opening and closing tasks. But the next day, the basement sensor started reporting that it had gone offline.
It spontaneously came back online only to disconnect again the next day. Before you ask if the bridge was not close enough to the sensor, it was in the same room with an unobstructed line of sight to the sensor about 20 feet away.
I left the sensor in that state for a couple of days just to see if it would come back online on its own. It didn't. I then removed the sensor's cover and that must have done something (what, I don't know) to fix it because it's been online ever since.
That said, another sensor has gone offline and would not reconnect until I removed the cover and jiggled the battery.
The next problem happened today when the front door sensor reported that it had detected a leak when there was absolutely no water, steam, condensation or anything remotely damp near it. The weird thing is that when I went into the sensor log page, it didn't show that it had detected a leak. An hour later a sensor that was sitting on the desk next to me also notified me of a non-existent leak and this time it did show up in the log but again, there was no reason for it to detect water.
Testing sensor tasks
I tested the leak detection feature and found that it doesn't take much water for it to send an alert. But I don't know why it sometimes detects a leak when there isn't one to detect.
I also tested the door opening and closing tasks which was more reliable than the other tasks.
The temperature task also works well.
The most disappointing task is the smoke alarm task because the sensor does not really detect smoke at all. It actually listens for an existing smoke alarm and alerts off of the sound which I think is a lame way to do it because the sensor depends on a working smoke detector to work.
Final thoughts
I like the idea of the Notion home awareness sensor kit and had high expectations for it. But it didn't take long to discover that this system has some technical problems:
The sensors randomly disconnect.
The sensors detect leaks when there aren't any.
The smoke alarm task doesn't really detect smoke.
No notification when sensor batteries are low.
Add in that the system won't work without power and an internet connection and it just has too many issues for me to be able to recommend it.
Source: The sample for this review was provided by Notion. Please visit their site for more info.

Product Information
Price:
$219 (3 sensors and 1 bridge), $299 (5 sensors and 1 bridge)
Manufacturer:
Notion
Pros:

Easy to set up
Each sensor can do multiple things
No monthly fees

Cons:

Smoke alarm doesn't detect smoke
Leak detection task is not reliable
Sensors randomly disconnect
Won't work without power or an internet connection