We use affiliate links. If you buy something through the links on this page, we may earn a commission at no cost to you. Learn more.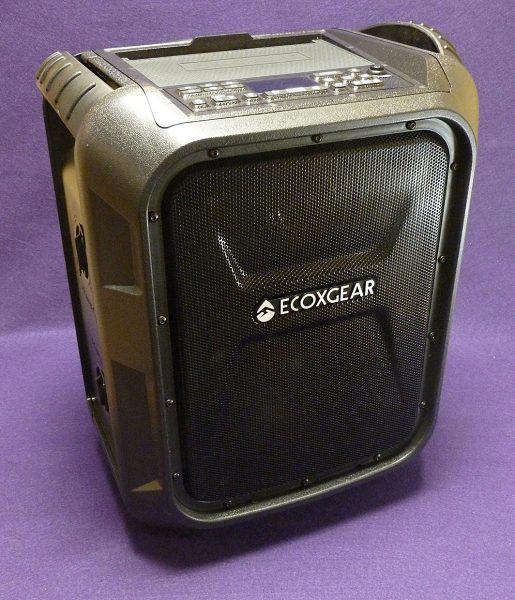 Grace Digital must have adopted the slogan, "Go big or go home," because the EcoBoulder Waterproof Bluetooth speaker from their ECOXGEAR speaker line is, well—B.I.G. This thing is huge—and heavy. The EcoBoulder comes with a retractable handle and wheels. From a distance, it could easily be mistaken for a small travel suitcase. It also doubles as an AM/FM radio, P.A. system and most importantly, is affordable. In fact, the EcoBoulder is one of the more wallet-friendly large Bluetooth speakers available. With all that going for it how does it sound compared to other large portable Bluetooth speakers?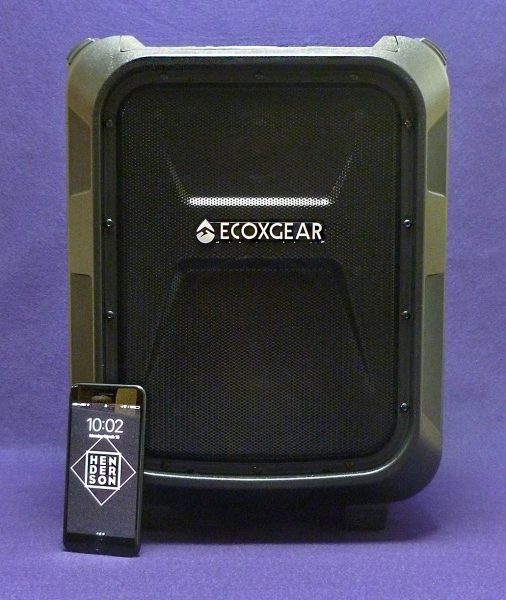 Let's get this out of the way first—I've reviewed a couple of larger (but not this big) Bluetooth speakers and both are more refined and richer sounding with sharper bass than the EcoBoulder. However, both the Monster Blaster and Braven BRV-XXL cost a LOT more than this monster (pun intended). And what you get for your money with the EcoBoulder is quite impressive.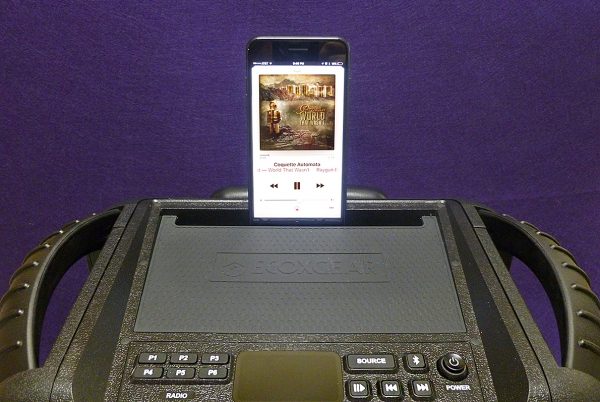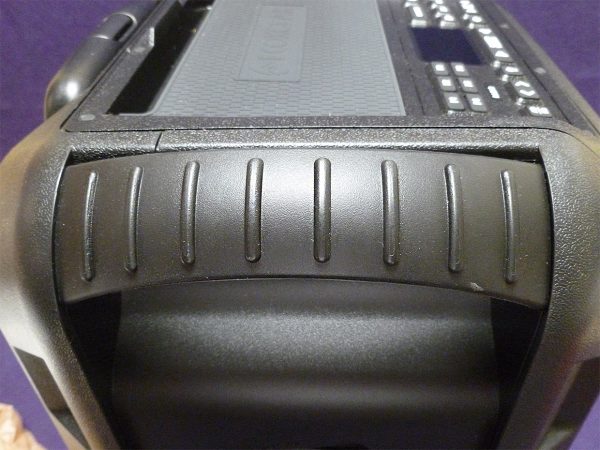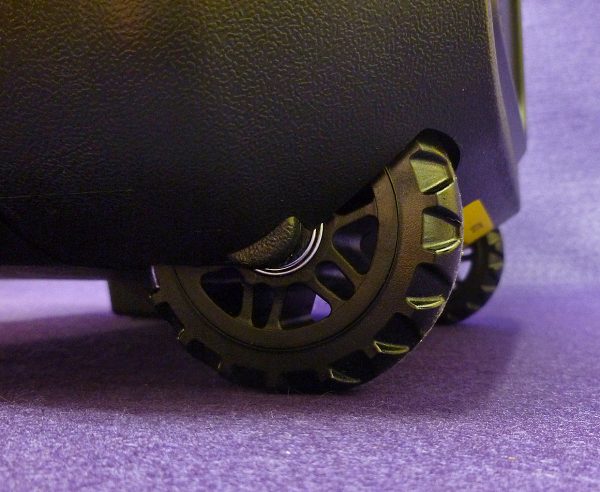 The all-black shell of the EcoBoulder is hard plastic all-around. I was hoping for metal speaker grills for better protection, but those are plastic, also. Two carrying handles are rubberized for easy grip, but the less you have to carry the EcoBoulder, the better. It's just easier to wheel it around. The top of the speaker has a non-slip rubber mat for setting a smartphone on as well as a rear slot for holding up a tablet, however, it's too small for the larger iPad Pro. Even with all this plastic, the EcoBulder looks and feels durable for wet and dirty outdoor use.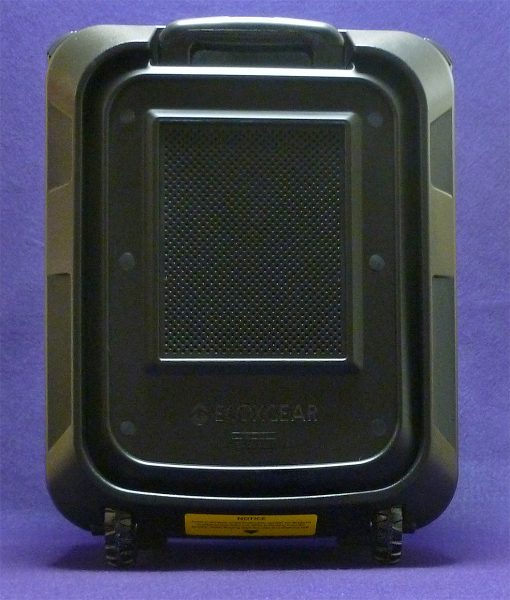 Let's go over some specs: The EcoBoulder is 100% waterproof and dust proof. It's rated IP67—that means that it can be dropped into a pool or lake with no worries. And even though it weighs 27 lbs., it floats. It sports a 100-watt amplifier driving a 3" tweeter, 8" full range and 8" passive rear woofer speakers. There is 10 hours of rechargeable battery life built in and can charge a smartphone and/or tablet via two USB ports (charging devices will shorten battery life). Recharge time is about 7-8 hours.
The EcoBoulder's 4.1 Bluetooth is rated at a max distance of 100 ft. This is a better dependable range than I ever got with the more expensive Braven XXL. Here's something to keep in mind: I noticed that if I ran Bluetooth from my iMac, it sounded much weaker than if it was wired directly to the headphone out port. However, Bluetooth from my iPhone 7 Plus was much stronger and clearer than hard-wired using the lighting port with Apple headphone adapter. I can only guess that the iPhone's newer Bluetooth is more compatible with the EcoBoulder than my older iMac is. If you plan to use the EcoBoulder for outdoor parties, Bluetooth should work great. Note that there is a built-in water-sealed compartment complete with extra AUX input and USB charging output than can hold and protect any connected smartphone. Not only is the speaker waterproof, but now your phone can be too.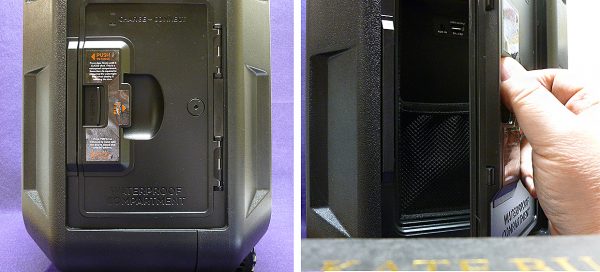 The other side of the EcoBoulder houses two separate water-sealed areas for the main power port and AUX/USB/Mic ports. Note that all sealed doors must be closed to keep the waterproof rating.
The AM/FM radio is a nice addition. Even though sound quality from radio doesn't approach wired or Bluetooth, it's handy to have for any sports, talk radio or  other programming without using a smartphone's battery. There's also six digital presets for easy station switching.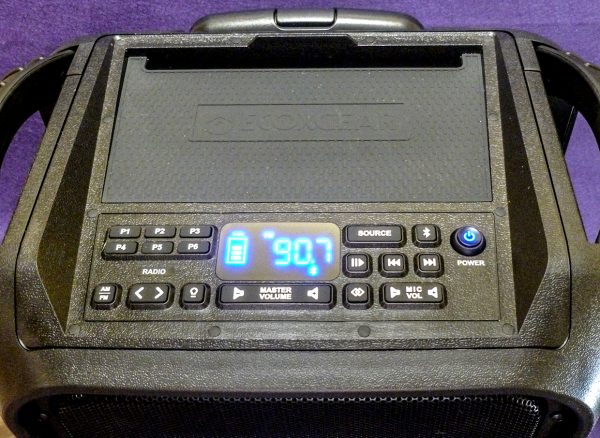 Those radio presets—along with the rest of the EcoBoulder's top buttons are backlit. That's a good thing because it's handy in the dark, plus there are a lot of buttons on this speaker: AM/FM switch, forward/reverse station search, backlit on/off, master volume toggle switch, source (Bluetooth, radio, AUX1, AUX2), Bluetooth pairing, master on/off, source pause/play and skip, and finally, a stereo button for pairing to a second EcoBoulder for true stereo Bluetooth (ECOXGEAR calls it EcoConnect).
Speaking of pairing for stereo Bluetooth—you can buy two EcoBoulder speakers for about the same price as one Braven XXL or Monster Blaster speaker. (Cosco price) That's a lot of stereo boom for just a few bucks.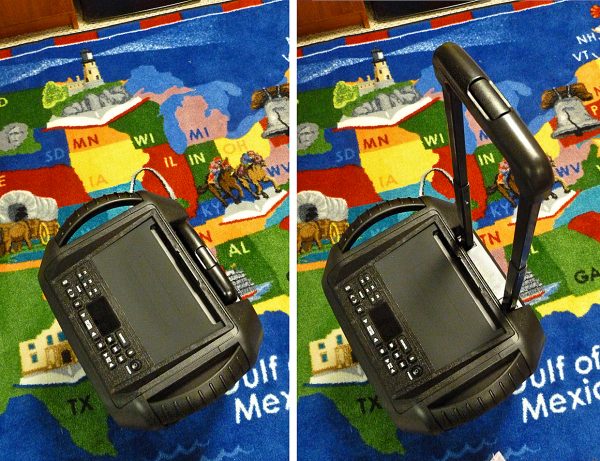 As I said earlier, the EcoBoulder resembles a small suitcase. Its wheels and retractable handle make it easy to take just about anywhere you want, especially since it's heavy to carry.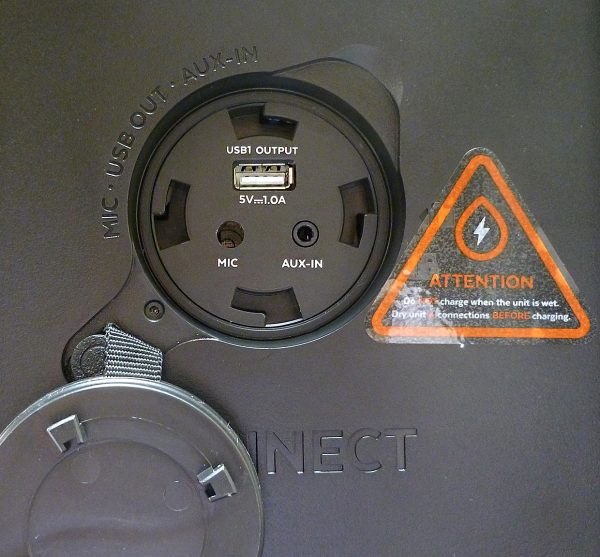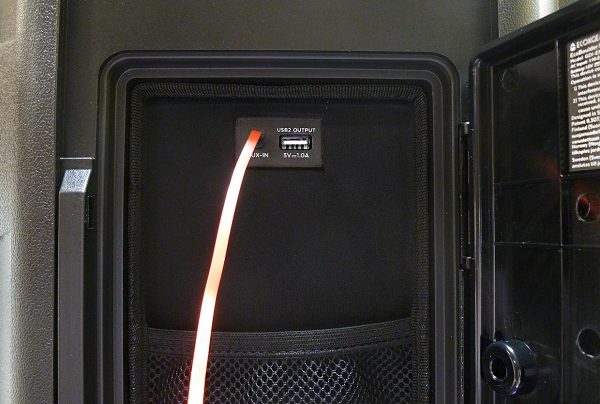 Because the EcoBulder is designed for outdoor use, audio quality isn't as good as some more expensive Bluetooth speakers. But let's be fair: The EcoBoulder sounds absolutely fine for its purpose. What it lacks in sound quality, it makes up for in volume—perfect for outdoor parties and get-togethers. Understand that any audio nuances are lost in the open outdoors anyway, so why quibble about it? What you want is for everyone to be able to hear the music and that's where the EcoBoulder's 100 watts of audio power shines.
While 100 watts of volume will carry over a long distance, bass will suffer. Up close, the EcoBoulder has plenty of thump, but walk a few yards away and bass drops off significantly. That's not the speaker's fault—it's physics. Lower frequencies need things to bounce off of to achieve that "bass" sound. When outdoors, audio has nothing to reflect its sound waves, so it just keeps going and going until it dies out.
With the EcoBoulder, ECOXGEAR has made a speaker perfect for its intended use. They didn't try to fight the laws of physics with expensive gear or digital trickery that can compromise audio in a bad way. They just made a durable speaker that sounds good and loud for whatever excuse you can come up with to play music outdoors.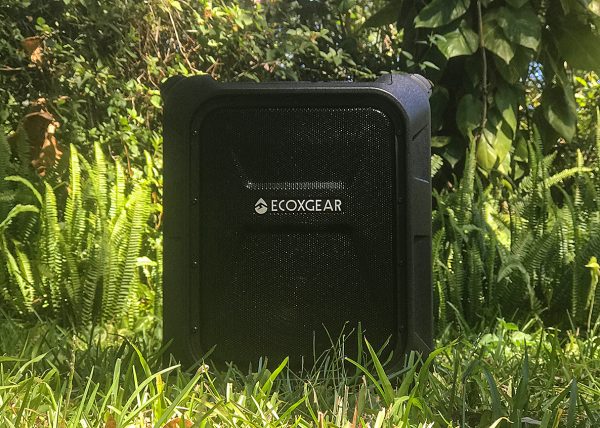 Think about it: here's a good sounding speaker that's weatherproof, will keep your Spotify enabled smartphone dry and charge it at the same time so the party can go on just about forever. Why try to do more?
Source: The sample for this review was provided by ECOXGEAR. It sells for $249.99. It's available for Costco members for $179.99. Please visit their site for more information and check their Amazon store for other ECOXGEAR speakers.

Product Information
Price:
$249.99 ($179.99 at Costco)
Manufacturer:
ECOXGEAR
Retailer:
Costco
Pros:

Inexpensive (from Costco)
Big and loud
Has retractable handle and wheels
Included AM/FM radio
Waterproof

Cons:

Bass not great over distance (but sounds good close up)
Plastic speaker grills
Heavy
Max volume can be harsh sounding