We use affiliate links. If you buy something through the links on this page, we may earn a commission at no cost to you. Learn more.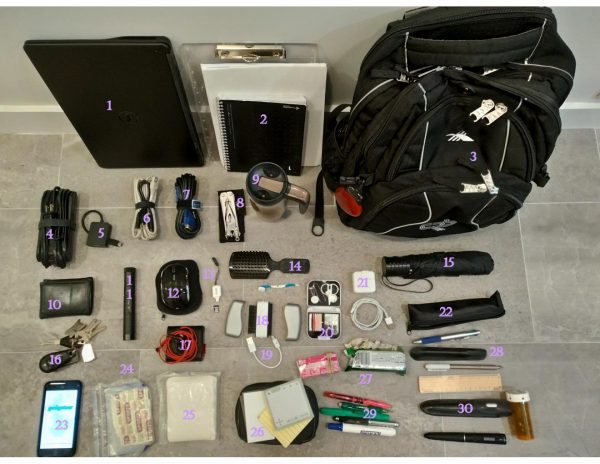 When Julie asked each of us to do an EDC update I thought, "I don't have that much stuff." When it came time for me to empty my bag I was surprised how much stuff I could catalog. So, after neatly laying things out and using an orchid/violet item-neutral label, I'm proud to present my daily schlep:
1. Company issued Dell Latitude E7450. I'd prefer one of the newer touch models with the full HD screen. Maybe the IT fairy will bring me something nice for my next upgrade.
2. Clipboard for keeping things neat and a Livescribe notebook. See item #30 for more details.
3. Company issued High Sierra backpack. I added a LED lamp/reflector for when I'm walking out at night.
4. Power brick for the Dell. Actually, this is for the older model but this brick has higher wattage for faster charging and weighs only a couple of ounces more.
5. Mini DisplayPort to VGA. The computer has HDMI, but not every projector/AV system does.
6. Cat5 cable and 3.5mm 4 pole audio splitter. Sometimes I can use cat5 wired internet at places with secured WiFi. The audio splitter comes in handy once in a while.
7. VGA cable and 3.5mm 4 pole patch. The audio cable and the splitter can be used as an extension cord (with loss of impedence if I actually split the signal, but this is usually for low-quality recording anyway.
8. SOG Paratool multi-tool. MacGyver should have this model.
Never miss one of our posts again. Sent MON, WED, and FRI with the latest gadget reviews and news!
9. Contigo Autoseal Randolph stainless steel vacuum insulated travel mug. I like this more than some people. See my review here.
10. Wallet. The old fashioned, scoliosis-inducing, leather version.
11. Bright green laser pointer. I'll answer the question I always get now, "No, I don't point this at airplanes.
12. Microsoft mouse in an old Jaybirds pouch. Cuz sometimes you just need a mouse.
13. PhotoFast i-FlashDrive CR-8800 iOS microSD card reader. See my review here.
14. Hairbrush.
15. Umbrella. Like my scoutmaster told me: "be prepared.".
16. Keys. I have a couple of things on the ring that are useful: A Huskey Key ring screwdriver with three flats and a Philips compatible blade and also a 8GB USB thumb drive.
17. Phiaton MS 300 BA earphones and case. See my review here.
18. A keyboard/screen brush/cleaner. A dusty screen in the midst of bright sun is one of my pet peeves.
19. A micro USB charger for whatever else I happen to be carrying that day. This has an extra long metal part for charging devices with hinges, like my Jaybird Freedom earbuds.
20. Sewing kit. See #15.
21. An iPhone charging cable with a 10W power supply. Gets the job done twice as fast on an iPhone 6 or later.
22. Little bag for the Livescribe pen, GoSmart stylus, and scale (ruler).
23. iPhone 6 with what's left of a Spigen case with an Aluminum ring. The Aluminum fatigued so now its just a rubber bumper case.
24. First aid kit. See #20 and #15.
25. A bag of paper towels. See #24, #20 and #15. Actually, I usually have a small bag of tissues, but I need to restock.
26. Business cards, post-its, including a Livescribe Sticky Notes, on a bag for carrying these items and the pens to the right.
27. Gum, a granola bar, and some cough drops (which lasted longer than the tissues…I guess it was more of a cold than a cough.)
28. A 4-color pen, a sleeve for the GoSmart stylus, the GoSmart stylus and a wood-tone scale (ruler). See Julie's review.
29. A pink Frixion highlighter, mechanical pencil, green highlighter, LED lamp/red laser/stylus/pen combo, and a stain remover pen (that has saved me from embarrassment on more than one occasion).
30. Livescribe case, Livescribe echo pen and Livescribe earphones with binaural microphones (in a pill bottle).
So there you have it. I included a bunch of links for my EDC but leave a comment if you want me to elaborate on anything.