We use affiliate links. If you buy something through the links on this page, we may earn a commission at no cost to you. Learn more.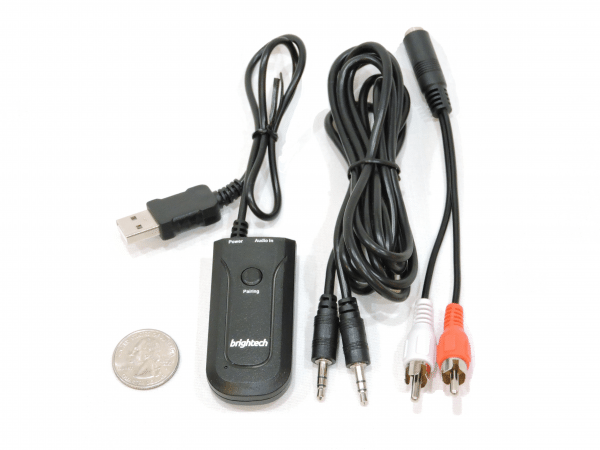 This is the Brightech – DoublePlay HD Bluetooth 4.0 Transmitter / Splitter. This little wonder lets you pair two wireless headphones to it, enabling both people to watch TV as long as they want, and as loud as they want, without disturbing anyone else in the house. 
The Brightech BPX2 has A2DP technology, and CSR apt-X Low Latency codecs. Why is this important? It effectively enables consumers to watch video while listening to wireless audio in a synchronized fashion. It means there is little noticeable delay in what you see on the TV compared to what your ears are hearing. It's much faster than older Bluetooth technology: 40 milliseconds compared to (up to) 200 milliseconds. Bluetooth 3.x (and older) made it seem like you were watching an old Kung-Fu movie with poor audio dubbing.
This baby easily takes care of that problem. You can still pair Bluetooth 3.x wireless headphones to it, but you'll be in Kung-Fu territory. I've paired to it using both Bluetooth 3.0 headphones and Bluetooth 4.1 headphones. The Bluetooth 3.0 isn't terrible, but it's not as good as watching TV live, which is what the 4.1's sound like. So make sure your earbuds or headphones are Bluetooth 4.x compatible for best results.
Connection is super-simple. The attached USB cable is for power to the unit. The unit also comes with a 3.5mm male-to-male connector, and an RCA to stereo Y-cable, both of which can be used to connect to the audio source. You can connect it directly to your TV, the back of your cable box, even to the remote of your ROKU (if your ROKU remote has a 3.5mm headphone jack)! The unit must be plugged into a USB port for power.
Overall, I'm very pleased with the function, operation, quality, and size of this unit. It pairs easily with the push of a button, operates well, and most importantly, keeps the peace between the sleepy-heads and night-owls in the family.
The sample for this review was purchased with my own funds.  Please visit Brightech for more information and Amazon to order.


Product Information
Price:
$27.99
Manufacturer:
Brightech
Retailer:
Amazon
Pros:

Small
Lightweight
Easy to hide next to your other electronics
Convenient
Maintenance free
Works well

Cons:

Pairing two Bluetooth headsets the first time is fairly easy, but re-connecting both of them later on is confusing and sometimes aggravating
Transmitting range is not very far (20-30 feet)