We use affiliate links. If you buy something through the links on this page, we may earn a commission at no cost to you. Learn more.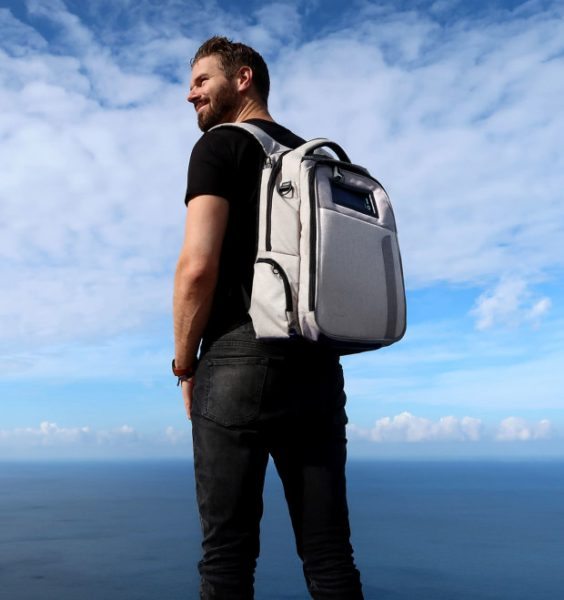 We get it. You don't like to be tethered to some workstation just to get through your daily workload. What if you could throw your office on your back, take your work with you and keep your mobile devices charged by harnessing the energy of that glowing ball of exploding gas in the sky? Enter Lifepack: The Solar Powered & Anti-Theft Backpack.
Lifepack is a durable, unassuming backpack with secret superpowers: an integrated retractable security lock, built-in rain cover, paper storage, and best of all, a portable solar energy system that the company calls Solarbank.
Incorporated into the top portion of the front, Solarbank is a removable 3-in-1 power block, Bluetooth speaker and solar power system claiming to dole out 96 hours of audio playback or 6 full phone charges. Naturally, being out in a light source will charge the Solarbank while in use, so those figures might change in your favor on a nice, sunny day. (Not to worry, it charges on cloudy days, too.)
The company claims that one full discharge into a phone takes roughly 4-6 hours of sunlight to replenish. There is always the option to top off the battery using a wall outlet.
The Solarbank, while in the Lifepack, takes up relatively little space, weighs only 1 pound, and offers 2 USB charging ports, one rapid-charging speed and one regular.
While the star feature is the Solarbank, the bag itself is no slouch. It has an 18 liter capacity, large enough to fit a 15.6″ laptop, and splits its space between what it labels the Workspace and Lifespace, each suited for its own distinct load.
The Lifepack price is set at $269, though the InDemand product page on Indiegogo.com, while fully-backed and apparently still in existence, has the estimated delivery date of January 2017.