We use affiliate links. If you buy something through the links on this page, we may earn a commission at no cost to you. Learn more.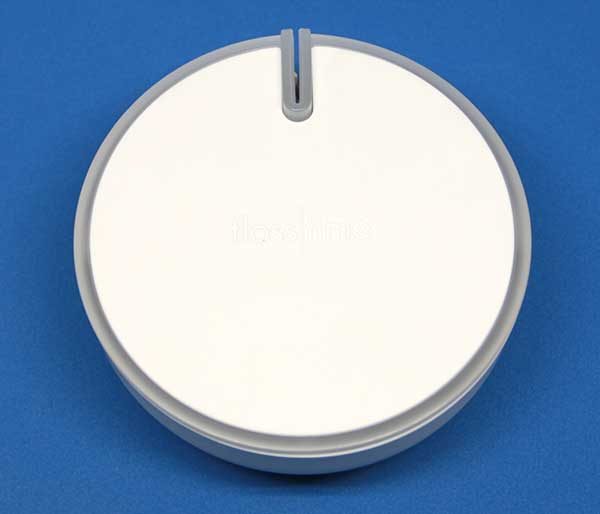 Dental hygiene is important if you don't want to end up wearing dentures when you get older. Brushing and flossing your teeth every day are habits that should be cultivated at a young age. If that's a habit that you still struggle with, the Flosstime automatic floss dispenser may be the right gadget to help you make your flossing habit stick. Let's see if it helped me.

What is it?
Flosstime is an automatic dental floss dispenser that attaches to your bathroom mirror and reminds you using LED lights to floss every day.
What's in the box?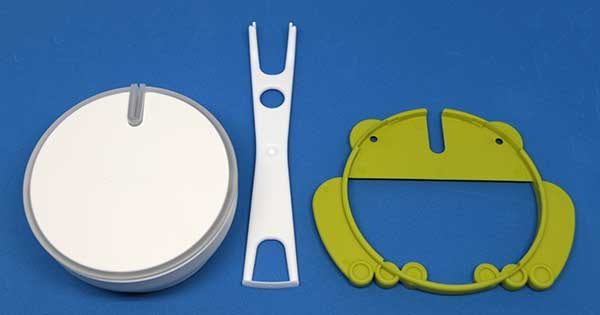 Flosstime floss dispenser
Pre-installed floss cartridge
2 x AA batteries
Animal snap-on (Frog)
Reusable floss pick
Quick start guide
Design and features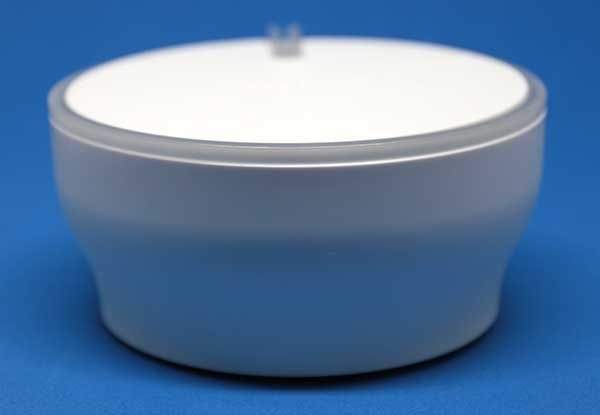 The Flosstime dental floss dispenser is a round plastic module with a transparent ring around the top edge that glows different colors to remind or reward you for flossing your teeth once a day.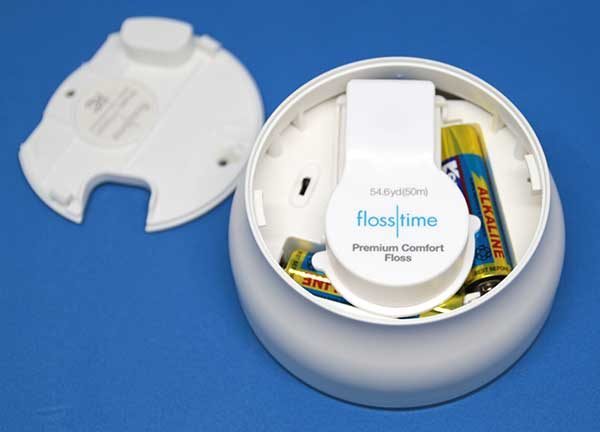 The base can be removed to access the battery compartment, switch from single user to dual user mode, and to replace the floss cartridge.
Never miss one of our posts again. Sent MON, WED, and FRI with the latest gadget reviews and news!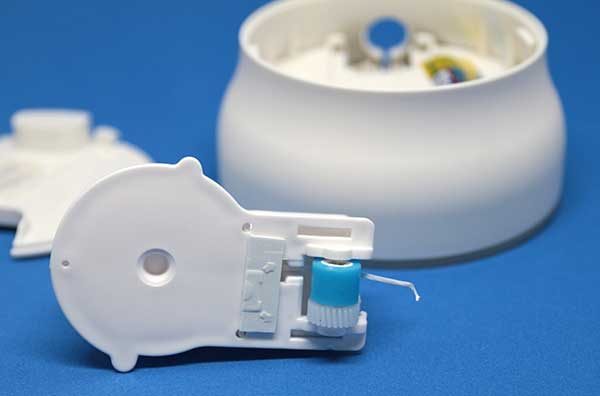 The Flosstime floss cartridge holds 54.7 yards (50 meters) of floss. That comes out to about 1968 inches of floss. Each time you press the front of the Flosstime unit, it spools out 18 inches of floss, so that means one cartridge will last for approximately 109 days if you floss just once a day. Replacement cartridges can be purchased through the Flosstime site for $5.99 each. The price for the Flosstime floss cartridges is more expensive than comparable Oral-B Glide Comfort Floss cartridges which you can find for less than $5 for a pack of two and a total of 88 yards through Amazon.
Installation and use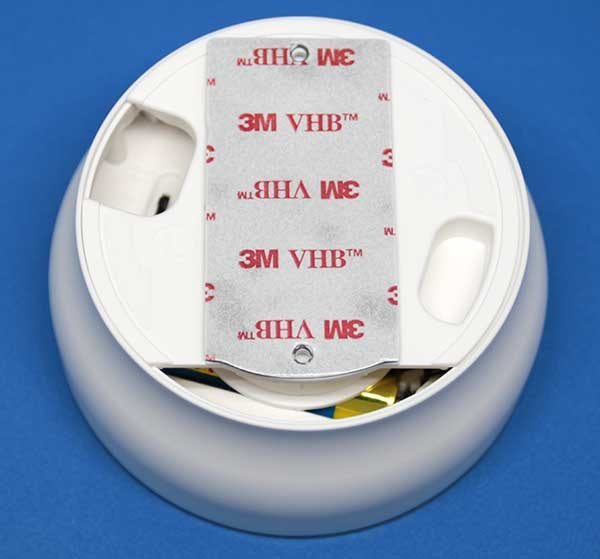 The Flosstime floss dispenser comes ready to use. All you need to do is peel the 3M adhesive backing from the back of the device and then mount it to the mirror in your bathroom.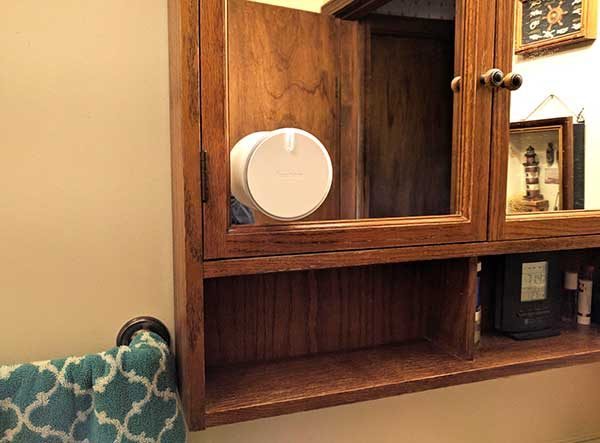 You want to stick it to the mirror instead of the wall because removing it will probably damage your wall, but won't damage the mirror.
If you really want to mount it to the wall, you can do so with drywall anchors which are not included.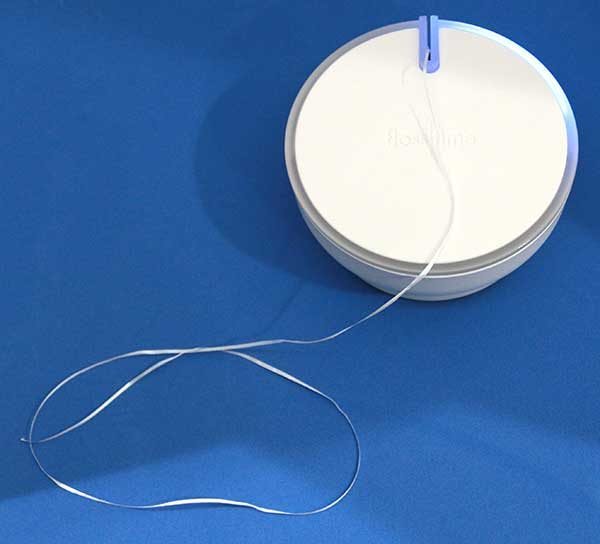 To dispense floss, you just press the front of the Flosstime, which is like a large button. When you do this, an 18-inch long strand of floss spools out of the top of the device. You then pull down the strand of floss to cut it using the built-in cutter.
And of course, the final step is to actually floss your teeth.
How does Flosstime help you create a daily flossing habit?
Flosstime has a built-in timer that remembers when you used it and will light up the LED ring around the edge in orange if you haven't flossed within 22 hours of the last time you flossed. The reminder LED will only light up after 22 hours. After you press the button and the floss is dispensed, a section/quadrant of the Flosstime edge will light up in blue every 20 seconds. This is supposed to help you time the amount of time that you're flossing each area of your mouth. The rest of the time/day, the Flosstime LEDs are off.
If you have Flosstime set to dual user mode, it will show two reminders on the top quadrants.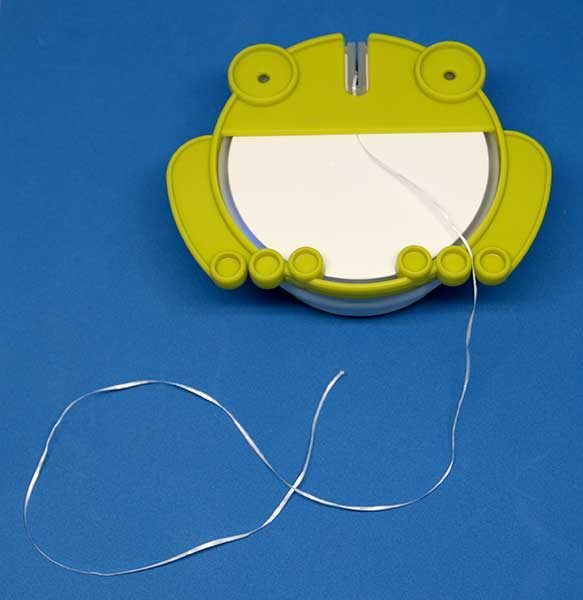 To help kids build healthy habits, Flosstime comes with a snap on plate that makes the unit look like a frog. Other animal plates are available as a separate purchase through the Flosstime site.
What I liked
I liked that Flosstime comes ready to be used. Just peel the adhesive backing off the back and stick it to the mirror and you're ready to use it.
I also liked that it blinks to remind me each night that I need to floss. That said, the fact that Flosstime is stuck to the mirror, it's not like you can ignore it. But the blinking LED does help drive home the fact that it's waiting for you to press the button to dispense floss.
I also like that this isn't an IoT device. You don't need to pair it with your phone or WiFi to use it.
What I don't like
My bathroom is tiny and as such, the vanity mirror isn't that large. Flosstime blocks a 4×4 inch area of the mirror and sticks out about 2 inches.
It's just another device that I have to feed batteries.
It uses proprietary floss cartridges that are more expensive than popular floss cartridges.
Final thoughts
When it comes to building a daily flossing habit, Flosstime will easily do that for you with its built-in reminder LEDs. It's also "fun" to press the button and have a perfect strand of floss spool out. But I have a strong feeling that the first time I run out of floss or the batteries die, I'll stop using it because at that point it becomes a nuisance gadget instead of a useful gadget.
In my opinion, a better flossing reminder gadget would be a small stick-on module that has LEDs that blink if you haven't flossed in the last 22 hours. That's really all I need to help me build a habit because I can open the medicine cabinet and use my existing (and less expensive) floss.
Update 03/19/17
Although I'm not a huge fan of this device, I'm still using it because – free floss. That said, after using this device for a few months, I've discovered a couple quirks worth mentioning.
First of all, the floss has gotten wrapped around the internal gears/mechanism a couple of times which required me to take it apart to fix it. Not a huge deal, but it did cause me to waste a few feet of floss to fix it.
Another quirk is that the LED notification starts blinking the next day around the same time you used it the day before. That means if you go to bed at different times each night or weekdays vs. weekend days, you might not notice the blinking notification.
The weirdest quirk that I've noticed so far is that the Flosstime will automatically eject floss in the middle of the night. The first time this happened, it woke me up because the noise reminds me of my Kevo lock on the front door and I thought the lock had been activated. I lay there for awhile listening for more sounds but didn't hear anything and thought I had dreamt it. The next morning I went into the bathroom which is next to the bedroom and noticed that there was floss hanging down from the Flosstime. I thought it was a one time fluke until it happened again last night. This time it didn't wake me up, but it woke Jeanne who also had the same thought that someone was trying to get into the house.
Oh, there's one more quirk… sometimes the cutter doesn't cut the floss and you end up pulling out way more floss than you need as you're trying to cut it. Or it partially cuts the floss and it separates into threads that ravel as you pull on it.
Source: The sample for this review was provided by Flosstime. Please visit their site for more info and Amazon to order.