We use affiliate links. If you buy something through the links on this page, we may earn a commission at no cost to you. Learn more.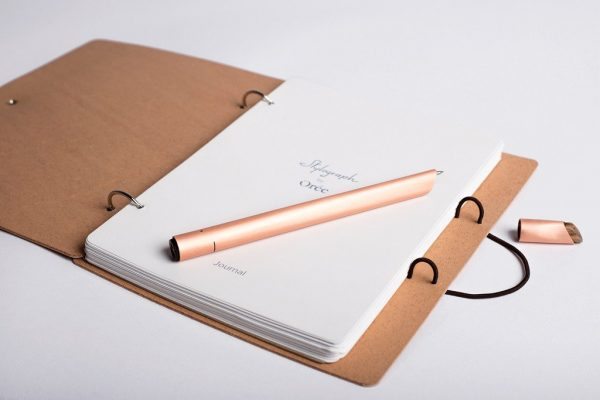 As much as possible, I take notes using Evernote, but sometimes I want to draw pictures and add diagrams and calculations to my notes. In those cases, it is easier to use a pen and paper. Orée has come up with the Stylograph, a pen that works with special paper to digitize all your handwritten notes. According to Dezeen,
The pen contains a high-speed micro camera that tracks where pen strokes are positioned on the page – relying on the paper's barely visible patterns for reference. An accelerometer within the pen also detects its movement and angle.
The Stylograph stores your notes on its internal storage and uses Bluetooth to transfer them (exports to PDF, PNG, SVG) to an associated app on your mobile device (iOS or Android). You may transcribe your notes into digital characters and into 50 different languages. You must use the special Orée paper (192 sheets of A5 paper stored in a leather notebook) to use the smartpen features because it contains patterns necessary for those features to work; otherwise, you could simply use the pen as you would any other pen (without the smartpen features). Check out the following video illustrating how it works:
The Stylograph is made out of copper in which one end of the barrel appears to be circular then transitions to a triangular shape toward the tip of the pen. The pen comes with a Zebra 0.4C 0.7mm ink cartridge. It also has a Li-polymer battery that allows you to use it for up to three days and is then recharged via a micro-USB charging cable. Refills for the paper (190 sheets, A5 format) are $30 and ink refills (5 x Zebra 4C-0.7 cartridges but also supports standard D1 ballpoint refills) are $5. Currently, the Orée Stylograph is out of stock, so check their website periodically for updates or sign up at the bottom of the page to subscribe to their mailing list. I could not find a pricing reference for the pen and notebook on the Orée website because it is out of stock, but according to Engadget, together they are $300. Ouch!