We use affiliate links. If you buy something through the links on this page, we may earn a commission at no cost to you. Learn more.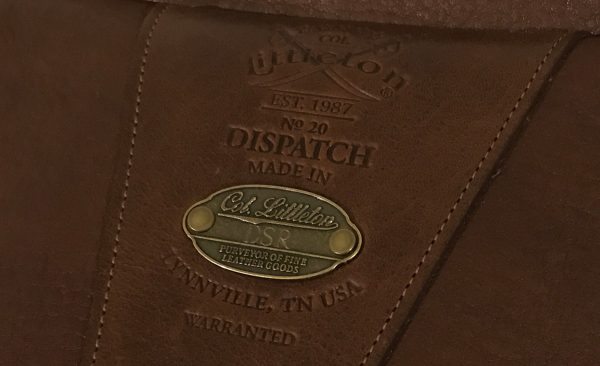 Colonel Littleton creates some of the finest bags I have ever had the privilege to carry my gear in. My 1943 Navigator bag has traveled the world with me and continues to be my EDC bag. It is a true workhorse and nearly bulletproof, receiving regular compliments as it grows old with me. But when the Colonel introduces a new bag with the following first line: My wife has told me on occasion that I'm a "legend in my own mind." So, I designed this bag not only for me but for all you legends out there, either real or imaginary…it catches my interest. Cause this is what my wife, my sister, their friends, coworkers, Julie etc. think of me a majority of the time. So, I crossed my fingers and asked to review Colonel Littleton's No. 20 Dispatch bag to see if it lives up to such a high bar and thankfully he sent one my way. 
Note: Images can be clicked to view a larger size.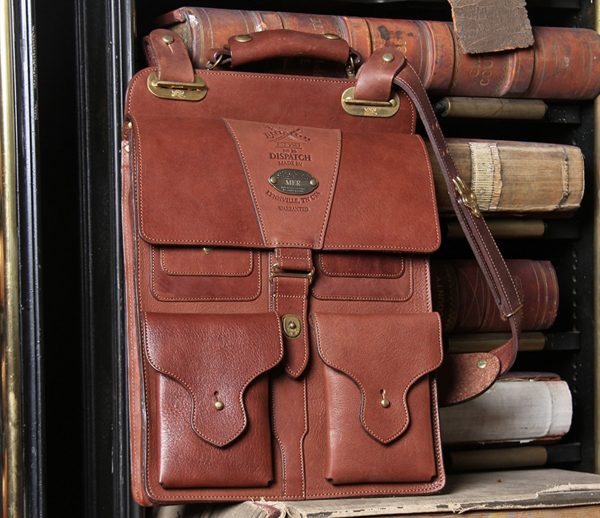 As the story goes, the Colonel tested the prototype of the No. 20 Dispatch bag for nearly a year before blessing it for production to make sure the satchel's "…performance matched its unabashed good looks." The Colonel liked the bag so much, it became his personal favorite bag and I can understand why.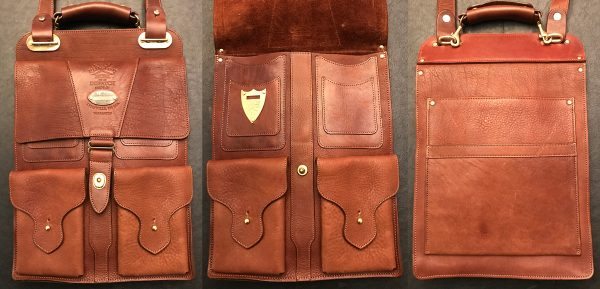 Like many of the Colonel's other creations, the No. 20 Dispatch bag's design has a distinctive vintage military look and feel to it. With its old-world charm, the Dispatch bag looks like it came right out of the beginning of the 20th century and the World Wars. But in this case, the Colonel made sure this eye-catching satchel could be used in modern times to carry your tech gear and/or business paperwork thru our hectic lives.
Specifications:
Shoulder Strap Length: 32″ – 42.5″
Inside dimensions 12.5"H x 9.75"W x 1.5"D
Weight: 3.5lbs
Overall outside dimensions 15"H x 10.5"W x 2.5"D

I am a firm believer that the devil is in the details. And typically if someone thinks an effort is easy or on first glance something is wonderful, a majority of the time they just haven't taken a close enough look at whatever it may be. That said, Colonel Littleton is all about the details…even the shipping box and protective cloth bag only confirm the quality, care and pride of the products within.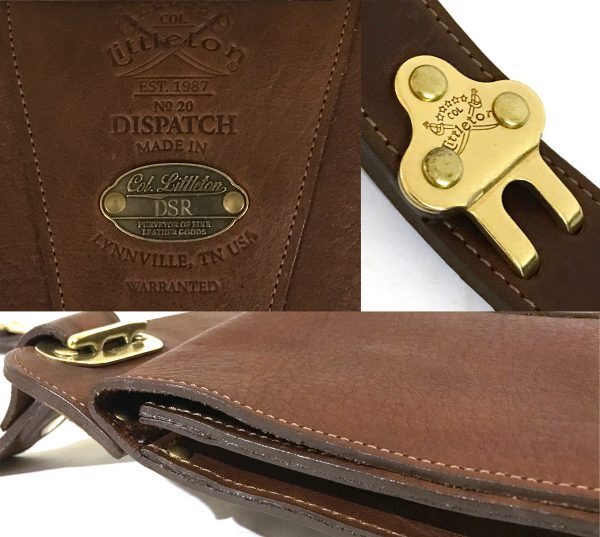 I have said this many times before in various different ways and part of me apologizes for quoting myself but I really cannot say it any better:
Colonel Littleton bags are exquisitely done; soft supple leather, solid brass hardware, Old World styling, finely done stitching and edge finishing. From a craftsmanship and materials standpoint, I can find nothing but positive things to say about every piece from the Colonel's workshop that has crossed my path.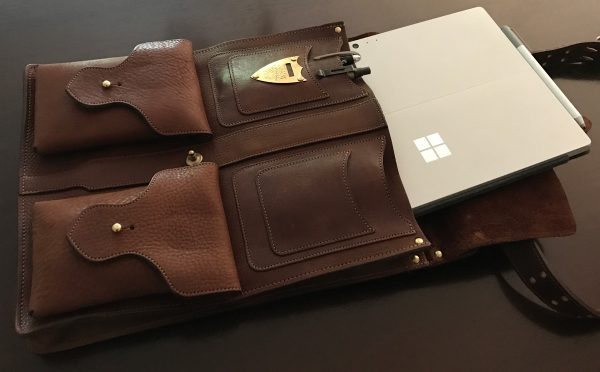 The No. 20 Dispatch bag is nicely sized for today's minimalistic tech-traveler. There is a main compartment for holding moderately sized laptops, tablets and/or a decent amount of paperwork. Stitched onto the front of the main pocket are two large pockets with ball stud closures and four smaller, low profile slipper pockets for pens, business cards, etc. Here you can see the bag fits the Microsoft Surface Pro 4 very well. I also tried it with the 12″ MacBook and new 13″ MacBook Pro that also fit inside like a glove. My 14″ Lenovo X1 Carbon just barely fits and was a bit jammed in the main compartment but the main flap could close well enough. In addition to the SP4 and several pens you see here, I have most of my EDC gear tucked away as well, including my work ID/credentials, Jabra Elite Sport wireless earbuds and case, James Brand Chapter knife, a few business cards, and a couple of cables.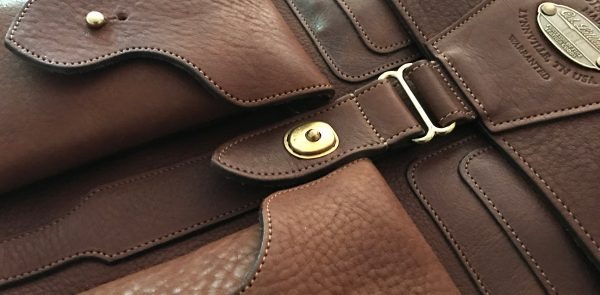 The main flap is held securely closed by a military-style lift-the-dot closure mechanism. Both the lift-the-dot and ball stud closures open and close easily but stay in place while in transit. The brass plate on the main flap may be personalized with three initials.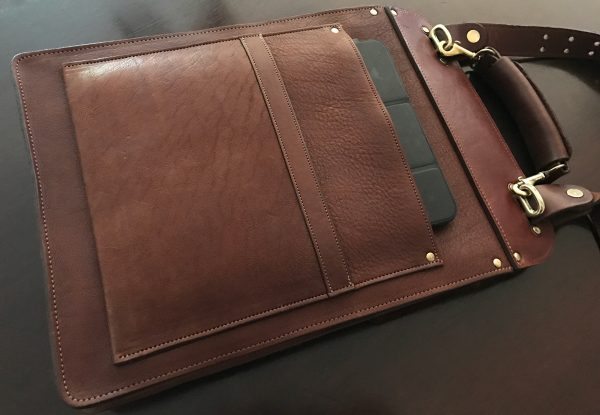 The No. 20 Dispatch bag has two large slipper pockets stitched into it back. My iPad Air fits very well into the larger of the two. As you would expect, the stitching is perfect and reinforced with solid brass rivets.

The Dispatch bag has a double adjustable polished leather shoulder strap with engraved solid brass adjustment hardware and enforcement rivets.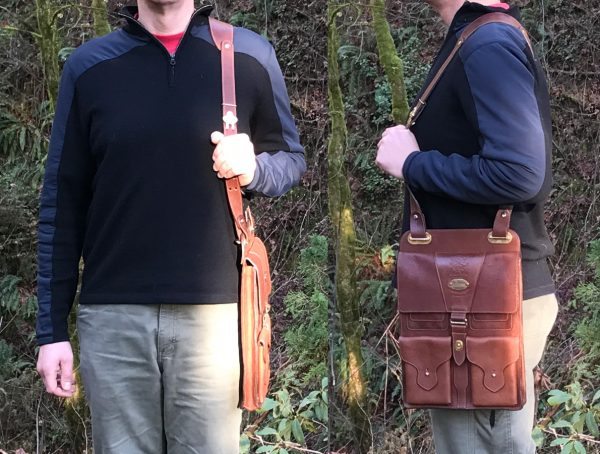 Even though the shoulder strap is not padded, it rides very comfortably even with a loaded bag.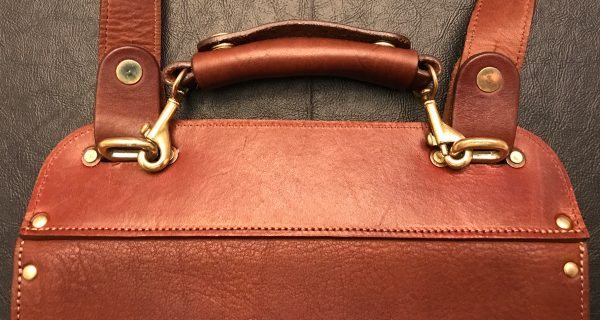 In addition to the shoulder strap, the Dispatch bag has a comfortable to hold and easy to grip removable handle. When you are wearing the bag over your shoulder, the handle drops behind the bag out of sight and out of the way.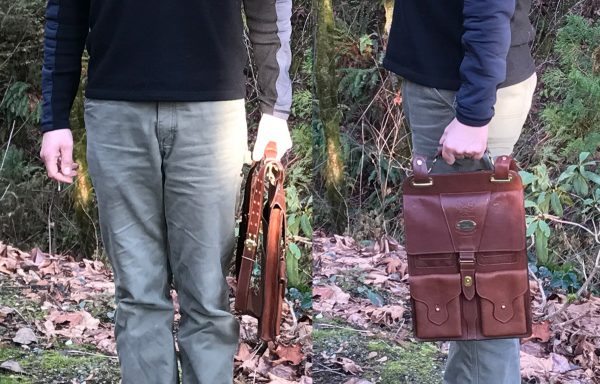 Compared to other laptop bags, the Dispatch bag is pretty minimalistic…just big enough for your portable tech and key EDC gear. Total weight is under 6 pounds for my current gear. And even if I get the new 3 pound MBPro, I would still be under 7 pounds. IMO, a very manageable load to lug around all day. Considering its quality, craftsmanship and timeless style, the Dispatch's 3.5 pounds of heft is well worth the effort 😉 .
I really like the No. 20 Dispatch bag and am considering reducing my EDC gear to accommodate the smaller volume of this bag. Most days I could easily embrace the lighter load and less stuff this bag gives. As I have said before, this level of quality and handmade craftsmanship does come at a cost. Costing over $600, this bag is not inexpensive but will last a lifetime of use without any doubt.
Source: The sample for this review was provided by Colonel Littleton. Please visit their site for more info.

Product Information
Price:
$632
Manufacturer:
Colonel Littleton
Pros:

Incredible Old World craftsmanship
Designed/made to last a lifetime
Great minimalistic design
Ideal EDC bag
Made from thick, supple leather
Solid brass hardware
Comfortable to wear or carry
Great warranty

Cons: