We use affiliate links. If you buy something through the links on this page, we may earn a commission at no cost to you. Learn more.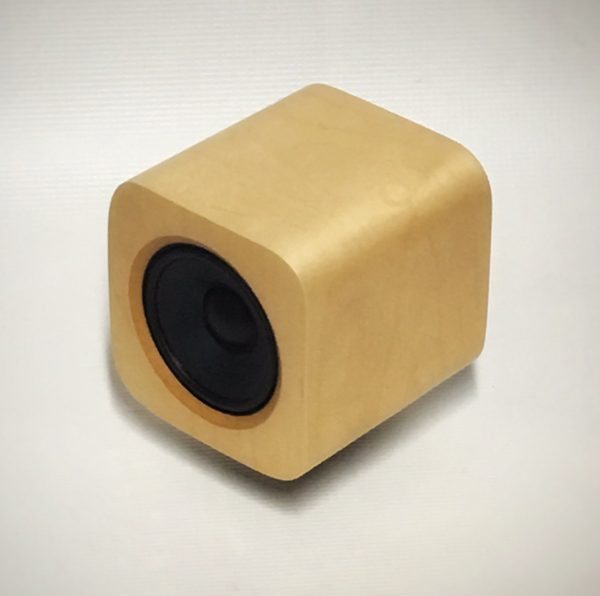 I love music in my home at all times of the day.  It can make cooking, cleaning or exercising more enjoyable, and bathing or falling asleep even more relaxing.  Now, add Amazon's Alexa to the mix.  Check out this powerful little 4 inch, 1.3 lb. speaker called Sugr Cube. 
What's in the Box:
• Sugr Cube Speaker
•USB Charging cable with 7 different attachments for plugging into a power outlet depending on where in the world you live (nice!).
Getting set up:
First things first, you need to plug it in and charge it.  You will see the indicator light on the knob on the back blink red as it's charging and it will turn green when it's fully charged. Notice the simplicity of having only one function button, which is the silver knob you see below.
Since I was too impatient to wait a full four hours for it to charge and get it set up, I went ahead and downloaded the Sugr Cube app at the App Store (you can also use with Google Play/Android phones) and connected it to my wifi while it was plugged into the wall and still charging. Making sure that my phone was connected to my wifi at home, I opened the app and followed the directions to connect.  I had a little trouble connecting it at first because we have two networks and my phone was initially connected to the 5GHz network which this speaker is not compatible with. Once I figured that out I was good to go.
Using the Speakers Features:
The speaker is operated initially through the app.  You can scroll through the different options you have for playing your music such as Amazon Alexa, Cube Music (music that you can import directly to the 4 GB of flash memory on the cube from a computer or iTunes), Pandora, or radio channels from all over the world and Relax Radio which is built in sounds of relaxing rain, nature, or waves.  The speaker has Spotify connect built in too and the directions say you need to have a premium account to use it, however if you go directly to the Spotify app, you can choose Sugr Cube in the More Devices section at the bottom.  You will have to put up with lots of commercials if you don't have premium though. Since the directions say that Spotify Connect is built in, I had to sign up for the free 30 day free trial of Spotify Premium just to see how it works.  I have to say it is very easy and a good reliable way to use the speaker to stream all your favorites on Spotify, right from the app on your phone, or your computer.
Below is a screenshot of the Spotify app on my iPhone showing that even without the premium membership, you can choose more devices and the SugrCube appears and will connect and play.  You will hear a bunch of commercials this way and you won't have access to premium features this way, but it does work even though the included directions say that it won't.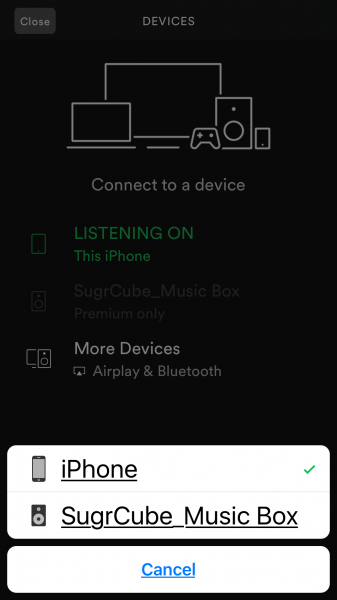 More than Music: 
I was completely floored when I realized that adding this little Sugr Cube to my home network meant that I had another access point for using Alexa. Tapping on the top of the speaker twice wakes up Alexa and you can use her as you would if you had spoken the command, "Alexa." You simply tap it on the top twice, you hear a wake tone, and you can ask anything that you would your normal Echo/Alexa in your home. So…let that sink in a sec… the Sugr Cube speaker can turn the lights off and on, check the weather, read Audible books to you, change the thermostat setting in your house, or even order you more Tide laundry soap.  I think it's pretty cool because I have Alexa in my office and a Dot in the kitchen, and I would have to yell to her to turn off the lights if I was in bed. Now, with this speaker by my bed, I simply tap it twice, and my Amazon Echo features are all at my disposal. Note: When you tap it twice, you do not need to say "Alexa."  If you do, you may get a response from your actual Amazon Echo and then you may end up communicating with the wrong device.
You can use this speaker as an alarm and/or set a sleep timer as well by tapping the icon at the bottom of the app that looks like four boxes (See pic below). A menu pops up that allows you to set an alarm, use the sleep timer, burn-in the speaker, set the filter settings and pair the speaker with another Sugr Cube for a stereo effect. In my opinion, the best setting for excellent sound is to turn on the Magic Bass feature in the filter settings.  The sound is so full and surprisingly clear for being such a small speaker. The pics below give you an idea what the app looks like. I named my Sugr speaker "Music Box" which is why you see those words at the top left corner.  You simply swipe right and left to scroll through the different features that are available for listening.  When you press the icon that looks like 4 boxes at the bottom in the pic on the left, the menu seen in the right pic comes up.
| | |
| --- | --- |
| | |
I was not sure what "Burn-in" was when I saw it listed in the menu, so obviously I tapped it to see. Below is the explanation.  I turned it on without any music currently playing and it sounded like white noise.  I didn't really see how that could benefit the speaker, or my sanity, so I played some music then went back to the menu and used the burn-in feature again and I could see the time counter ticking away like it was working. I let it play for a little while that way, but the speaker sounded perfect to me already, so I just decided to let it break in on its own by normal playing time.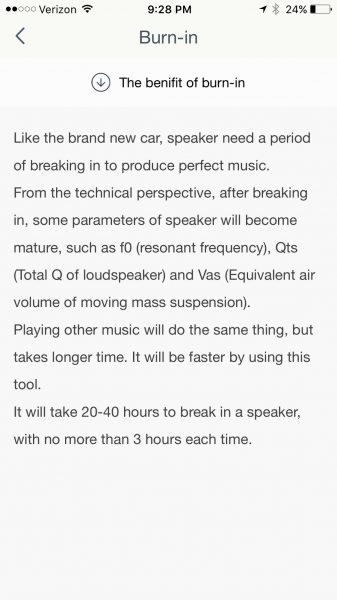 The screenshot below is a menu that appears when you tap the small Sugr cube icon in the upper left while in the app.  This is helpful to let you know what wifi network you are currently connected to, and how much battery life you have left. The speaker takes about 4 hours to completely charge, and once fully charged I was able to use it off and on for two weeks and I logged about 10-12 hours of total playtime. It is convenient to be able to move around and place it wherever you are in your home, but since it needs a wifi connection, most likely you will be near an outlet in your home if you should need to charge it, so it seems to me that 10-12 hours of playtime per charge is ample.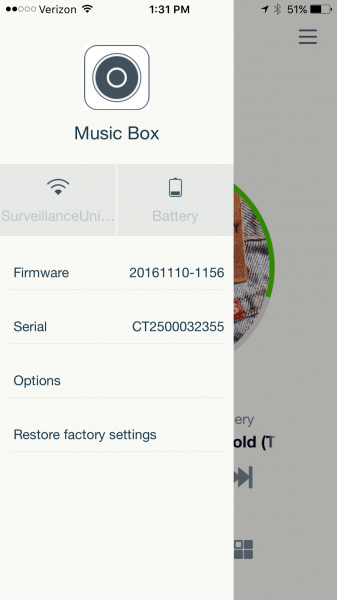 Additional Features:
When you turn the speaker on each time, the last feature that you played music through using the app starts up. By this I mean, if you used the app and set it to play wave sounds, then you tapped it and asked Alexa to play you a song or playlist, it will default back to the waves the next time you turn it on. If you aren't happy about what you are hearing, you can tap it twice and Alexa will assist you with hearing what you want, or you can pull up the app and play what you'd like to hear. One of the reasons this speaker is exceptional is because you operate it using the app, or through Alexa, or through Spotify from your computer…but however you choose to use it, you will not get interruptions in your music play when you get a text or a phone call like you do if you use a speaker through a bluetooth connection through a phone.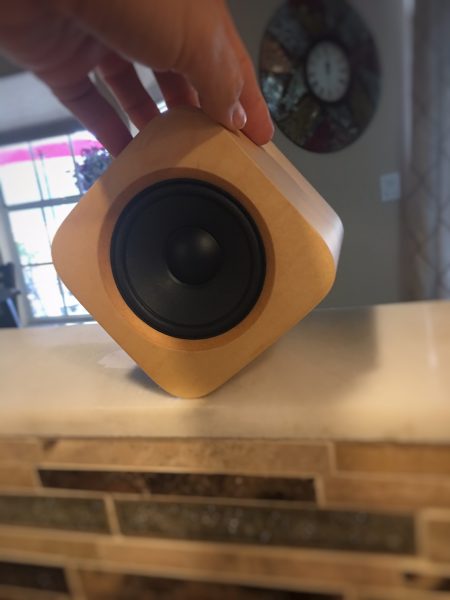 No matter what feature you use to play your music from, you can always advance to the next song, or go back to the previous song by tilting the cube at a 45 degree angle (see pic above), and you can stop and start playing music by tapping the top of the speaker one time.  I use this speaker quite often in the kitchen when I'm cooking and if I get a phone call, or I need to change the song I can do so quickly without having to pull up an app.  Over the holidays this year, we got it a tad messy with flour while changing songs and baking cookies while listening to Christmas songs.  Not to worry, I just wiped it with a damp cloth and it's spotless and looking like new. ***The pic below shows an actual sighting of a Sugr Cube in it's natural habitat.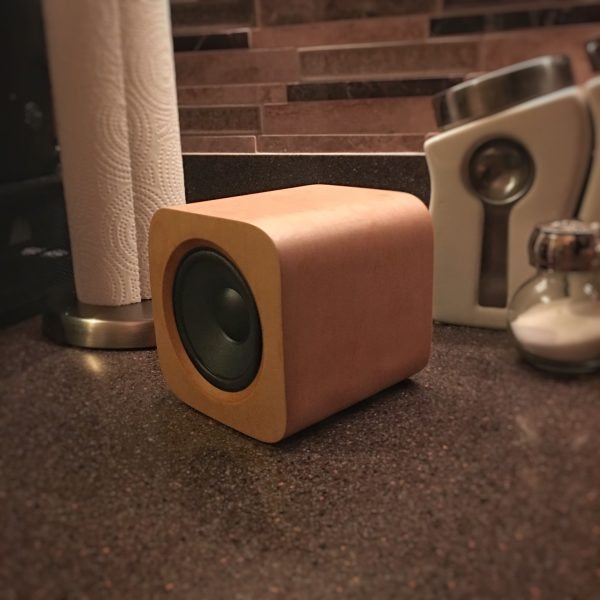 Summing it up:
All in all, this is an exceptional speaker with simplistic functionality, great sound quality and timeless beauty. There are times when there will be a small "blip" in the sound and there have been times when it was bothersome to me.  When this happened, I would simply turn the speaker off, then turn it back on again and the connection issue (if that is what it was) resolved and the sound was perfect. I wasn't sure if this was a result of my home wifi or not, but it happened to me about 4 times during my 30+ day review.  I think the simplicity in having only one knob which turns it on/off and controls the volume is great. The app is very user-friendly and having Amazon Echo at your fingertips gives this little Sugr Cube some added sweetness!
Source: The sample for this review was provided by Sugr Electronics Corp. Please check out their site for more info and Amazon to order.
Product Information
Price:
$139.00 for black or white, $150.00 for cherry or maple
Manufacturer:
Sugr Electronics Corp.
Retailer:
Amazon
Requirements:

Wifi
Smartphone
Wall outlet
Even though this review utilized Amazon Alexa, it is not a requirement

Pros:

Simplistic and beautiful design
Excellent sound
Compatible with Airplay, Spotify Connect, Pandora, Amazon Music and others
Has 4GB of flash memory to store your own music
Uses wifi so you don't get smartphone notification interruptions during play
Can use two speakers for a stereo effect

Cons:

Has occasional interruptions in play, possibly due to poor wifi connection