We use affiliate links. If you buy something through the links on this page, we may earn a commission at no cost to you. Learn more.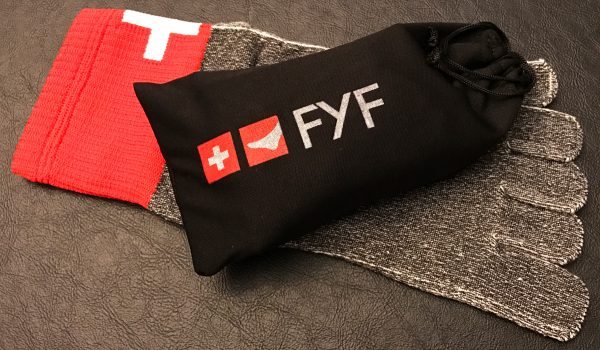 I have been wearing toed socks daily and toed shoes to workout while on travel for years. Truth be told, I love the way toed socks feel in all types of footwear. The minimalistic toed shoes are excellent while living from a suitcase cause they take up much less volume than regular fitness/running shoes while still getting the job done. The FYF (#FreeYourFeet) folks have combined toed socks & shoes and promise that their new toed footwear is the "…world's most reduced, high-tech footwear" ever. 
Note: Images can be clicked to view a larger size.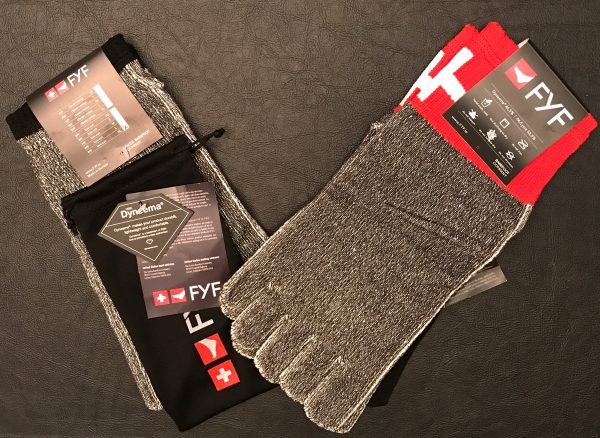 Last Fall, the Swiss Barefoot Company began the #FreeYourFeet as a KickStarter campaign that blew by its initial funding goal of $10,000 topping out at over $330,000 and nearly 4,000 backers. Pretty darn impressive for a fancy pair of socks if you ask me…

Well…the FYF toed footwear are much more than JUST a pair of socks. There is some serious material design and engineering that go into them. The premise behind FYF footwear is that it "Enhance(s) your performance with the world's most reduced high-tech protective footwear for a natural barefoot feeling in any sport you do." They are meant to connect you to the ground or surface you are working out on, bringing you closer to the way we were meant to run, walk, and move.

FYF footwear is made from 46.5% Dyneema, the world's strongest fabric. According to the website, Dyneema has a tensile strength 15 times stronger than steel. When you first touch the bottom of the FYF footwear it feels very similar to rough sandpaper in many ways, though (the best I can tell) it is non-marring or abrasive to surfaces.
Even though they are tough and engineered to protect your feet during your (epic) workouts, the FYF toed socks are still very comfortable and become more so with time and use.

There are nubs covering the sole of the FYF socks that give the footwear a good amount of grip. I can move around our hardwood floors or run the concrete stairs of my work with zero slipping or sliding. When working out on our elliptical machine or treadmill I have more or less the same grip as I do with normal running/workout shoes but with much greater feel and awareness of the surfaces.
Features and benefits of FYF footwear:
High cut, tear, abrasion resistance
Remains soft and supple
Lightweight and compact, high transportable
High thermal connectivity
Water repellant and dries quickly
Chemically inert
UV resistant
Other factors to consider:
You cannot machine wash them or even use warm/hot water. They must be hand washed in cool/cold water.
They are not puncture resistant.
If/when they start to smell, you must soak them in alcohol based sanitizer.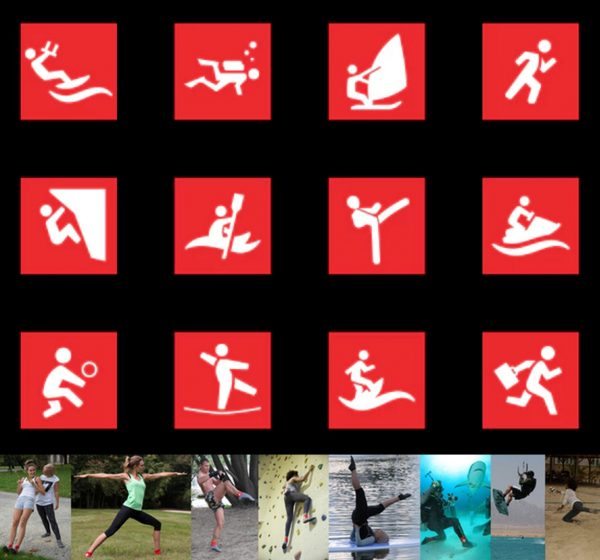 The FYF footwear is engineered/designed for many types of workouts from barefoot running to rock climbing to the martial arts and everything in between…anywhere greater feel and dexterity enhance your performance.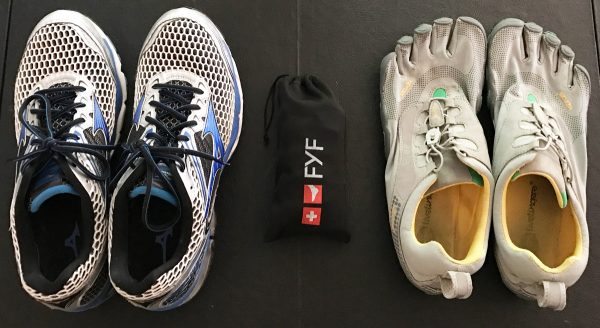 Another great feature of the FYF footwear is just how transportable it is. As you can see, it can be rolled up into its carry bag, taking up a small fraction of the volume that normal or even classic minimalist shoes take up in your travel gear.
I have been using the FYF socks for several weeks while working out and puttering around the house. My workouts were all indoors (due to the cold, wet winters we have in Seattle) and include treadmill running, stair climbing, time on the elliptical machine and a bit of weightlifting. Bottom line is that they give you a great minimalistic, barefoot feel while providing you solid grip to the ground/flooring.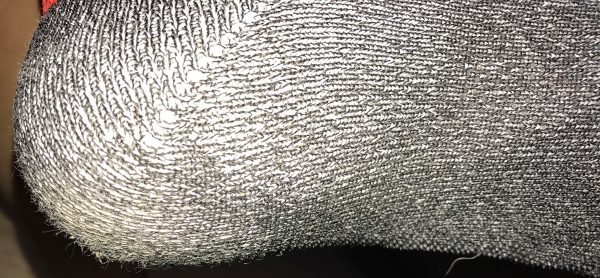 That said, I do have one suggestion for improvement: the Dyneema material needs to cover the entire footbed and beyond. I have size 12 feet (US) and received the XL FYF's that are meant for sizes 11 thru 14 but the grip material only covers approximately half my heal on 2 of the 3 pairs of socks I received. I worry that the "normal" sock material will wear out faster than the rest of the footbed. You can hopefully see the situation in this picture where there is fuzzy material from the center to the back of my heal and the knobby Dyneema covering the rest of my foot bottom. No matter how hard I pull them up the Dyneema does not cover my entire footbed.
The FYF's are available in low-Tide (ankle) and high-Peak (above ankle) in extra small, small, medium, large, and extra large.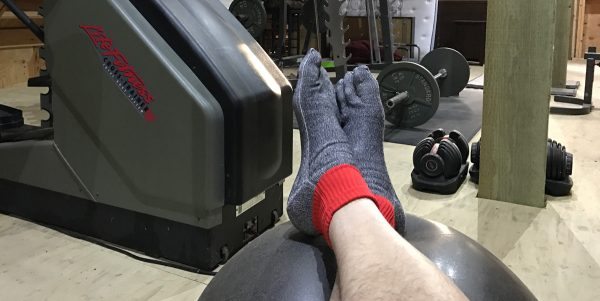 Overall, I really like the FYF (#FreeYourFeet) high-tech toed footwear. The Swiss Barefoot Company has done an excellent job creating some impressive minimalistic socks, designed to survive all-types of workouts. I travel a great deal and am always attempting to lighten my load, the FYF will make for a great workout companion while on the road. As I stated above, the only improvement/change I would suggest is covering more of the footbed or even wrapping the Dyneema material coating around the sides and back of the heal to make sure they last the test of time.
Source: The sample for this review was provided by Swiss Barefoot Company. Please visit their site for more info and to pre-order.
Product Information
Price:
$80
Manufacturer:
Barefoot Company
Pros:

Comfortable, well fitted
Excellent material design
Very transportable
High thermal connectivity
Water repellant and dries quickly
Chemically inert
UV resistant

Cons:

Dyneema material does not cover entire footbed