We use affiliate links. If you buy something through the links on this page, we may earn a commission at no cost to you. Learn more.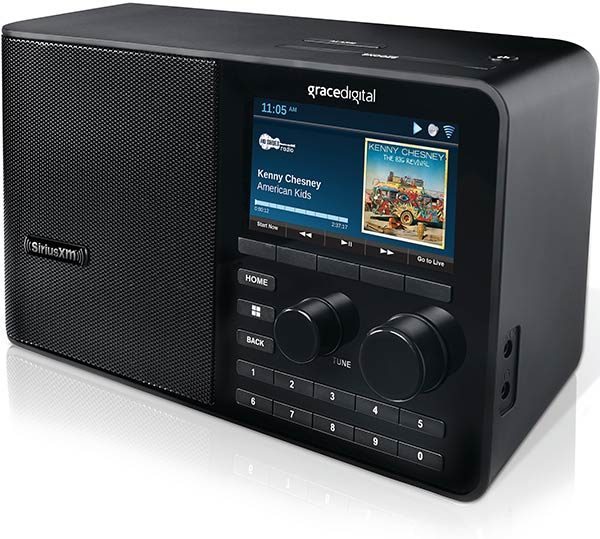 Several years ago most of us carried a dedicated digital audio device like an iPod or another brand of MP3 player with us so we could listen to our favorite tunes on the go. In those days, a lot of us also had Sirius or XM satellite radios in our vehicles. Fast forward a few years and now our phone is used as our main mobile audio entertainment device. Can you remember the last time you saw an advertisement for a new MP3 player or satellite radio? Yeah, me neither. But that hasn't stopped Grace Digital from creating their new SiriusXM Sound Station.
"This terrific new product from Grace Digital offers room-filling sound, a compact and modern design, and a vivid display to create a rich listening experience for our subscribers," said Dave Horoschak, SiriusXM's Director of Connected Home Product Management. "The Sound Station gives our listeners, many of whom listen to our content in the car and on their mobile devices, another option to enjoy our world class music and programming with high fidelity sound in their home, office, or anywhere an internet connection is available."
The SiriusXM Sound Station features a large color display, WiFi or Ethernet connectivity (with an optional adapter), an integrated clock with multiple alarms, sleep and snooze timers, and most interesting of all, the ability to pause live radio and rewind up to 5 hours to listen to the beginning of SiriusXM shows.
There are a couple of big problems with this device to be aware of before you purchase it. First of all, it ONLY works with SiriusXM stations. You can not stream from Pandora, Spotify, iHeart radio or other streaming services. If that doesn't kill it for you, the next caveat might. In order to use the SiriusXM Sound Station, you need to already have a qualifying SiriusXM subscription. You can add streaming to your existing SiriusXM subscription, or subscribe only to the SiriusXM Internet Radio package. The radio does not come with a trial subscription, so if you don't have one or no longer want to pay for one, this device essentially becomes a door stop.
Grace Digital's SiriusXM Sound Station is available now for $129.99 at www.gracedigital.com, www.shop.siriusxm.com, Amazon.com and other select retailers.