We use affiliate links. If you buy something through the links on this page, we may earn a commission at no cost to you. Learn more.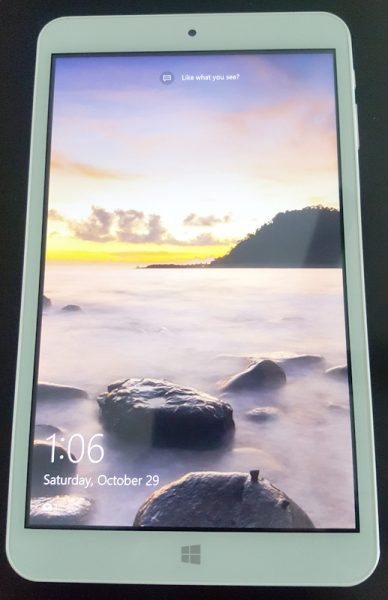 I have been a huge fan of the mini tablet form factor.  I have used one since the original Nexus 7 came out in 2012 and it is one of the small handful of gadgets I literally use every day.  It is light enough to hold in bed at night no matter which way you are laying, and it is small enough to carry with you anywhere you go.  My current mini tablet is the second generation Nexus 7 that came out in 2013, and I am pretty excited about the rumors of the new Nexus 7 coming out any day now.  But when I saw the $98.79 Onda V80 Plus 8-inch Windows/Android tablet, my head was spinning.  Windows 10 and Android in the same tablet?  Seamlessly switch between them?? Priced at under $100???  What evil sorcery could this be?  Could this actually be my new mini tablet?  Let's find out.
First, the specs from the manufacturer:
Dual-boot OS: Android 5.1 Lollipop & Microsoft Windows 10 64bit
Intel Cherry Trail Z8300 64bit Quad Core 1.44GHz, up to 1.84GHz
0 inch IPS Touch Screen with 1920 x 1200 Resolution
2GB DDR3L RAM
32GB eMMC ROM Storage Capacity
TF Card Expansion – up to 128 GB (not included)
0MP front and rear cameras
Dimensions – 8.07 in x 4.84 in x 0.33 in
Weight – 11.5 oz.
4200 mAh li-ion battery
Wifi – 802.11 b/g/n
Bluetooth 4.0
Single speaker on the back
Ports – micro USB, micro HDMI, 3.5mm headphone
Included in package – tablet, USB cable
First impressions and hardware overview
When I opened the package and held the Onda V80 in my hand I was really impressed.  The matte metal case in rose gold color feels premium.  I mean, really premium.  At this price I was expecting creaky, shiny plastic with gaps in the finish, which is the complete opposite of what this tablet is.  It has a tapered back and rounded edges that make it a joy to hold.  And it feels solid in your hand.  It has one capacitive button on the chin bevel that is the Windows 10 logo.  This capacitive button in Windows mode will open the Windows start menu, and in Android Mode it takes you to the home screen.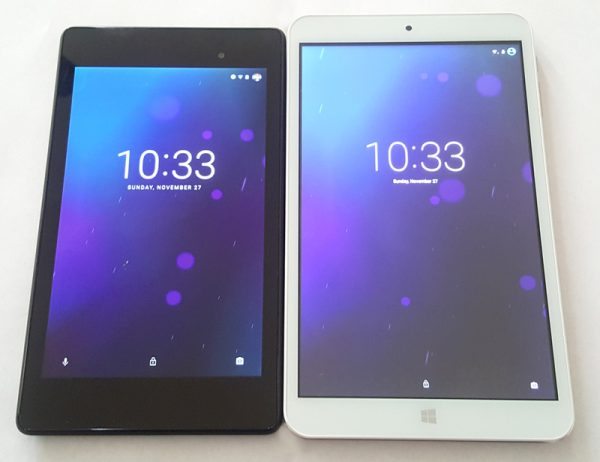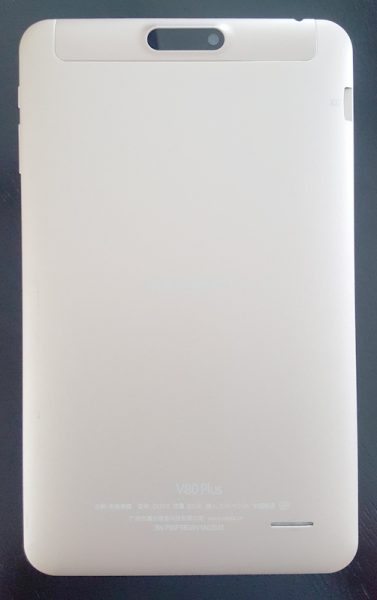 On the left edge you'll find the micro SD card slot.  On the right side you'll find the power button and volume rocker.  On top you'll find the headphone jack, micro SD port, and micro HDMI port, and a glance at the bottom will reveal no buttons or ports.  On the smudge and scratch susceptible back you'll find a 2.0 MP camera with no flash, and a small slit that is supposed to be a speaker.  More on that later.  Centered at the top of the front you'll see the 2.0 MP front-facing camera.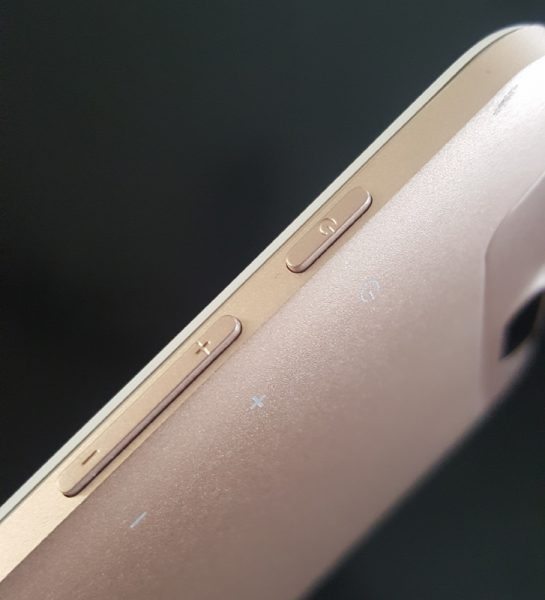 Never miss one of our posts again. Sent MON, WED, and FRI with the latest gadget reviews and news!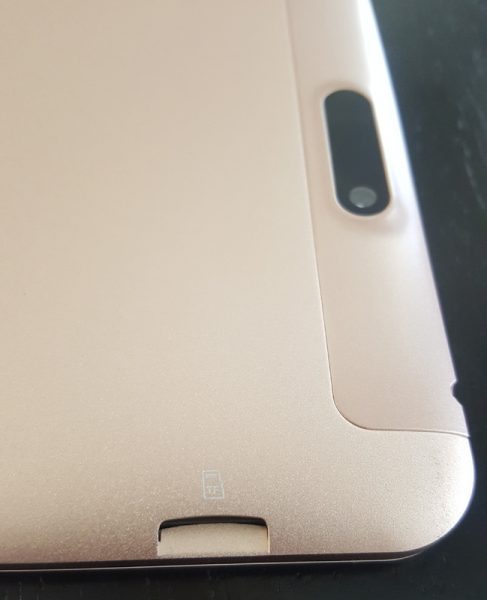 Overview of Windows mode
I have always wanted a Windows mobile device, and of course Windows 10 is Microsoft's latest OS that lets you organize your desktop view either in desktop mode or tablet mode.  And with the Onda V80 you can use Windows mode in either configuration.  I have always liked Windows 10 tablet configuration and found it useful with this tablet.  It is finger friendly and the active tiles have always been attractive to me.  And this is a full version of Windows 10 Home so all the features of Windows 10 on your laptop are here.  Which is also a problem.  This device isn't meant to act like a full-fledged computer, so I quickly became frustrated trying to use it as such.  For example, when you click inside an input field the on-screen keyboard doesn't automatically pop up like it does on your phone.  You have to press the small keyboard button in the lower right corner, because of course that is exactly what happens when you use Windows 10 on your laptop. You already have a keyboard, so why would you need an on-screen keyboard, right?  You also have to click the X in the upper right corner of apps to close them, as you would on a laptop computer.  So I stopped using that mode with the Onda V80 and kept it set on tablet mode.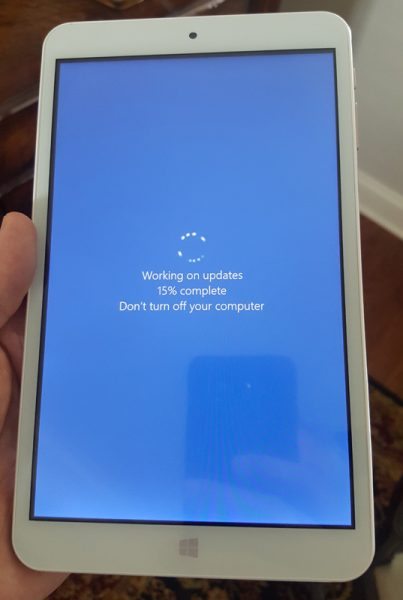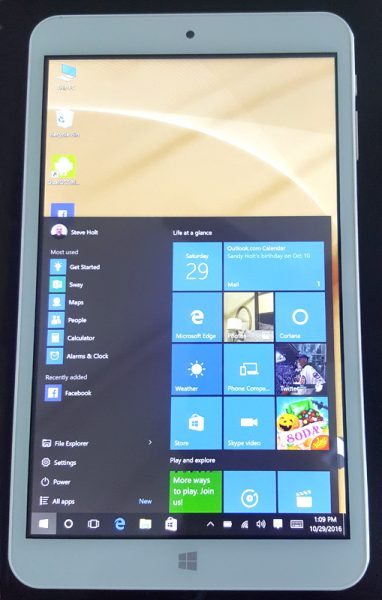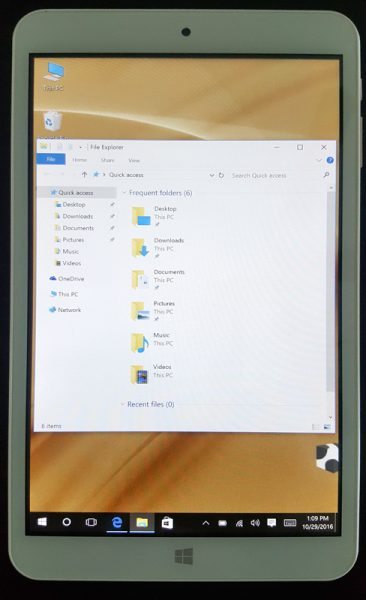 Another frustrating thing to me was that out of the box the Windows mode was showing 28.9 GB total storage space, with only about 2.5 GB available space for anything else.  So when I started downloading apps like you would expect to do, I quickly ran out of space.  So if you want a decent experience with the Onda V80 a micro SD card is pretty much necessary.  That bumps up the initial outlay from your wallet.
Overview Android mode
I have been an Android user from the beginning and have used every version, so I am quite the fan.  The Onda V80 comes with Android 5.1, Lollipop, which came out in November 2014.  So since Android version 7 is now out, the Lollipop OS is already 2 versions old.  And according to Onda you can't upgrade it.  In fact, this is the warning that you get inside the packaging when you open it:
"This Android/Windows device is designed to function specifically with the current Android/Windows OS installed on it. Any alterations such as upgrades, modding with custom ROM, rooting or flashing the Android device with other firmware will automatically cause the device experience matters as well as void the device's warranty. Please think twice before operating all these actions."
Oh well.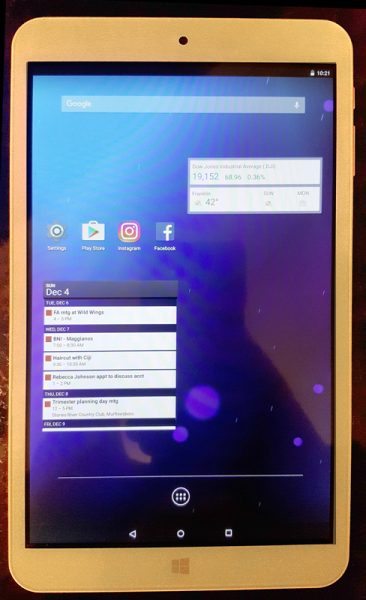 I was also surprised to find that, just as I found in Windows mode, in Android mode there wasn't much space for me to do much.  The OS reported that I had 4.84 GB total storage, with about 3 GB available space.  So in both modes I won't be loading any videos or music on the device unless I get a micro SD card.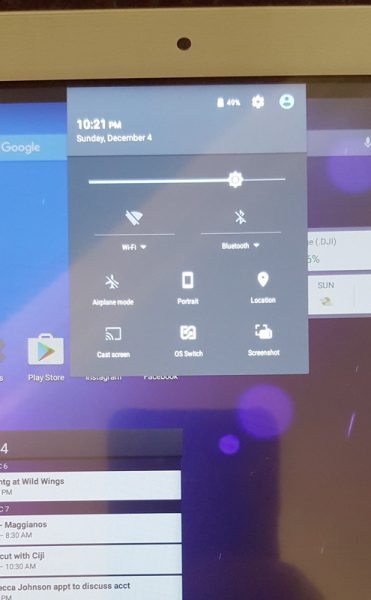 What I liked
Switching between Windows and Android is a breeze.  On the Windows desktop there is an icon that when double-clicked shuts down Windows and takes you to Android.  And on the pull-down Android window-shade you'll see a 'switch OS' button that shuts down Android and starts up Windows. So you don't truly switch back and forth between them.  You completely shutdown one to go to the other.
The design is gorgeous and it feels wonderful in your hand.  It has a card slot and all the ports that other mini tablets have, with an HDMI port thrown in!  Both the Android and Windows app stores had all the apps that I use daily for social media and business productivity, with Word, Excel, and Powerpoint thrown in on the Windows side.  I was able to set up all 6 of my email addresses inside the email apps in both operating systems, which is great.  The screen looks quite good and I have no complaints with any of the images or videos that I watched.  I was also able to connect the Onda V80 to my TV through the HDMI port to mirror the tablet on the screen and that worked just fine.
Both of the 2 MP cameras front and back performed as I would expect from a tablet at this price point.  In daylight or decent indoor lighting, it performs fine.  But when the lights go down or fade, you won't be using this camera to take pictures.  I used it to video chat and it worked just fine.  Nothing to brag about the images that you get, but it works.
What I didn't like
I discovered that the micro SD card slot isn't really a nice option here, it is a requirement if you want any kind of storage.  I also discovered that the speaker on the back is tinny and pretty limited.  Not much sounded good coming out of the speaker, so this is obviously one of the compromises to keep the price down.  The battery life also isn't that great.  I got about 2.5 to 3 hours of use before I needed to charge, and it takes a little longer than that to charge it fully.
In Windows mode I often got no response from my finger touches.  Especially in the browser and especially when trying to pinch and zoom.  I would turn the screen off and on again many times trying to get the screen to respond to my touch.   Very frustrating.  I also found that the power button wouldn't always respond to my first press, which makes no sense.
I found a general lagginess (is that a word?) in both operating systems, but more so in the Windows mode.  It is somewhat amazing to consider that a full version of Windows 10 Home is on this device for under $100 with all the features that come with that, not to mention another full second operating system.  But I just don't think that the Intel Cherry Trail chipset can handle this.
Bottom line
I suppose I shouldn't complain because I am getting a dual-boot OS tablet for under $100, but if I had to use this tablet as my only tablet on a daily basis, I wouldn't want to do that.  I can live with having to buy a micro SD card for storage, and I can live with the crappy speaker.  I use my headphones almost exclusively anyway, so the speaker isn't that big a deal.  But the lagginess and periodic lack of response on the screen is just too much for me after experiencing the wonderful tablets I have owned in the past.
The Onda V80 is an awesome idea that I desperately wanted to love.  I really did.  I had high hopes.  Two tablets in one for under $100 with a gorgeous unibody case, a card slot, and an HDMI port.  But the reality is much less desirable.  If you go into this with the understanding that this is a bargain basement budget tablet that you won't use as your daily driver, then you'll be fine.  For me, I'll look forward to the new Nexus 7.
Source: The sample for this review was provided by Gearbest. For more information and to purchase the V80 please visit their site.
Product Information
Price:
$88.99
Manufacturer:
Onda
Retailer:
Gearbest
Pros:

Dual-OS boot
Beautiful design
Good screen resolution

Cons:

Poor battery life
Laggy touch performance
Lousy speaker