We use affiliate links. If you buy something through the links on this page, we may earn a commission at no cost to you. Learn more.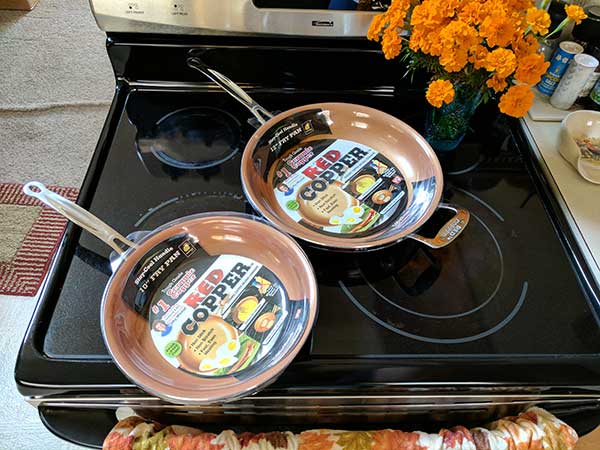 I've been thinking of replacing the hodge podge collection of pans in my kitchen for quite a while, but when I check the prices of nicer cookware, I change my mind because it's tough to talk myself into paying $100 or more for one frying pan. Lucky for me, I was approached to try out Red Copper cookware from Bulbhead. I'd seen these pans advertised on TV, so was curious to see if the infomercial claims of non-stick, non-scratch were true. Let's find out.

What is it?
Red Copper cookware pans are non-stick ceramic pans that are infused with tough-grade copper that won't scratch, chip, or peel. They are PFOA- and PTFE-free, dishwasher and oven-safe up to 500 degrees F.
Design and features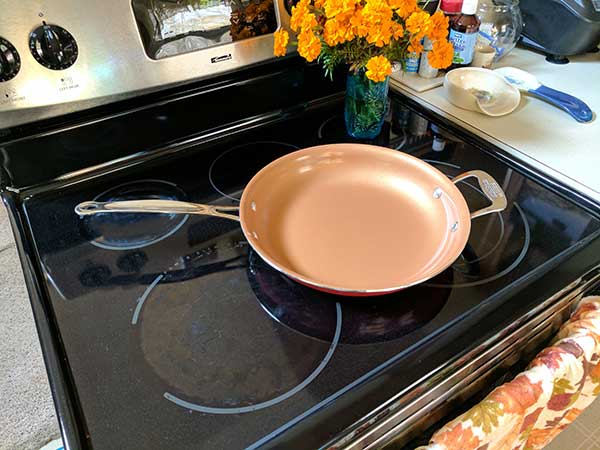 I was sent a 12″ inch and 10″ inch skillet to review. At first glance, the only thing that really sets these pans apart from other pans in their low price range is the copper colored ceramic finish on the inside of the pans.
The pans are what I would consider medium weight, with a stay cool stainless steel handle. I say they are stay-cool, but it should be obvious that this is only when you're using them on top of your stove and not when you put them in the oven 🙂
That's right, these pans are oven safe up to 500 degrees F. These are the first fry pans that I've owned that can go from stove top to oven. Why would you want that? Because you can brown meats on top of the stove and then put them in the oven to finish them. Or you can cook food on the stove and then place the pans in the oven to keep food warm.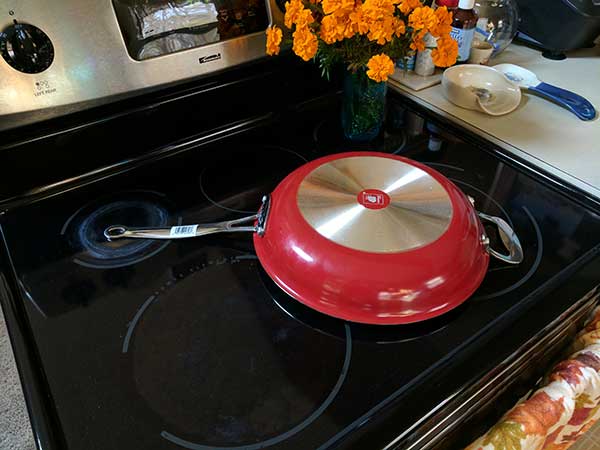 The larger 12″ inch pan has a helper handle opposite the normal handle. This makes it even easier to move a full pan from stove top to oven without spilling food.
Never miss one of our posts again. Sent MON, WED, and FRI with the latest gadget reviews and news!
Cooking with Red Copper cookware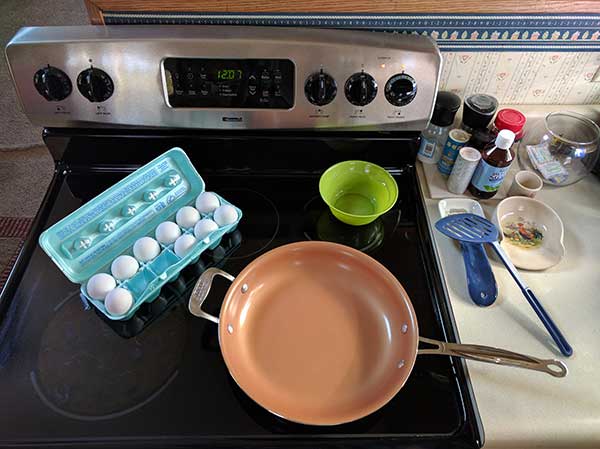 The selling point for the Red Copper pans is that you don't need to use butter or grease to cook your foods because the pans are non-stick. I've used non-stick pans my whole life, but the claims are rarely true, so I didn't hold out a lot of hope that the Red Copper pans would live up to those claims.
Before using the pans for the first time, they do need to be seasoned. Don't worry, it's not hard to do. All you do is put a thin coating of vegetable oil all over the inside of the pan and then put it in the oven at medium heat for about 20 minutes. Then you wipe off the oil and the pan is ready to use. The instructions that came with pans tell you to do this twice a year.
For my first use of the Red Copper Pan, I decided to cook some busted eggs for sandwiches. This usually results in some crusty egg stuck to the pan even when I use butter.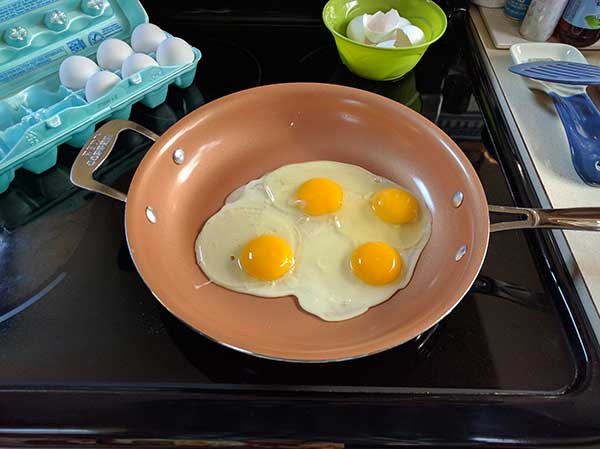 But the instructions tell you that you don't need to use any better or grease with these pans, so I didn't. I just turned on the heat to one of the burners on my glass stove top, set the Red Copper pan on it to warm up for a minute or two and then added the eggs.
It usually takes FOREVER to cook anything on my stove. Jeanne and I are always complaining about our stove and tell each other that we miss our old traditional stove with the burner elements instead of the glass top. So I was really surprised when I added the eggs to the Red Copper pan and they immediately started cooking/sizzling. I didn't have the heat set any differently than I do with my other pans, so one of the claims of even fast cooking is true.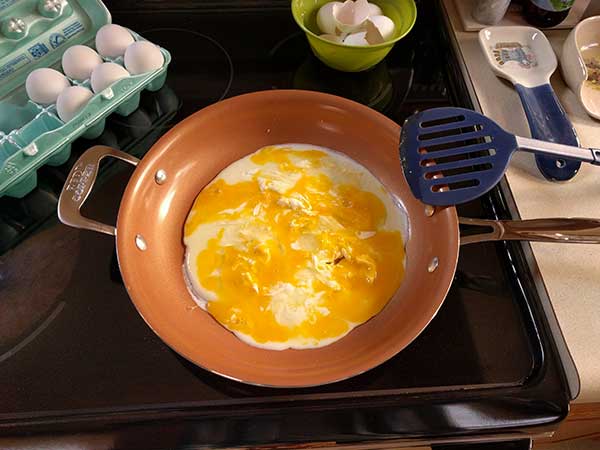 Busted, mixed up and waiting to flip.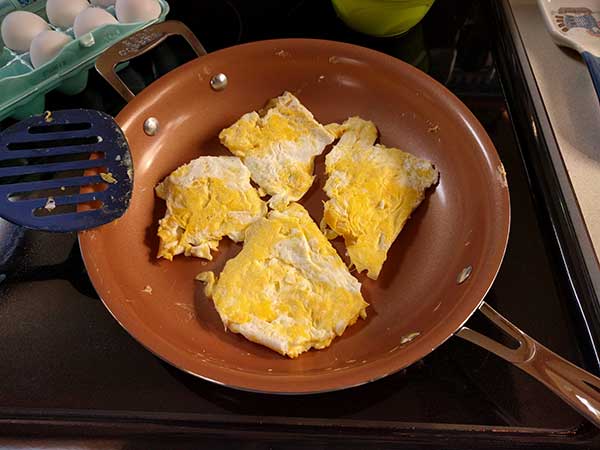 After only one cooking session, I already like these pans because the claims are true. No sticking even without using any oil, grease, or butter. That means less calories too.
I used both pans to cook meats, stir-fry veggies and make toasted sandwiches. Each time, food cooked faster, nothing stuck to the pan and the clean up was very easy.
Final thoughts
So far I'm a fan of the Red Copper pans. They work better than any pans I've tried so far on my glass topped stove, food doesn't stick, they don't scratch and they can be washed by hand or in the dishwasher. It will be interesting to see how well the pans hold up over time, so I will definitely do a review update in a few months to let you know. But until then, I give Red Copper pans two thumbs up!
Source: The sample for this review was provided by BulbHead. Please visit their site for more info.
Product Information
Price:
$19.99 (10inch), $29.00 (12inch)
Manufacturer:
Red Copper Pan
Retailer:
BulbHead
Pros:

No stick
No scratch
Can go from stove top to oven
No need to use butter or grease to cook

Cons: