We use affiliate links. If you buy something through the links on this page, we may earn a commission at no cost to you. Learn more.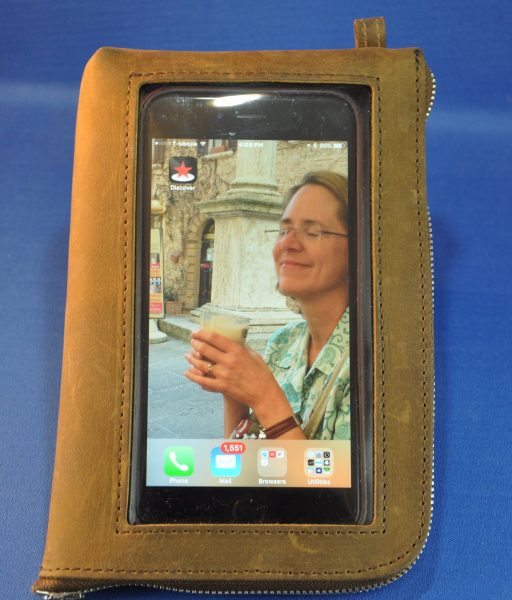 In this new world of touch-enabled devices that we are constantly checking, having to manage them, your passport, SIM cards, credit cards, cash and other small items during travel can really be a chore. Even traveling around town, you need coupons, business cards (yours and those you collect), maybe a notepad – loads of things that fill your pockets or purse, but become too randomly organized to manage. Waterfield has created a specific case for this – The Intrepid Travel wallet – sized for the iPhone 6/6s/7 and the Plus models of these. Other 5.5″ screen devices may work as well. I was sent one for the Plus size in Grizzly Leather to test.
Note: Photos may be tapped or clicked for a larger image.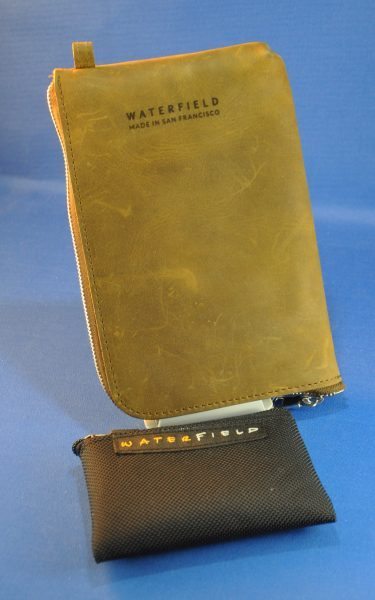 The exterior is solid leather, die-cut from a single piece, in either rough brown Grizzly or polished Black. A zipper goes around two sides, while the third is securely folded and stitched. The Intrepid is available in two sizes: Small: 4.25  x 6.75 x 0.75 inches and Large: 5.0 x 7.3 x. 0.75 inches.
One side has a cutout the size of the phone you'll be using with it, with a heavy-duty sheet of plastic sewn over it. The plastic allows you to "play-thru" to the touch screen, as well as allowing for you to read through without having to remove your phone. If your phone requires TouchID to access, you can unzip the zipper up to the corner, slip in a digit, and zip it back. If that's not wanted, they have added a version with a semi-circular arc cut through the plastic over the home button, which gives full-time access to the home button.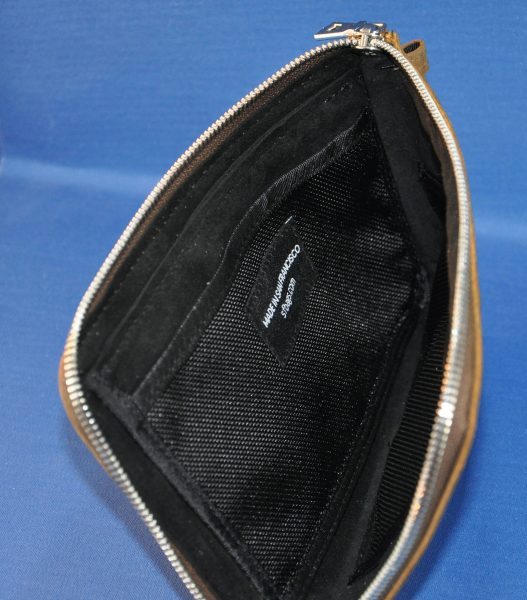 Inside, the case is lined with microsuede, with a layer of RFID-shielding material between. There are two business/credit card sized pockets in nylon mesh sewn onto the back side, and a passport-sized pocket in the front, behind the phone.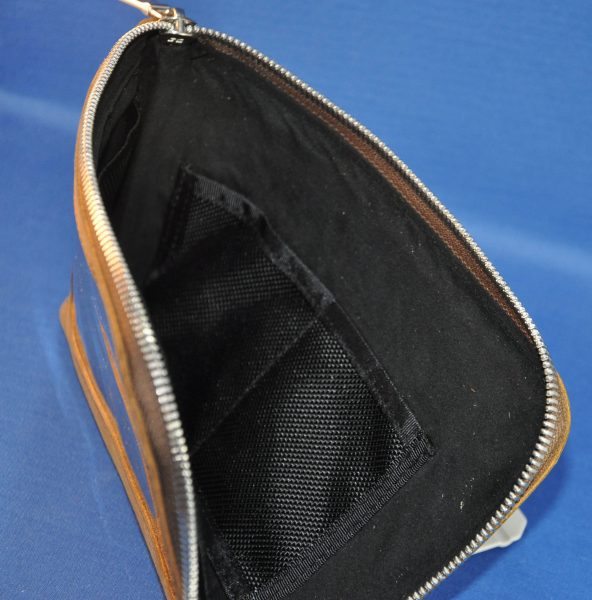 There is also a "mini-wallet" of the same ballistic nylon included, which can be used for coins, currencies, or other accessories. This wallet is not connected, or even needed, but it's a nice size and has Waterfield's famous nylon "locking" zipper. Open the zipper to anywhere, fold the tab down, and it doesn't move. At all.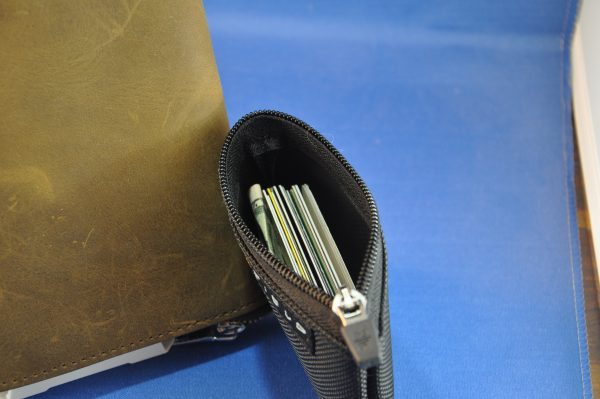 The zipper on the overall wallet itself, by contrast, is polished metal, and not a locking zipper. It's a beautiful nickel finish, and, being polished, doesn't have the rough edges sometimes present on metal zippers. It moves easily, but doesn't always stay where you want it. I had no problems with it falling open during use, however.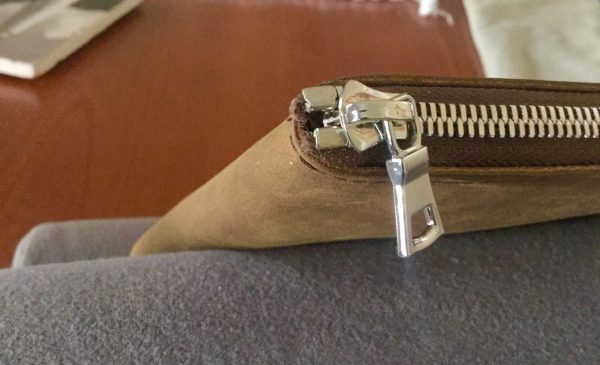 The phone is placed into the case through the bottom short side, and it fits easily, yet securely, into place. For those not on the iPhone 7/7 Plus, access to the headphone jack is easily done without removing from the case. Yet, if you need to take a quick snapshot (as one does), it's very easy to pull out and shoot. The zipper starts on the short side, so you don't have to open up the whole inside to slide your phone out.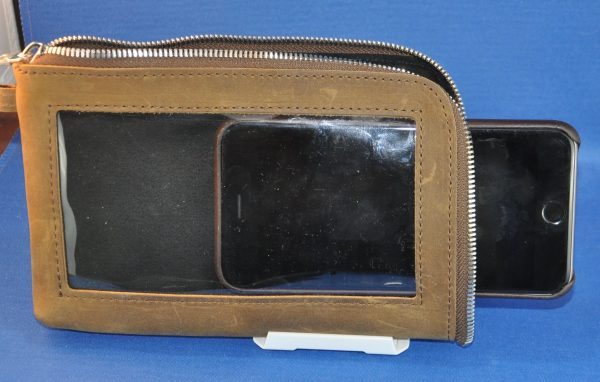 This project was done through Kickstarter, which is a first for WaterField. They are well known among bag nerds for their long history of quality satchels, messenger bags, totes, and MacBook sleeves. Their decision to use Kickstarter was not for the financial backing alone, but to tap into the community mindset during production. I found this exciting, and wish I'd been a part of the process then. One of the major changes they made was to reverse the zipper. This makes it easy to unzip just the bottom of the case, slip in your digit for TouchID, and zip it back, without exposing everything inside to gravity and weather-related events. Watching the videos, you learn about other changes that were made because of investor/sponsor suggestions. Crowdfunding rocks!
The final feature I'd like to mention is the leather loop suitable for a carabiner or wrist strap. While any clip would fit, WaterField has one with the same leathers available. My one gripe with the wallet is that, when moving the zipper around to the opposite side, this makes the opening face down if you're using a wrist strap or pack clip. I think this will probably be fixed in future revisions, but, meanwhile, be aware of that possibility when using a clip.
Overall, I love this travel wallet! It's perfectly sized for a passport, phone, cash, and other travel documents. Kudos to WaterField for another job well done!
Source: The sample for this review was provided by Waterfield. Please visit their site for more info.

Product Information
Price:
$100 for either size, either finish
Manufacturer:
WaterField
Requirements:

Stuff to carry. Any capacitive touch-screen would work, if it fits in the package.

Pros:

Heavy-duty materials, quality workmanship
Well-thought-out design for the purposes stated
Roomy enough for all travel or everyday items

Cons:

Polished outer zipper doesn't lock into place
Could open to have phone drop out, if clip is used.