We use affiliate links. If you buy something through the links on this page, we may earn a commission at no cost to you. Learn more.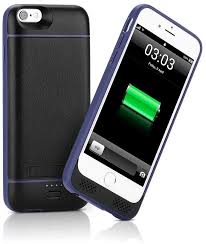 Smart Phones….They have become a way of life for most of us. I don't think anyone can imagine going back to the old "dumb phones" that did just the basics of making a phone call. But those old dumb single purpose phones had one thing that none of today's smart phones seem to have; Battery life. You could easily go two or more days without charging those old devices and they seemed to always be there for you when you needed them. Well, today is much different. We use our phones constantly and are always "connected" which means we are always draining our battery power. Most of us moderate to heavy user can't even get through a day without recharging. So what to do? Well, UGreen has the answer with an integrated battery case that will more than double your normal battery life. This is much more convenient than carrying around one of those brick or cylindrical spare battery chargers where you have to remember to keep the spare charged. Ugreen's integrated battery case is a great option for those of us who are "charge challenged". Once your battery runs low, you just touch a button on the back and it will charge your phone completely. I actually got about 1.5 charges from this nifty device lasting me two full days. That's an eternity in the smart phone world.
In the Box
Inside the box is a uni-body battery case made out of rubber.  I've used two piece cases that snap together in the past and they just seem cheap. The uni-body design makes the phone look like it just belongs in this case. A USB micro cable is included to charge the case.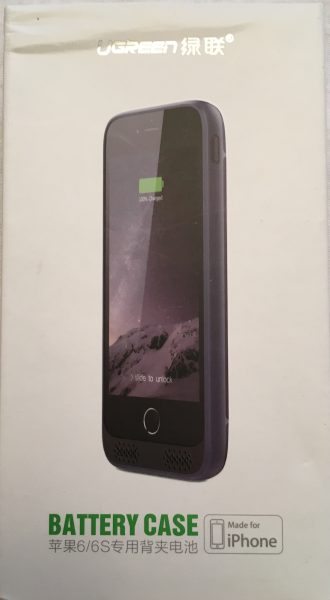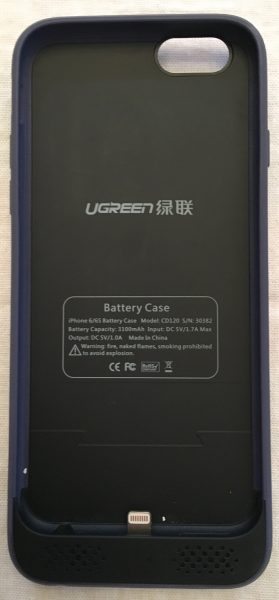 A nice addition is the audio extension cable. This is necessary as the audio jack becomes too recessed to put your wired headphones in after the case is installed. It was nice of UGreen to include this. I just keep it connected to my wired headphones at all times.

A side view will show the volume and power buttons that line up perfectly with the iPhone's buttons making operation flawless.


There are four LED's that will indicate how charged the battery case is. Once your iPhone battery needs charging, you just tap the power button underneath the LED's and it will begin the charge cycle. I said tap, and if there's one flaw with this case, it can turn on easily in your pocket. A better design would be to require a long press of the power button to turn the unit on and off to prevent from turning it on/off accidentally.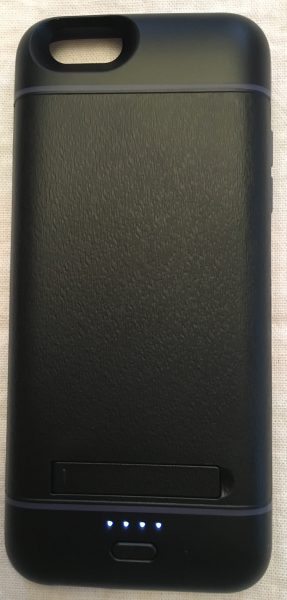 The front speaker vents at the bottom actually improve the Iphone's audio by making the sound appear louder since sound is now directed at you instead of downward.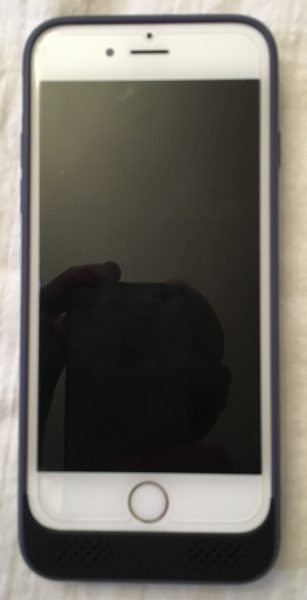 On the back of the unit is a flip out kick stand to prop the unit up for viewing in landscape mode. The kickstand is a bit flimsy and doesn't feel very sturdy. I prefer a kickstand design that also allows for portrait viewing as well as landscape. This one only works in landscape only but does its job of propping the phone up for viewing videos or pictures.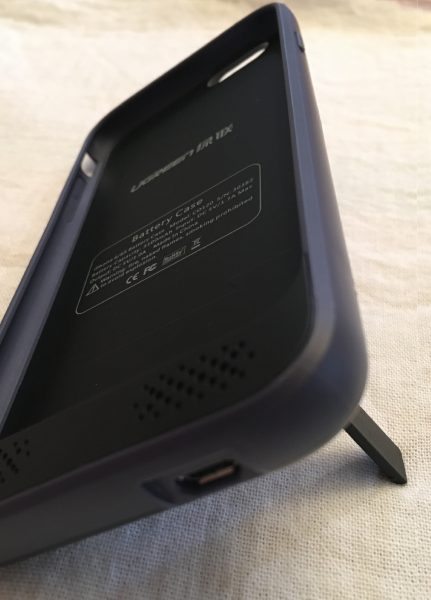 Usage
Inserting the phone into the case was easy. Since it's rubberized, the phone snaps into place very easily. Removing is a little tricky as you have to press and push through the camera's recessed flash hole and work it out. Once you get the knack of this, it comes out easily.
When the phone needs charging, the included micro USB cable will charge both the iPhone and the case at the same time. The case has 3100 mah of power  that for me resulted in about two full days of battery life. The weight is only .23 lbs but you will feel the difference in both weight and bulk. However, that added weight and bulk is a nice trade off for those of us who don't have access to charging outlets throughout our day.
Source: The sample for this review was provided by UGreen. Please visit their site for more info and Amazon to order.