The Gadgeteer is supported by readers like you! If you buy something through links on our site, we may earn an affiliate commission at no cost to you. Thank you! Learn more.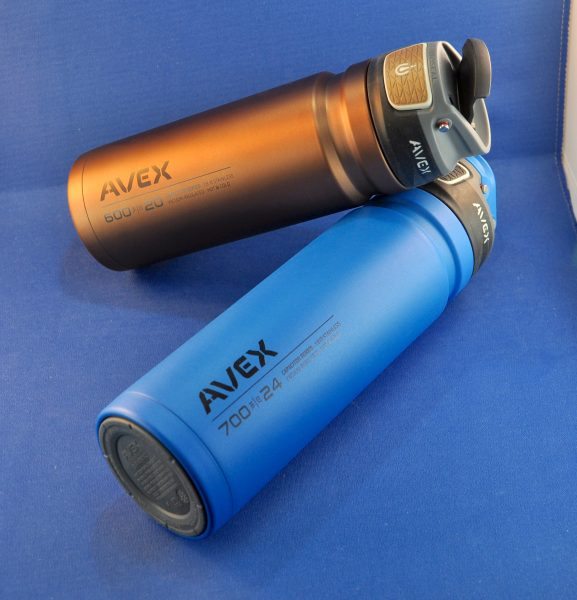 I've got a water bottle I've carried for about 5 years. I don't think I've biked anywhere without it since I bought my current bike. It's steel, has one of those pull-up spouts, and sweats worse than I do in our Southern humidity. So when the opportunity to test the AVEX thermal water bottle with a one-handed, spring-sealed spout arose, you can bet I was there! I was sent a 24 oz. blue "Freeflow" model, as well as a copper-tinted 20 oz. "Recharge" model. I call them Water and Coffee, not only because of the colors, but because of the spout designs. More on that later.
Note: Photos may be tapped or clicked for a larger image.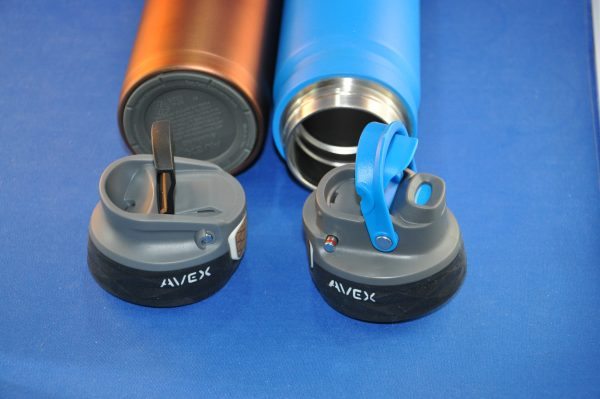 I'm not really sure what I was expecting, but I wasn't ready for the quality items that arrived. The outside is a matte-finished paint that has enough texture to hold on to, even with sweaty hands, coasting downhill at 25 mph. The bottom has a rubber pad that prevents slipping (a nice touch if you take your water or coffee to Zoomba or a meeting.) The tops of each are different, but interchangeable. The "water" model has a locking fold-down finger loop, and an oblong opening that is stoppered from inside. There's also a flip-over lid that will keep the spout clean. (Handy when mowing the grass!)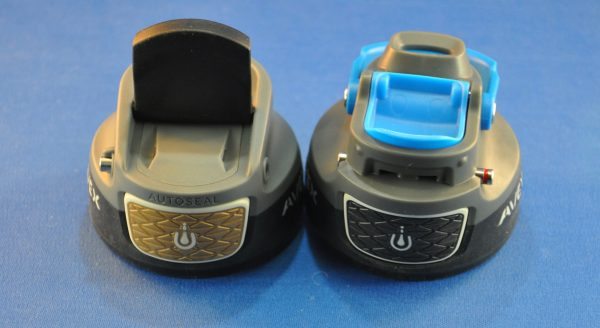 The top on the "coffee" model is rounder, and there is no loop. The actual drinking hole is a bit smaller, more like a travel coffee cup than a water bottle. It, too, has the signature flip-open-for-cleaning system under the cap. (The first photo below shows the two open, the second shows them closed.) Although the two systems are quite different, they both work easily and reliably. How many times have you looked down into the spout of a water bottle or travel mug and thought, "Ugh! I need to clean this out! Where's a toothpick?" With the AVEX system, you simply flip open the internal mechanism, soak the top in warm water for a half hour or so, and toss it into the upper rack of your dishwasher. Different from most thermal bottles, AVEX bottles are also designed to withstand the rigors of that harsh cleaning environment.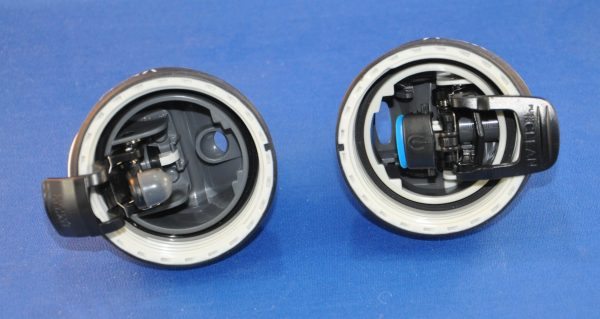 Both lid models have a "safety" bar that can be pushed to one side to lock the push-button and prevent accidental spills. These are the first bottles I have ever carried that have had no accidental leakage. None. Zip. Zero. Nada. Color me impressed.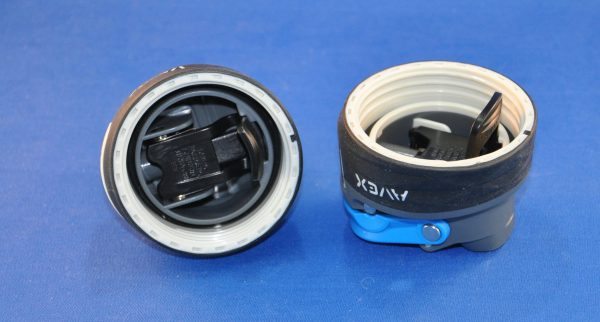 The thermal airspace insulation keeps cold beverages cold for 24 hours – with no sweating. You only get 8 hours on the hot stuff, which is not bad, compared with a single-wall or foam-filled mug. Plus, you're not going to burn your hands. The wide mouths of these bottles allow you to put in whole cubes of ice, no matter the shape. This also makes scrubbing out with a bottle brush much easier – you can actually see the interior, since there's so much light in there.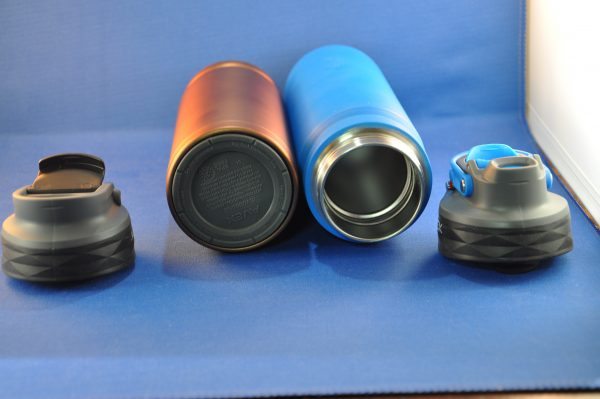 As for the push-to-open seal and drinking, I have found they work amazingly well. The pressure is just enough to close off the drinking port, and the release button is located opposite the port, so it's easy for lefties or righties. (That's your dominant hand, not your political stance!) The button has a grippy grid-like texture that let's you know where it is without taking your eyes off the road. And since there's no need to pull it open like the usual sports bottles, there are no teeth marks or injuries.
At $30+, they are a bit more investment than your typical swag bottle from the biking event or race you just finished, but these are gonna be around much longer, and will probably last longer than my trusty single-walled model.
Source: The sample for this review was provided by AVEX. Please visit their site for more info and Amazon to order one.
Product Information
Price:
$30 for FreeFlow model, $37 for ReCharge
Manufacturer:
AVEX Outdoor
Retailer:
Amazon
Requirements:
Pros:

Thermal "no sweat" construction
Solid easy-clean locking system
Matte finish outer surface
Easy one-handed use

Cons:

You have to prepare your own drinks