The Gadgeteer is supported by readers like you! If you buy something through links on our site, we may earn an affiliate commission at no cost to you. Thank you! Learn more.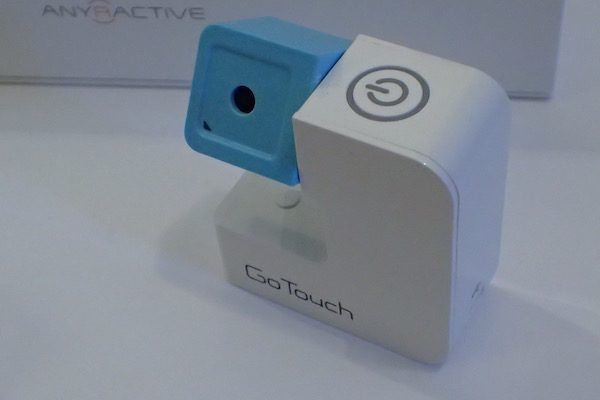 Presentations. Collaborations. Teamwork. Sharing. All of these have been part of my life for years, part of all of our lives. It's how things get done.
GoTouch is another tool to add our repertoire to make this part of our lives easier, more flexible and more effective.  It turns any TV into a whiteboard. But a whiteboard that's smarter than the old office whiteboard with the perpetually dried out pens and un-erasable shadows of past meetings. 
With the GoTouch you can also project and annotate PDF files and websites, you can save your brilliant comments and diagrams and you can share your work with remote users, something so commonplace today, yet it still tickles my soul to work with real people, real time, on the other side of this big spinning ball.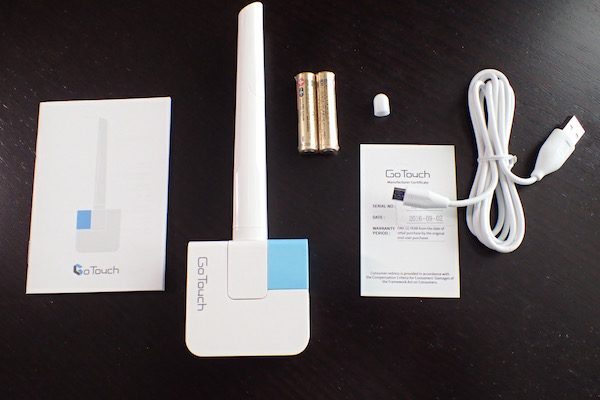 I was intrigued by the simplicity of the GoTouch when I first saw it. It is small enough to easily fit into a briefcase or a purse and unobtrusive when in use. It looks like a small pen holder, and indeed, that's sort of what it is. The magic happens in the way it interacts with the application.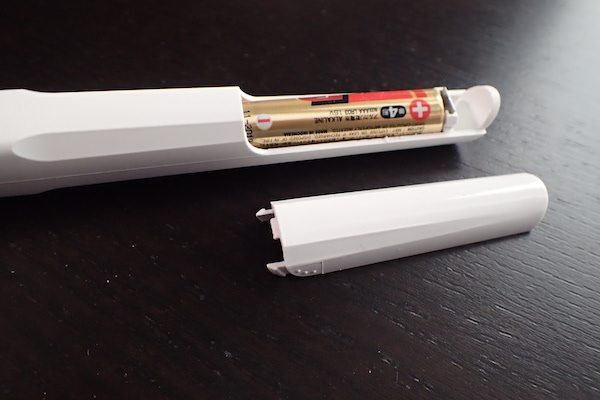 The GoTouch system is a sensor, a pen, and the GoTouch application, downloadable from the iPhone App store. The GoTouch sensor is a small, 2 inch x 2 inch x 1 inch "C" shaped plastic unit. One end of the "C" is adjustable and contains an infrared sensor. The GoTouch sensor unit connects to the iPhone using a Bluetooth connection from inside the GoTouch application. The GoTouch sensor is rechargeable with the included mini-UBS cable.  The GoTouch pen has a battery powered infrared emitter at the business end.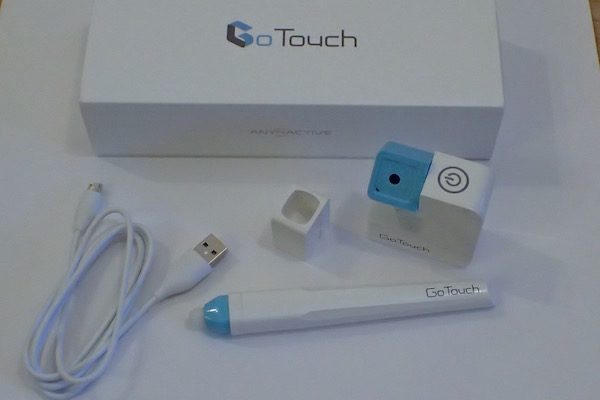 The GoTouch sensor is positioned so that the reflection from the infrared pen can be detected.  Since I'm right handed, I put mine on a table about 8 feet away and to the left of the TV.   The iPhone must also be connected to the TV, either via an HDMI cable with an adaptor, or if you have an Apple TV, via Bluetooth.
Once everything is connected and in place, the first step is to calibrate the connection using the GoTouch set up "Space Setting" function. This makes sure the GoTouch sensor is positioned correctly and takes only seconds.
Now your TV is your sharable whiteboard and annotatable projector.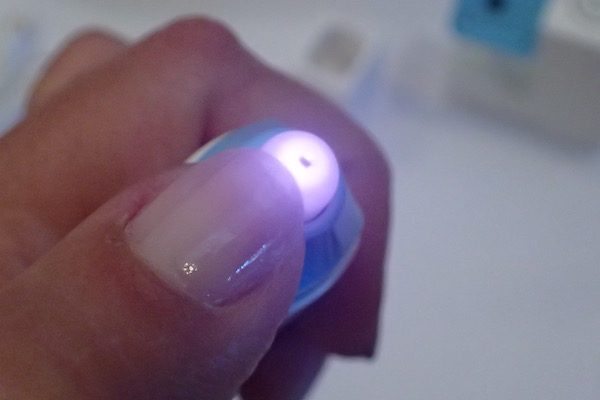 I've had the GoTouch now for a couple weeks and have been able to share it with friends and family. The overall reaction has been an amazed "Wow!" when I started drawing on the TV. My college professor brother-in-law was interested in its use in the classroom. My application developer friend was interested in its use for collaborative teams. I have some presentations coming up where I plan to use it. I think my daughter-in-law had the most fun, and innovative, idea when she suggested it would be perfect for playing Pictionary. Unfortunately, the GoTouch didn't make any of us better artists or better guessers, but we did have some hours of hilarious fun with none of the incriminating paper drawings left over.
The GoTouch application has some additional features that haven't been incorporated yet.  It didn't work with my iPad and the video and image linking wouldn't work. But that's all software that should be easily fixed with an application update.
This is an exciting and innovative product that has the ability to improve collaboration and make presentations easily transportable.
Plus, playing Pictionary with it is so dang fun.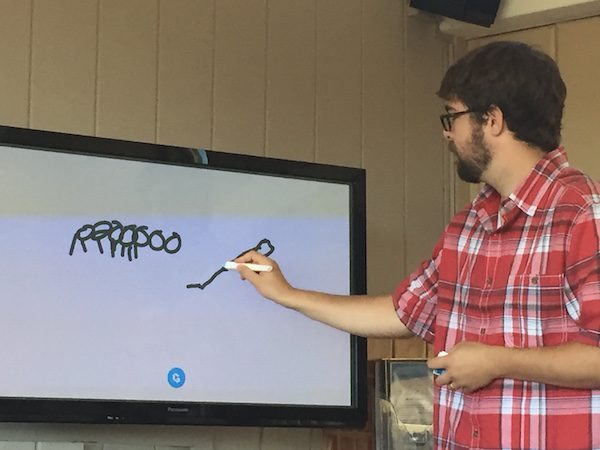 GoTouch is a KickStarter project that launched on Sept 26, 2016.
Source: The sample for this review was provided by Anyractive. Please visit their site for more info or Kickstarter to pre-order one.
Product Information
Price:
$69 and up
Manufacturer:
Anyractive
Retailer:
KickStarter
Requirements:

iPhone and TV with HDMI or Apple TV

Pros:

Transportable
Easy set up
Works well, you forget the technology and focus on what you are doing.

Cons:

Not all the features were working when I tested it.