We use affiliate links. If you buy something through the links on this page, we may earn a commission at no cost to you. Learn more.

I've always loved remote controlled toys, and my son (age 10) has always had a fascination with tanks.  Recently he made a Lego tank of his own design, complete with the treads.  When I saw the Galaxy ZEGA remote control tank game, I knew I had to give it a try.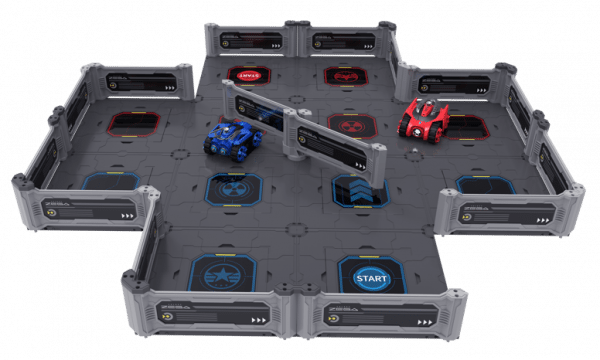 I had never heard of the Galaxy ZEGA.  (At least not yet.  They're already selling in Asia in Apple Stores.)  The Galaxy ZEGA features Bluetooth-enabled, "tanks" that move along with treads.  Each player controls the tank via smartphone app.  I was sent the Starter Kit which comes with 12 arena tiles, 16 walls, connectors, decals, and two tanks.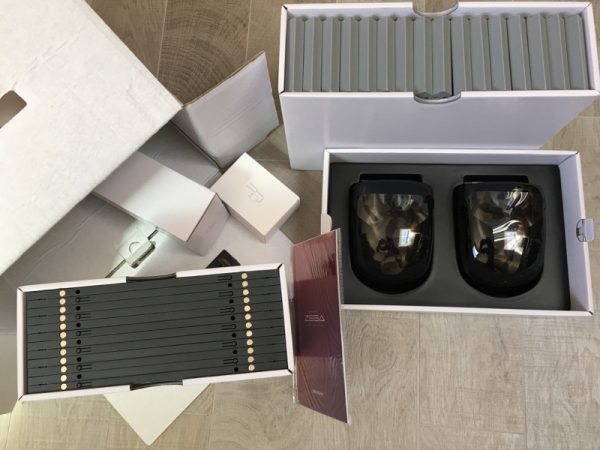 The contents were tightly packed, and made good use of space.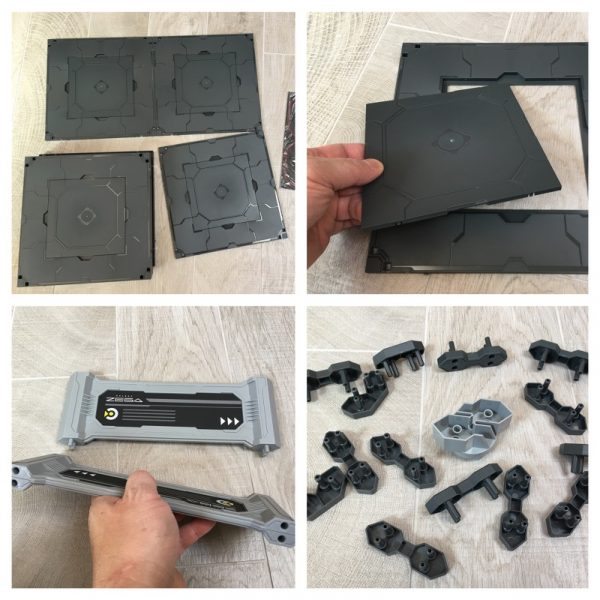 The "arena" consists of a series of magnetically-attached tiles.  Each tile has a removable square insert.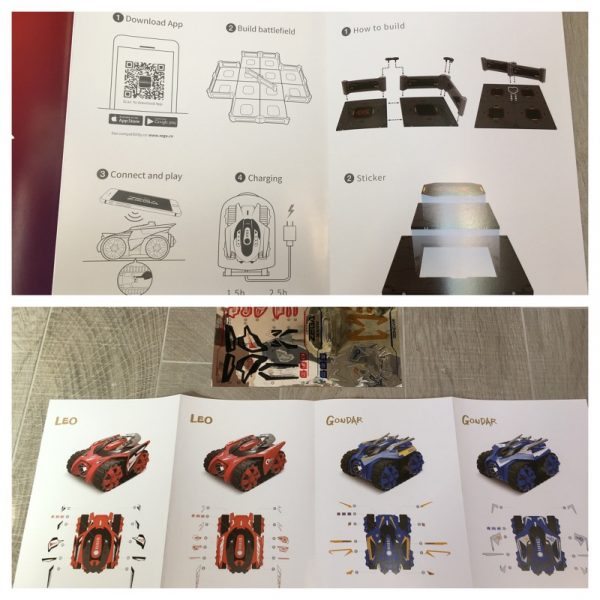 The included instructions were very basic.  So basic, I got a little frustrated.  How was all this supposed to work?  The included sticker pack (purely decorative- not required for gameplay) had better instructions than the game itself.  I guess I would have to download the app and go from there.  More on that later.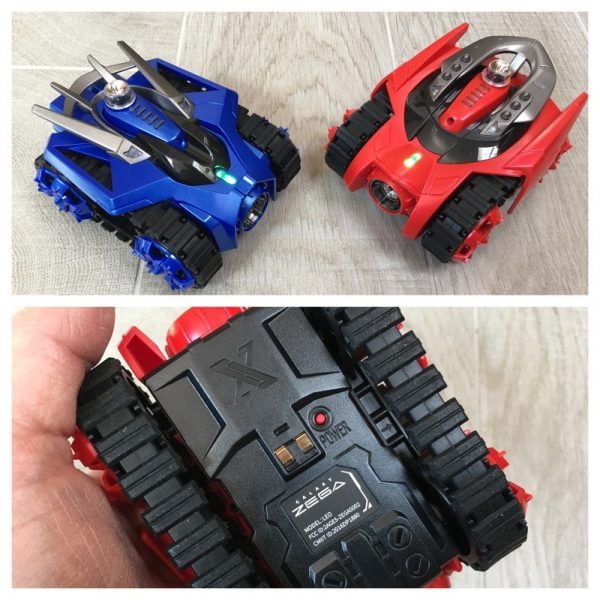 The tanks themselves each have certain abilities.  Some are better on offense, some stronger on defense, etc.  On the very top of each tank is a clear, round optical sensor used to register hits.  The main "gun" is the LED on the front.  A power switch and charging contacts are on the underside.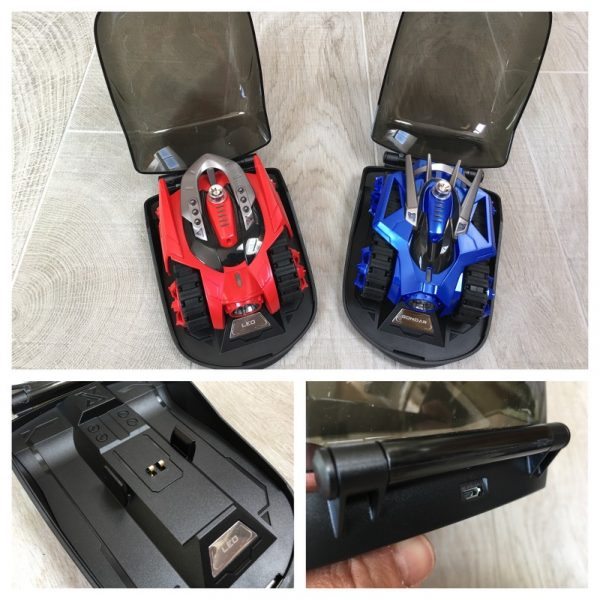 The storage clamshell case doubles as a charging dock via micro USB.  Each dock is labeled with the tank's name, but it doesn't matter which tank you charge in which dock.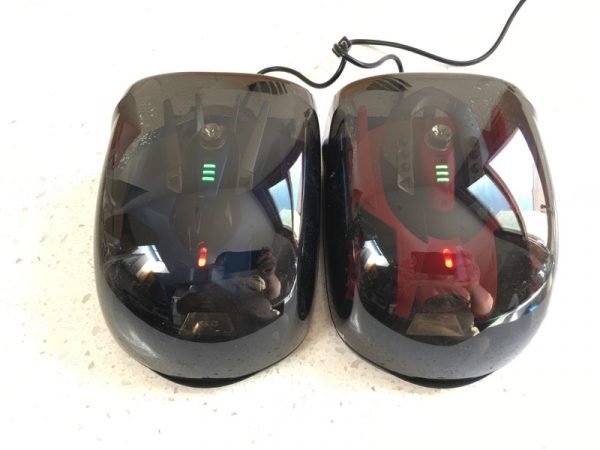 Feeding time!  The kit came nicely equipped with a USB wall charger and a dual "Y" cable.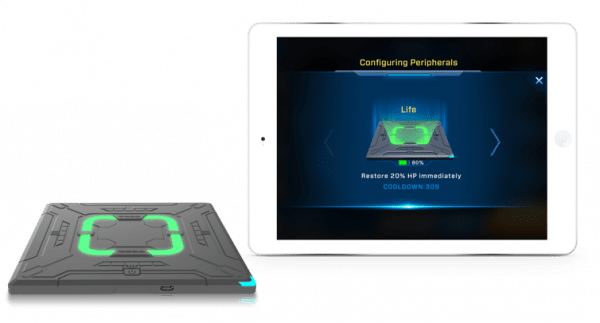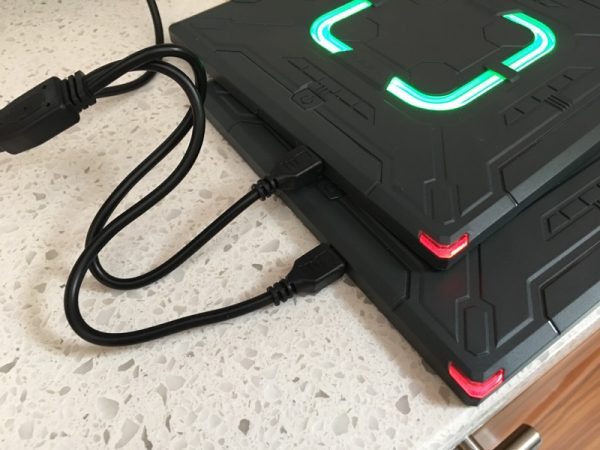 I was also given a pair of X-Bases to try out (not included in the Starter Kit).  These remind me of "power ups" in video games.  Each one can be configured to give extra life, speed, weapons and so forth, depending on the colored lights in the center.  They can even be set to give a random power (with corresponding color).  To pick up the "item", just drive your tank over the X-Base.  Each one is recharged via micro USB.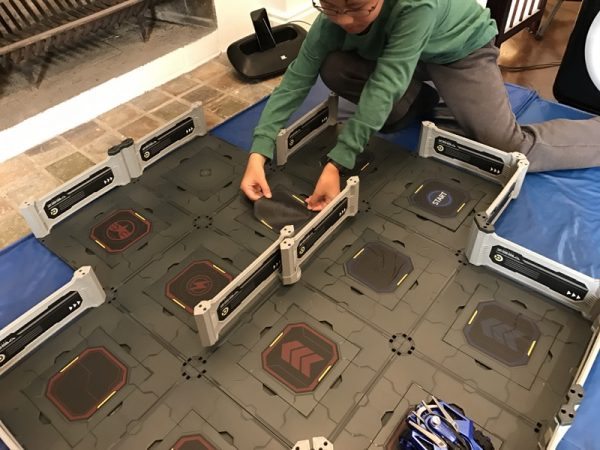 Thanks to the magnets, setup was very easy.  The walls in the center of the configuration above spin around to form a changing barrier.  My son is attaching a decorative sticker.  I say decorative because they don't actually do anything- despite some of them labeled as START or shown with directional arrows or icons.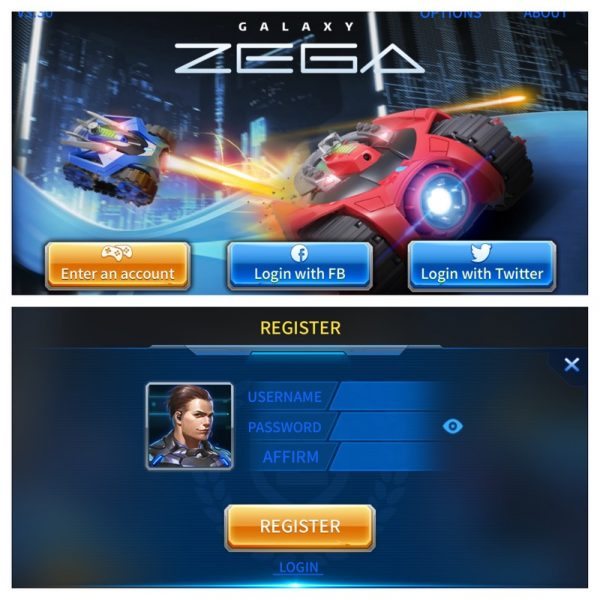 We tested the iOS app on an iPad Air, an iPhone 5C, and an iPhone 7 Plus, all running iOS 10, without issue.  To start, you can either log in with various social media accounts, or just create an account with a username/password.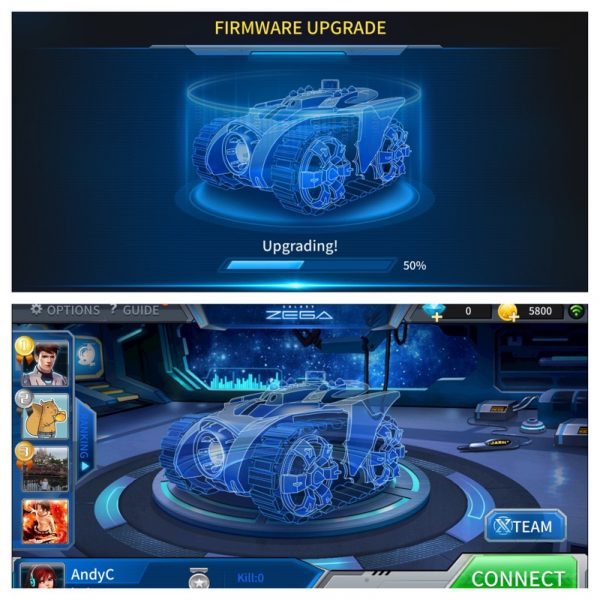 Turns out my tanks needed a a firmware update.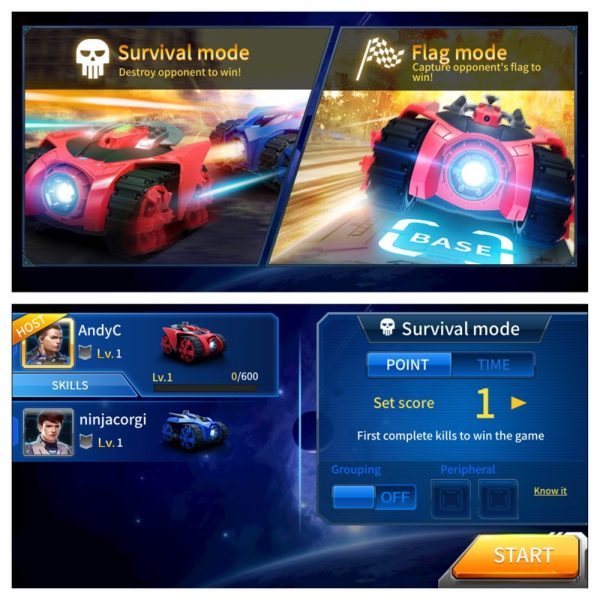 Unlike most remote-controlled toys, the Galaxy ZEGA is one you play against a friend, or in teams (if you have more than two).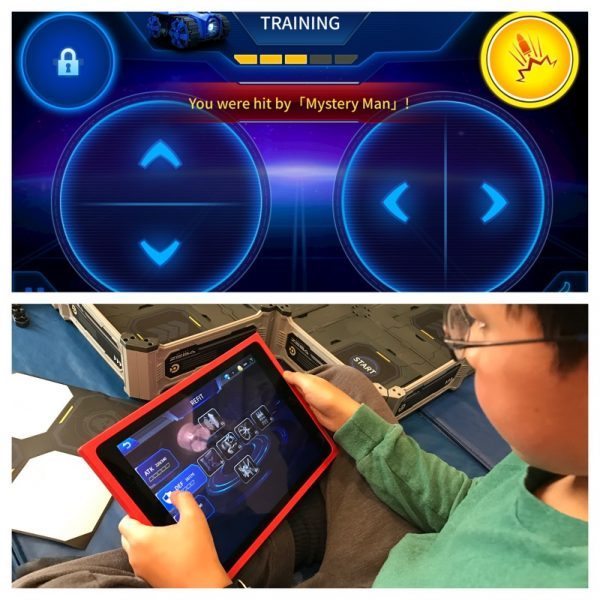 A handy, solo "training mode" lets you get familiar with the controls.  Up, down, left, right and "fire".  The lock icon in the upper left is for special powers and abilities you gain as gameplay progresses.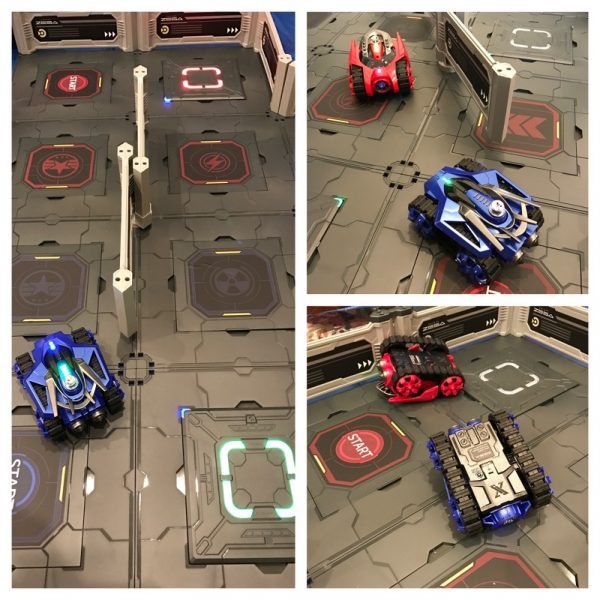 Here you can see the X-Base tiles in the arena.  One thing I discovered is that the tanks can flop over on their backs quite easily, like a turtle.  This might be due to a fairly short wheelbase.  Once flipped over, there's no practical way to self-right without human intervention (picking it up).
Let's watch the tanks in action in the arena!
Within 20 seconds, we had flipped both tanks over.  Watch the X-Base tiles illuminate from time to time, indicating a power-up is available.
I was curious to see how the tanks would do without the arena, so I laid out some wooden blocks and kept the X-Bases out for power-ups.
https://youtu.be/48qPKQg5a50
In this game, we programmed the X-Bases to give random power ups.  Notice the different color LED lights.  I was pleased to see the tanks can really crawl over those wooden blocks with ease.
The Galaxy ZEGA is a ton of fun.  The spartan printed instructions were a little worrying at first, but the app was pretty easy to follow along.  There will undoubtedly be comparisons to other "smart" remote car toys such as Anki Overdrive, which we've tried.  However, the Galaxy ZEGA doesn't require a special track- and thanks to the tank treads, any track at all.  I like the ability to create our own battlefield, not restricted by whatever came in the box.  I'd say the X-Bases are a highly recommended add-on.  They're not totally required, but we enjoyed rushing for the next available power-up, shooting, colliding, and flipping over along the way.
Source: The sample for this review was provided by Smartx. Please visit their site for more info.
Product Information
| | |
| --- | --- |
| Price: | $149.99 for the Starter Kit, $29.99 for each X-Base |
| Manufacturer: | Smartx |
| Requirements: | iOS or Android. Compatibility list at http://www.zega.cn/en/app/ |
| Pros: | Remote controlled tanks that can handle uneven surfaces. No special track required. Optional X-Base lets you pick up "power ups" or serves as the base/flag, depending on play mode. |
| Cons: | Drive into a wall, and you might flip over- making you a sitting duck. |