We use affiliate links. If you buy something through the links on this page, we may earn a commission at no cost to you. Learn more.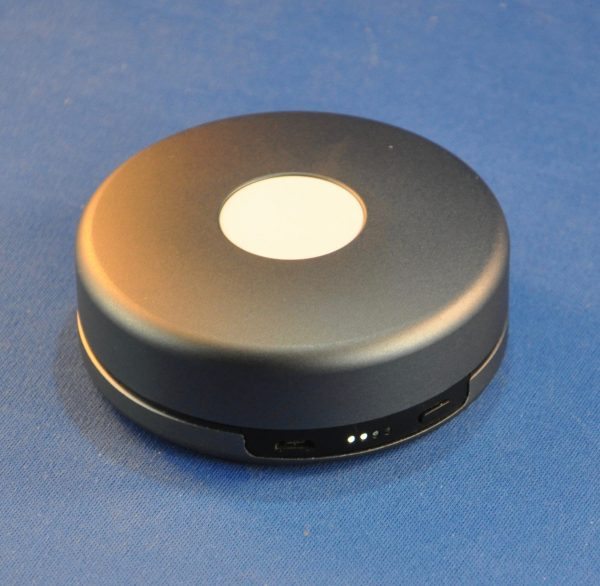 About a year ago, Nomad, those folks who understand wandering Gadgeteers and their need for on-the-go charging, released a product called the Pod for Apple Watch. It's basically a battery that has an internal spool to hold a charging puck (not provided) in a compact, hockey-puck sized case. I was working at Apple at the time, and through a discount offered to employees, was able to snag one at about 30% off the retail price, sight-unseen. I've been really happy with it over the past months, and don't often think of what a difference it's made with my charging routine. More on that later.
Note: Photos may be tapped or clicked for a larger image.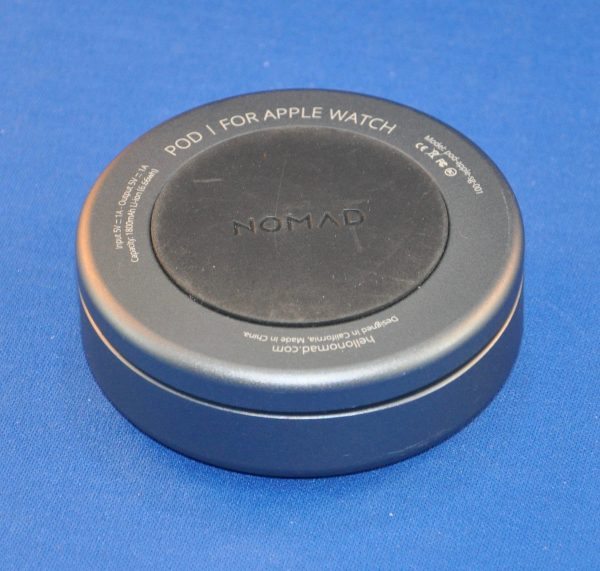 As stated earlier, the Pod is a round spool with a magnetically attached cover. Inside, there is a place to plug in either length charging puck, and wind the cable around the central core. (For those unfamiliar with Apple Watch, the are two types of cable. The standard version on the Sport models has a plastic puck, and the one that's with the stainless steel models and the Edition models has a stainless steel puck. You can buy either one in various cable lengths as well. They are both the same wiring and fit as far as the watch is concerned, but the puck is thinner on the metal cable. Most dock makers, Nomad included, pack a shim or adapter for the smaller one.) There are indentations around the top of the spool, so that wherever you come out ready to flip the puck into the central stand, it can fit. And that's pretty much where my metal puck cable has been since the Pod arrived. I purchased a longer cable to leave on my desk, where I can charge my watch during the day. I need the extra length there, since it is an adjustable standing desk.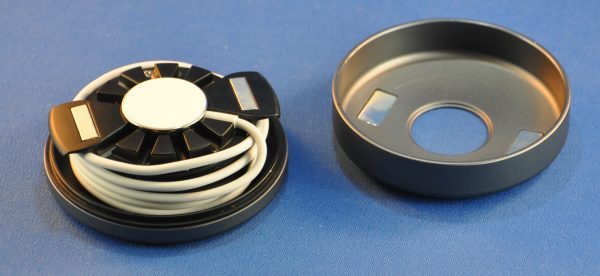 The Pod is charged via a microUSB port along the bottom edge. (Cable included.) There is a 4-LED "gas gauge" for the charge, and a button to turn it on or check the charge. I've found that the battery holds the charge for quite a long time if you don't use it, and doesn't go down much when it does charge the watch. I generally only charge my Apple Watch when it asks me to (below 10%) or when I happen to notice it getting low. Rarely do I put it on the Pod when it's above 25%. I can get 2.5-3 charges from a full Pod. The one caveat here is that the battery doesn't stop discharging once the watch's battery reaches 100%, meaning if you leave it on all night, you wind up with a dead battery on the Pod. And you can't charge while you're charging the Pod. Grrrrr.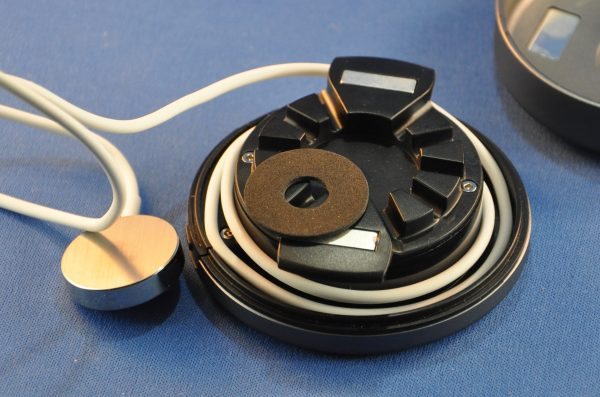 I've come to depend on it being there, since I sleep with my watch on. I only take it off to swim, shower or charge, so I'll be out and about somewhere, and get the notice that I'm running out of juice. It's nothing to grab the Pod out of my bag and slip the watch onto it. It charges the battery quickly, whether I'm in a meeting, in the car, or puttering around the house. Since it's sitting out, I'm less likely to forget to put my watch back on once it's topped up. That sometimes happens when I place it on my desk charger.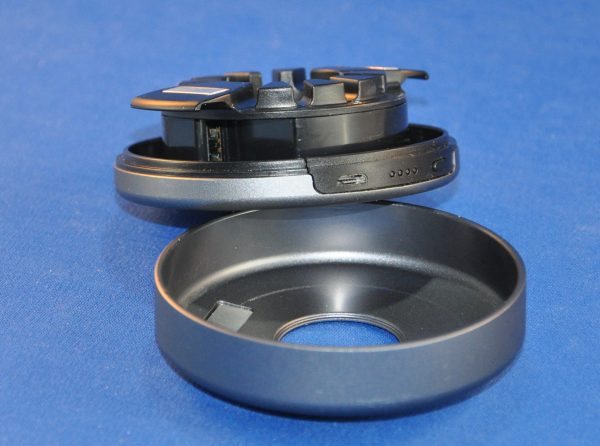 Shortly after this unit came out, Nomad also released a larger battery Pod Pro, which adds the ability to charge an iPhone through a captive cable. It's a 6000 mAh battery, rather than the 1800 mAh of the original Pod. At $80, it's a good bit larger and heavier, both in your bag and on your wallet. Currently, the original Pod is on sale at Nomad's site, and it's quite a nice piece of kit to have.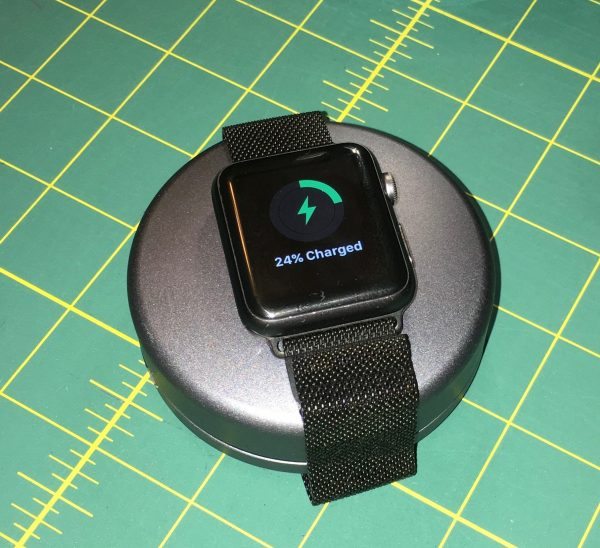 The Pod for Apple Watch is available from hellonomad.com, as well as online retailers like Amazon. I was able to purchase this at a discount through my employer.
Product Information
Price:
$59.95 MSRP
Manufacturer:
Nomad
Retailer:
Amazon
Requirements:

Apple Watch and charging puck
USB charger

Pros:

Well-made of quality materials
Feels solid, magnetic closure is very secure.
Comes in several Apple Watch-friendly colors

Cons:

Must carry microUSB cable to charge battery.
No pass-thru charging.
Device fully discharges if you don't remove watch from it.