We use affiliate links. If you buy something through the links on this page, we may earn a commission at no cost to you. Learn more.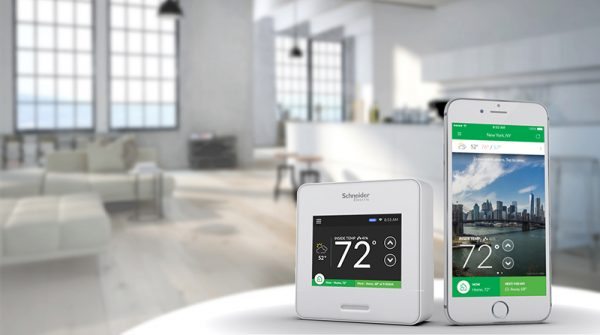 Since moving into my house a year ago, I have been blessed with having a central air unit. From this spring on, I'd been itching to upgrade my thermostat from the original, basic model to a smart thermostat. Just before the last heat wave of the summer, I was able to test out the Wiser Air by Schneider Electric, which had many of the capabilities I had been looking for.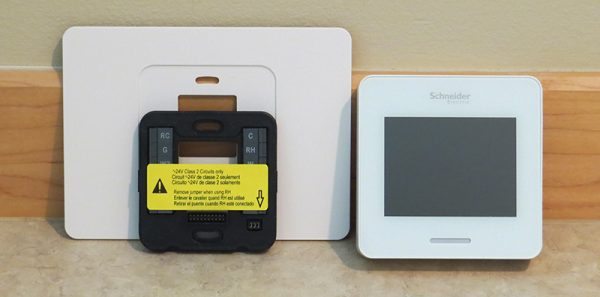 Inside of the box you'll find the Wiser Air unit, back plate, trim plate, 2 screws and 2 drywall anchors, wire extender, and the installation guide. I ended up using the trim plate, but did not need to use the included wire extender.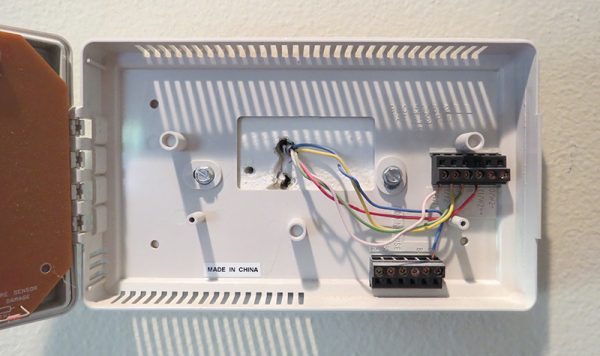 Now, while my husband may consider me a handy-woman, I have little experience when it comes to installing electrical equipment. I watched the tutorial video on Wiser Air's website, and followed the instructions to the best of my ability. After I was finished, I was amazed that not only did I do it correctly, but it was actually quite simple.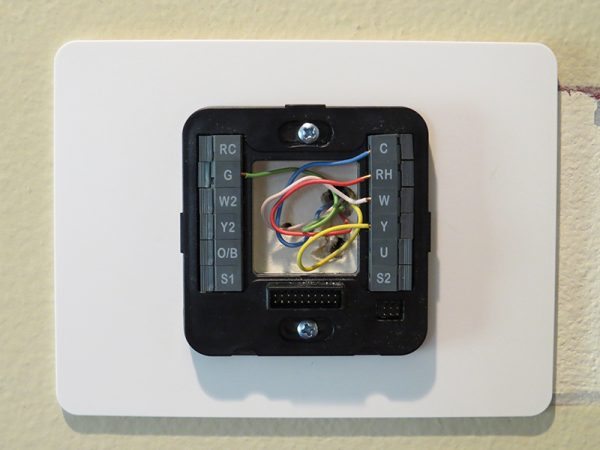 The thing I recommend most, is before you install your thermostat, take a picture of the wiring of the old. This way, if you can't get the new one working, you can fall back on the old one, plus you can use the picture as a reference. Since I was writing a review, I had to take pictures, but I looked back on them when referencing wiring for the Wiser Air thermostat to make sure I had the wires in the correct place.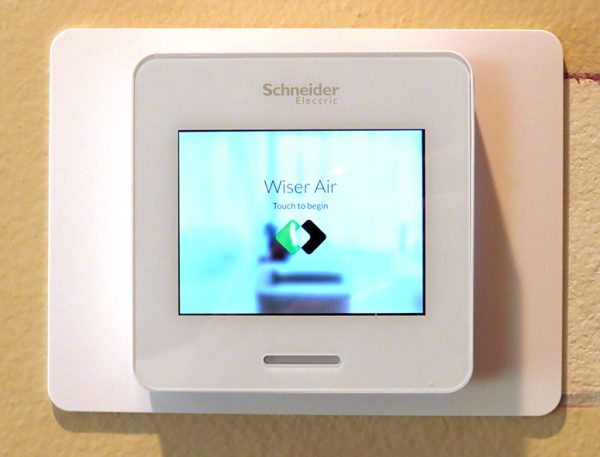 So, I took my pictures, installed the base plate, and connected the wiring. The last step was simply snapping on the front panel. After a few seconds, the display popped on and it led me through a basic setup screen where I put in the time, date, wiring configuration, and connected it to my WiFi network. The setup was easy and straightforward; just the way I like it.
Once I got the thermostat up and running, I noticed that it would not turn on my air conditioning unit, yet the heater worked fine. I called up their technical support, and after some troubleshooting, reset the unit by removing the unit from the plate, waiting thirty seconds, and reinstalling it again. Once reset, it worked just fine, and has worked ever since. Usually, I am not able to comment on a company's customer support, but the lady I talked with was knowledgeable, patient, and helpful. They definitely get a good rating for their customer service.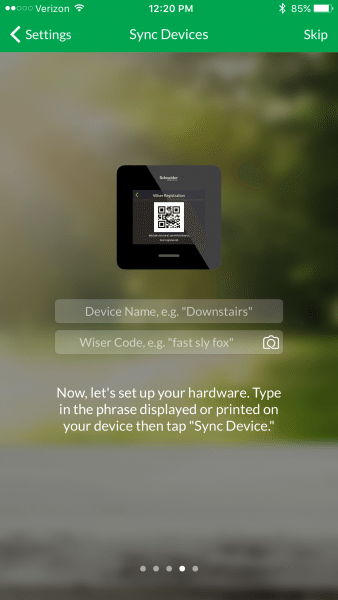 Now that everything was installed and set up, I downloaded the WiserAir app on my iPhone and connected it to the unit. This was done by scanning a QR code or typing in a code that is displayed on the thermostat. It connected quickly, and I was up and running in no time.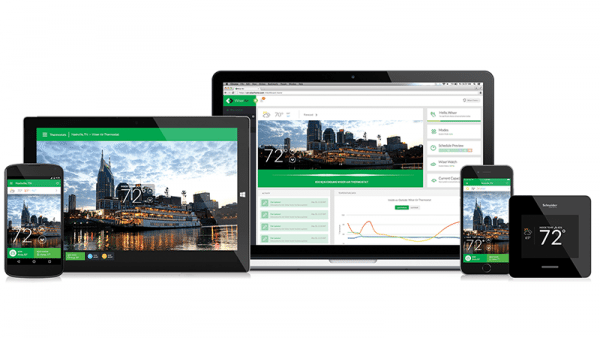 While I used only my iPhone to control the Wiser Air thermostat, you can use a variety of devices to access the settings. When on the phone with support, I asked them if the app varied much between devices, and they indicated that they were all pretty much the same.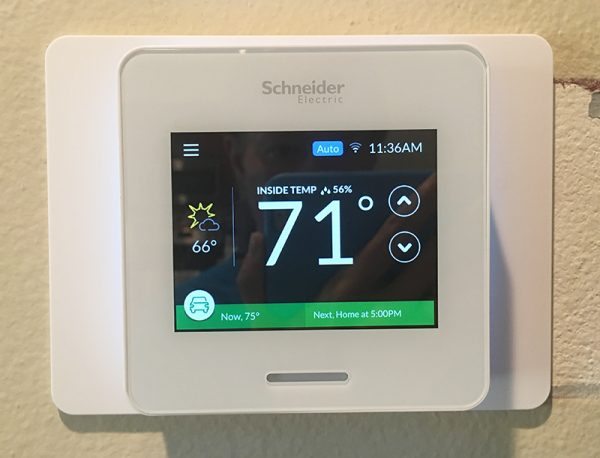 The first thing that I did was adjust the temperature settings for when I am home, away, and sleeping. I did most of this work from the app, but the app is very similar to the unit itself. To edit, you just hold down whatever setting you want to adjust. This was easy and straightforward. The thermostat responded well; much better than our previous, basic thermostat. My roommates both commented the next morning that they were more comfortable than they had ever been before with the air conditioner running. Usually, they were too hot.
After a bit though, I realized that the temperature the thermostat displays is usually three or four degrees higher than the other thermometer about ten feet away. I moved a second thermometer two feet from it, and it still consistently read higher. Since I had the temperature set to 68 overnight, this may have been why my roommates were so happy, due to the temperature most likely being around 65 degrees with the thermostat running warm. In the end, I didn't change the overnight temperature to keep my roommates happy, but it's simple enough to bump the unit temperature up a few degrees to compensate if you wanted to do so.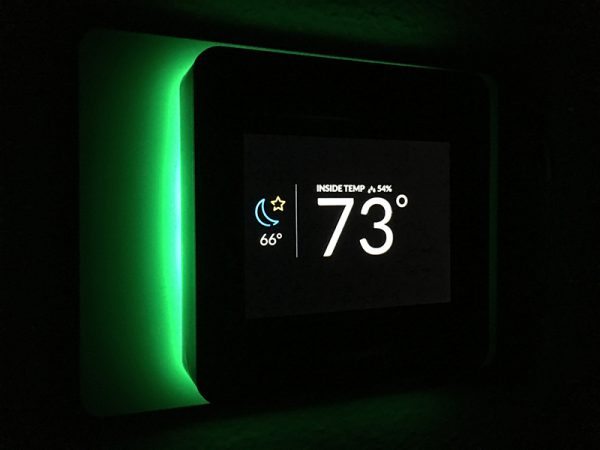 So, the conventional method of heating and cooling with the Wiser Air thermostat worked great, but they also have something they call the Eco IQ, which is supposed to learn your habits and adjust the thermostat accordingly. To start with, you tell the unit what your preferences are on a scale: Saving money over comfort or comfort over saving money. You can choose anything in between as well. I chose right in the middle. To be honest, it is difficult to understand how it actually works, other than learning when I push the up or down button (down if I thought it was too hot, up if I thought it was too cold), what temperature I am comfortable with. In the end though, we were quite comfortable.. even if we had no idea how the thermostat was doing it!
Another feature that the Wiser Air thermostat has is the comfort boost. By holding the up or down arrows, you can start a 15 minute boost of cool or warm air. This was especially useful when I would work outside on a warmer day, since coming in to a cooler temperature was refreshing.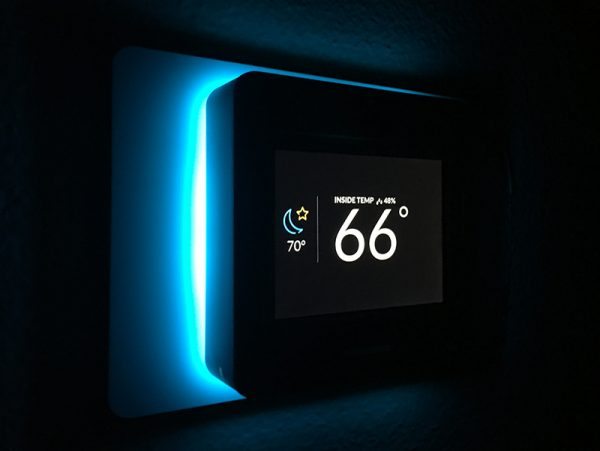 The thermostat unit itself is very slick and pleasing to look at. When no one is nearby, the display will turn itself off, but if you walk near it, it will turn on and show you what it is doing by making the color around the base more vivid. This color can vary from blue (cooling), yellow (heating), very light blue (off), and green (Eco IQ mode).
On the main display, when visible and idle, it will show the temperature, humidity, and current outdoor temperate. The outdoor temperature is pulled from data via WiFi. The overall look is pleasing to the eye, and so much nicer looking than the old junker I had before.
Perhaps it is better that I show a brief video of how I used the Wiser Air unit. Bear with me, as I held the iPhone in my hand while taking a video, but hopefully you can get a general idea of the basic controls and display from the above video.
While I have to repaint a little of my wall to cover up where my previous thermostat was, it is well worth it to have the Wiser Air thermostat installed in my home. It is so easy to use, and the app has saved me from going downstairs to change the temperature several times. Just last night, I was reading in bed and realized it was warm, so I turned on the fan via the app. The luxury of having a Wifi enabled thermostat such as the Wiser Air by Schneider Electric is something I will not go without again, and at this moment, the Wiser Air fits all of my needs, so I will not be replacing it anytime soon.
There are a lot of smart thermostats out there, and I always recommend shopping around for one that will suit your needs. If you are looking for one, take a look at the Wiser Air, as it is a well made, aesthetically pleasing, easy to use thermostat.
Source: The sample for this review was provided by Schneider Electric. Please visit their website for more information and Amazon to check prices and order one.
Product Information
Price:
$239 MSRP
Manufacturer:
Schneider Electric
Retailer:
Amazon
Requirements:

- 24V wiring capability
- Will NOT work with 110V and 220V wiring.

Pros:

- Easy to set up and use
- Works well to keep at desired temperature
- Eco IQ feature works, even if I have no idea how

Cons:

- Displayed temperature is a few degrees warmer than actual temperature