We use affiliate links. If you buy something through the links on this page, we may earn a commission at no cost to you. Learn more.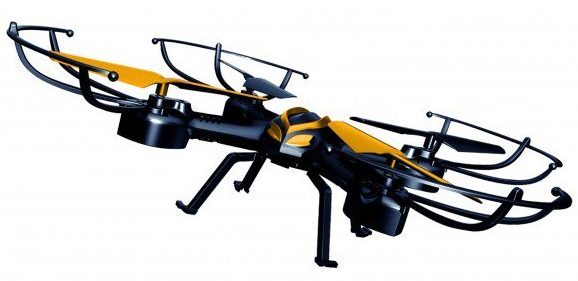 You've been looking at buying a drone for your kids that is both fun and maybe even useful (inspecting roofs, aerial photography, etc.), but you don't want to deal with the hassle of having to register it with the FAA if it's heavier than 0.55 pounds. It's tough to find a drone that weighs less than that, has an HD camera AND doesn't cost an arm and a leg. Swann has just added two new drones to their Xtreem line-up that tick these boxes. The new drones are suitable for people aged 12 and up, feature lightweight yet durable construction, long transmission distance and multi-directional flip maneuvers. They're also equipped with a full HD video camera at a sub-$180 price point.
The Raptor Eye Video Drone is only 9.9 inches and weighs in at 0.2 pounds, so it doesn't have to be registered with the FAA. Although it makes a good starter drone, it still features cutting edge flying capabilities including 360-degree maneuverability, multi-directional controls, one button return home function, headless flight mode, trim/stabilization adjustment and 2.4GHz transmission up to 130 feet. Pilots can also share their flying misadventures with friends using the onboard HD camera which saves footage to a microSD card (a 4GB card is included). The Raptor Eye Video Drone has been designed for indoor and outdoor flying and includes a backup battery to doubles the length of flying time to 14 minutes. You can read more about Swann's new Xtreem Raptor Eye Video Drone on Swann's site and purchase one for $99.99.