We use affiliate links. If you buy something through the links on this page, we may earn a commission at no cost to you. Learn more.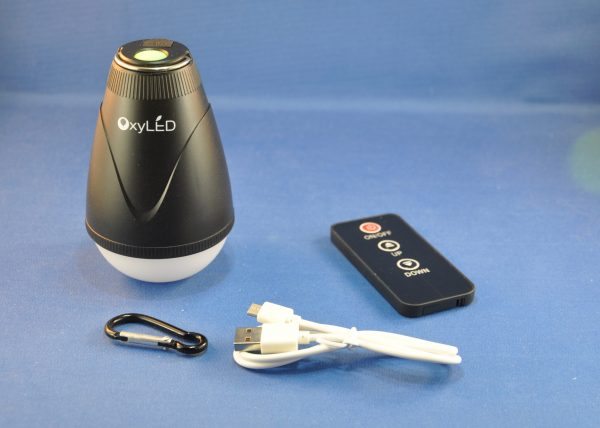 Ah, LEDs! The darlings of everyone from makers to artists to environmentalists. Low energy, low heat, long life, high output – what's not to like? So it hasn't surprised me that most of the battery-operated portable lights that have come across my desk in the last few years have used LEDs as a source. Most struggle for differentiation, but this latest has quite a unique angle. It's the OxyLED, and it's quite a multi-tasker.
Note: Photos may be tapped or clicked for a larger image.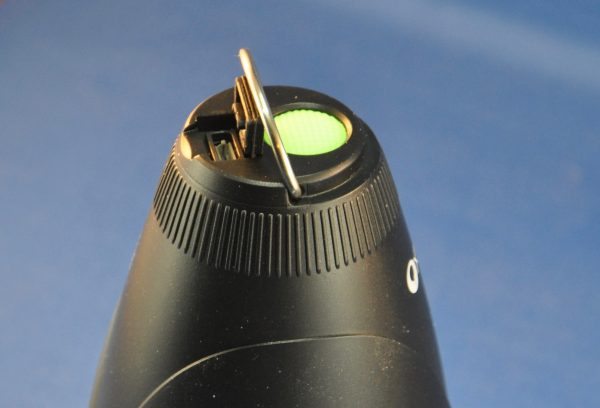 At first glance, it looks for all the world like a light bulb with a flattened place on the end opposite the socket. But, on the socket end, there is a glow-in-the-dark button, a covered USB charging port, and a wire hanging loop. Also in the box is a carabiner-shaped hanging hook (not for climbing!), a remote, and a USB-microUSB charging cable. Once it's fully charged, you'll have three levels of light (Let's call them tall, grande, and vente for fun. Or not.) plus two full-beam flashing modes – a strobe that could induce seizures at close range, and a slower warning/SOS flash (maybe once a second, as opposed to five for the frenzy-mode.)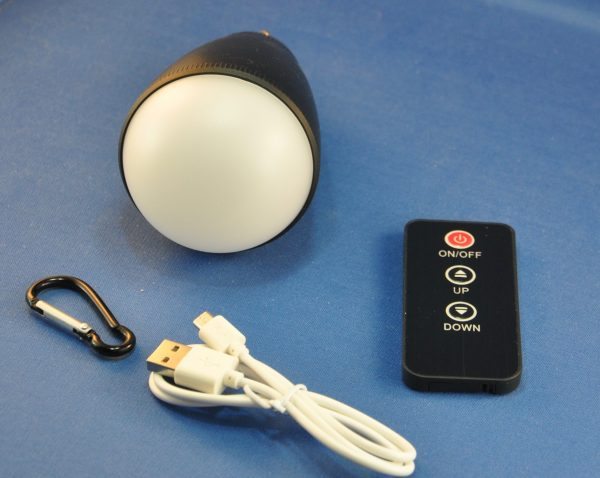 Since the bottom lens is a translucent plastic, rather than a clear focusing lens, there are a lot more applications than for a pear-shaped flashlight. For one, the light is nicely diffused, so it's great for reading, playing cards, or any other non-electronic fun folks might want to have after dark on a camping trip. Or during a power outage. Also, since it's low heat and fully sealed, you don't have to worry if you leave it unattended, like a burning candle or lantern. Good for the kids' tent, or the kid's table at your backyard cookout. With the hanging hook, you can place it up on a line, or to the backpack of a wandering toddler. You can also just sit it on a table/ground cloth.
With an IP64 rating, it's not going to complain about splashed liquids or moderate weather, but it's not a diving light, by any stretch. But it's nice to know you don't have to fret if it's near the sprinkler.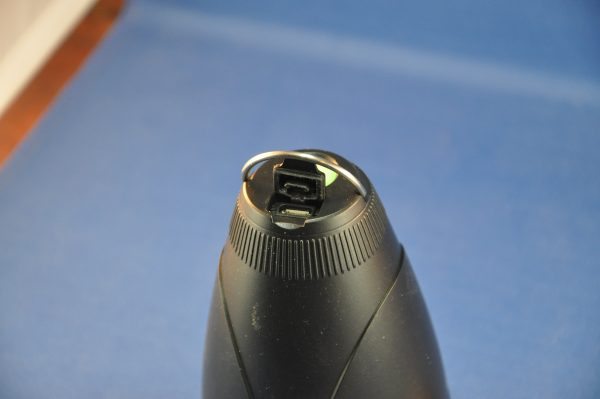 Never miss one of our posts again. Sent MON, WED, and FRI with the latest gadget reviews and news!
I will definitely be using it once the raging heat wave cools down as a swinging caution light next to my red flashers on my bike. Can't be too visible, right? (I won't be using frenzy-mode here, however. That might hypnotize a driver, and they'd run me over for sure!) I've taken to having this in various places around the house in the evenings when I don't want the glare of overhead lights. With the remote, you can trigger the last mode with the on-off switch, and, once it's on, cycle through all modes with the up-down arrows. This could let you leave it out on a deck or covered porch, and just click the remote for light when you enter that area. There's also a "No, really, turn it all the way off" mode (holding the button down for 3 seconds as you turn it off), which breaks the power of the remote to power it on again until you've started it manually. Think blinking light shining out of your bag on a dark tarmac in the rain as you explain to TSA officials that you thought it would be OK in your suitcase. No one wants that. And, speaking of freaking people out, when the device is charging, the whole LED area flashes red, then goes solid red when fully charged.
All together, it's a nice package, if a bit peculiar. I kinda laughed when I saw it offered, thinking it would be awkward to use, but it's very stable on its flat base, can be easily hung anywhere, and, with the aid of the remote, is ready from almost anywhere within a line of sight. And, at $23, it's well worth it.
Source: The sample for this review was provided by OxyLED. Please visit for more info and Amazon to order.