We use affiliate links. If you buy something through the links on this page, we may earn a commission at no cost to you. Learn more.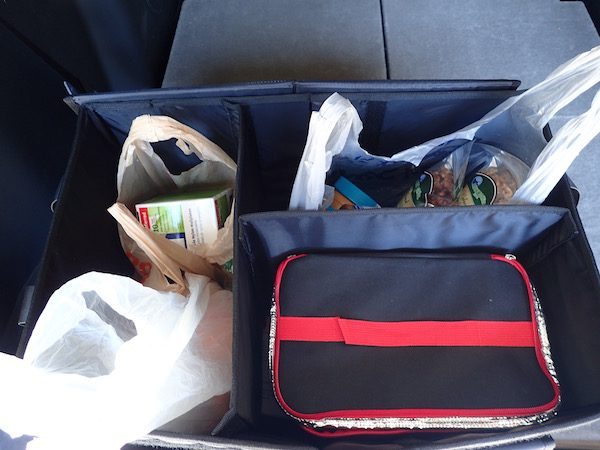 I've been procrastinating writing my review of the MIUCOLOR Trunk Organizer, waiting for a "really big" shopping trip to load it up and get a picture. I thought a "really big" trip would be the true test of the trunk organizer. However, this summer has been so busy I haven't had any really big trips. Lots of little trips though. Today I realized that while the MIUCOLOR trunk organizer might shine on the "really big trip", it's going to be the everyday run-around errands that make it useful for me.
This morning I went to Home Depot, Walmart and the local fruit stand and collected a half dozen bags of various supplies. Without the MIUCOLOR trunk organizer, I would have had to tie and arrange the bags so the contents didn't slide out of the bags and scatter across my trunk area. With the MIUCOLOR trunk organizer, I was able to pop each bag into a trunk organizer cubby area where it was secure. I was especially glad to contain the melon. Melons have a tendency to roll around and pick up speed.
Another major benefit is having a place for things when no bags are available. Many cities, counties, and stores are changing their policies on shopping bags, and many people are choosing to provide their own solutions for transporting and organizing their purchases. For those of us who stock up at the "big box" stores, bags aren't an option, and unless you want to bring home cardboard boxes to throw away, you'll need to figure how to pack your goodies so they are safe. MIUCOLOR Foldable Cargo Trunk Organizers are an excellent choice.
The MIUCOLOR Foldable Cargo Trunk Organizers come in 3 sizes, one with a cover and reinforced handles, another one that is slightly larger, with metal handles and no cover, and a smaller one with no cover. The smaller Organizer with the cover was my favorite. I drive an SUV and my trunk area is visible through the windows so the covered organizer provides total privacy while keeping things secure.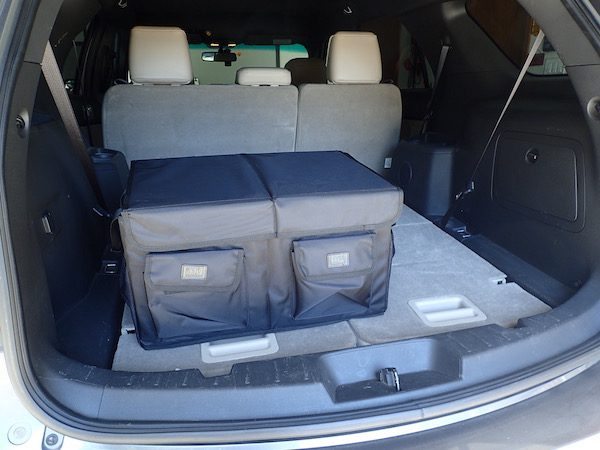 The MIUCOLOR trunk organizers are delivered compactly folded, each about the size of a briefcase. For comparison, I snapped a picture of the larger MIUCOLOR organizer folded up next to my husband's briefcase.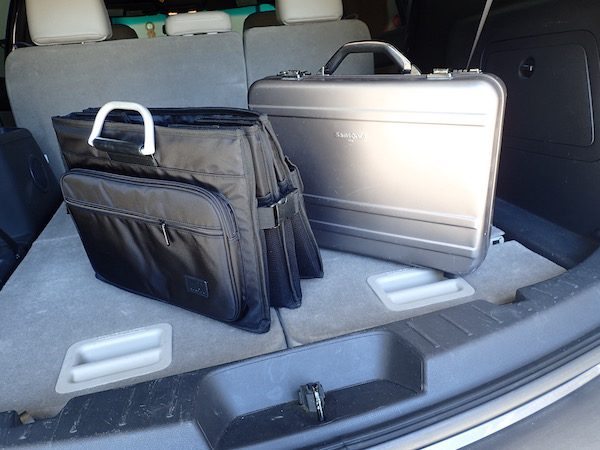 Unfolding the trunk organizer is quick and easy; no instructions were included with my samples and none were necessary. The interior walls are held in place with sturdy Velcro strips and are somewhat configurable. The organizers are made from a tough, water and abrasion resistant polyester fabric. Each comes with an insulated Bonus Car Cooler that will hold a dozen pint size water bottles.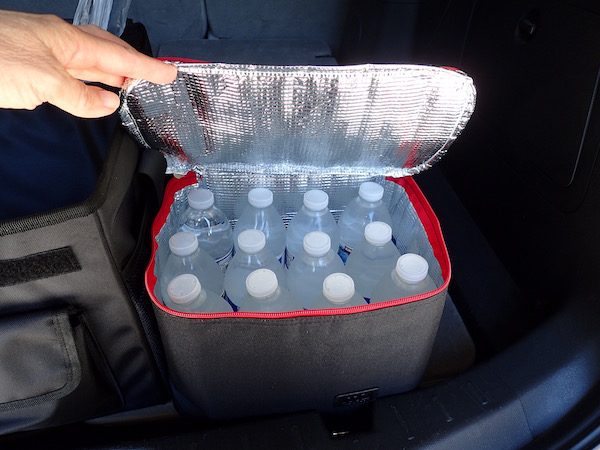 My SUV has a large cargo area and organizing stuff is important so it doesn't roll around and get lost under the seats. I was hoping to be able to put the trunk organizer in the well behind the third seat row but that area was just a couple inches too narrow for either trunk organizer. With the third seat row folded flat, there was plenty of room for the trunk organizer, plus room for larger purchases, like a 12 pack of paper towels. The trunk organizers have substantial Velcro strips on the bottom to optionally allow them to be secured in place. I did not use the Velcro anchors and had no problems with the trunk organizers moving.
Since the MIUCOLOR trunk organizers are advertised as "Water Resistant", and because it was a hot day, I had to give it a go and find out just how water resistant it was. (This is not advised.) Water "Resistant" is an appropriate description. After placing the trunk organizer on a dry area of concrete, I carefully filled it with about 2 inches of water. After a minute the bottom seams started to weep. After 10 minutes the trunk organizer still contained most of the water but showed definite wetness around the bottom seams and on the concrete. At that point I emptied the water, turned the trunk organizer upside down and left it to dry in the shade. It was completely dry within 90 minutes in the 100° California summer.   I could find no damage or difference in the trunk organizer after the water test.
I must admit that I've been resistant to the 'anti-bag' policies, for a multitude of reasons, including convenience. But the MIUCOLOR Foldable Cargo Trunk Organizers are changing my thinking on it. This is one solution that is an improvement, not a compromise.
Source: The sample for this review was provided by MIUCOLOR. Please visit their Amazon shop for more info.
You can use the code MIUTRK20 to save 20% (this code does not expire).