We use affiliate links. If you buy something through the links on this page, we may earn a commission at no cost to you. Learn more.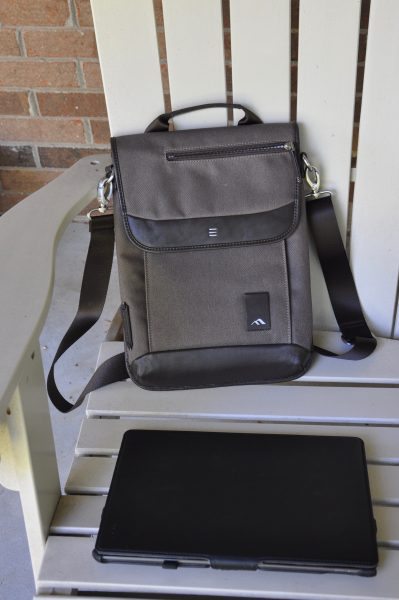 A few weeks back, I reviewed the Collins vertical iPad/laptop bag from Brenthaven that I'd bought a while back for my iPad Air 2. I was looking for a similar bag for my iPad Pro. They now make one in that size, but I was hesitant. The two things I had mentioned that I would do to improve the bag were to add a removable strap, rather than the sewn-in style, and add a handle on the top, in order to grab it quickly, or to carry it without the strap. Both of these features are available in Brenthaven's Medina model for the iPad Pro, so Julie talked with the folks at Brenthaven and asked them for a demo unit for my iPad Pro. It arrived a week or so ago, and I've been using it to carry my iPad Pro and a few other items when I'm out and about. Is it as perfect for minimalist portage as I suspected? Let's take a closer look.
Note: Photos may be tapped or clicked for a larger image.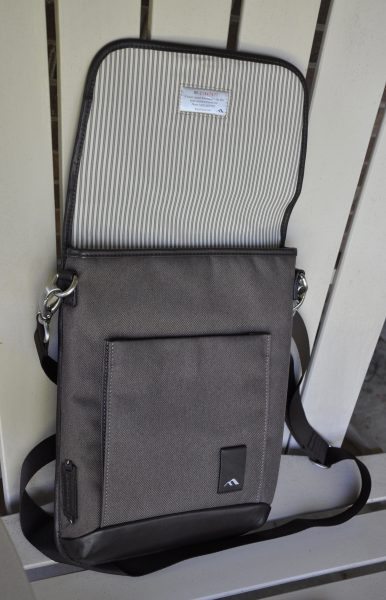 The Medina Vertical Messenger Bag comes in a chestnut brown twill fabric, with Napa leather trim. The interior is lined with a mattress-ticking striped fabric, similar to the Collins collection they have had for a few years. The flap, rather than clicking or closing with hook-and-loop material, is held down with a set of strong magnets.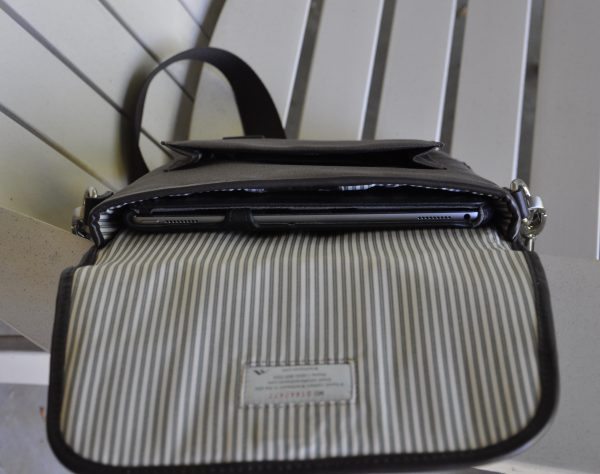 Overall, the bag measures just over 14″ by just under 11″ by just less than 2″. There is one main padded pocket that takes up the entire dimension, and one other open pocket on the front that's almost 7.5″ square. It looks like a slash pocket, but there is an almost 2″ bellows on the sides, which means it will easily hold my iPad Air 2 in its MoKo cover. Inside, there are some slash pockets for a few cards and loops for 2 pens. The magnet on the flap is connected to the top part of this pocket, so it is protected somewhat from things falling out, even though it's open on the top.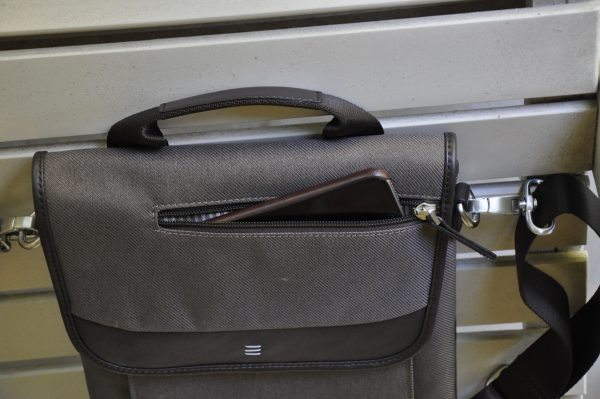 On the flap itself, there's a zippered pocket that can accommodate an iPhone 6/6s Plus in an Apple leather case, but it has to be inserted one side at a time. The zipper is just shy of long enough to allow you to place it straight in.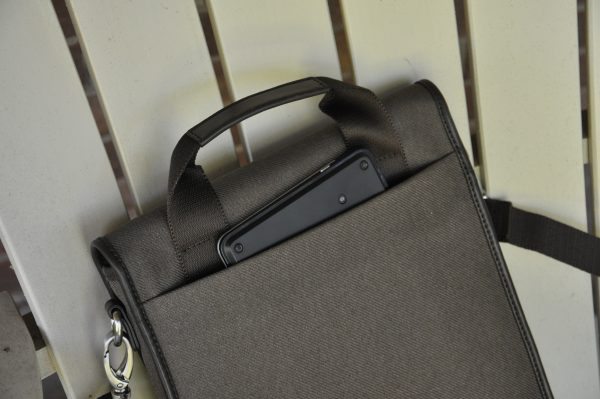 The last pocket is on the back, just below the folded 1.5″ webbing and leather-covered haul loop. It's almost as large as the inner main pocket, but has no depth. It can easily hold a magazine, travel documents, or a portable keyboard. My Logitech K811 fits in easily, and only millimeters of it are visible above the top.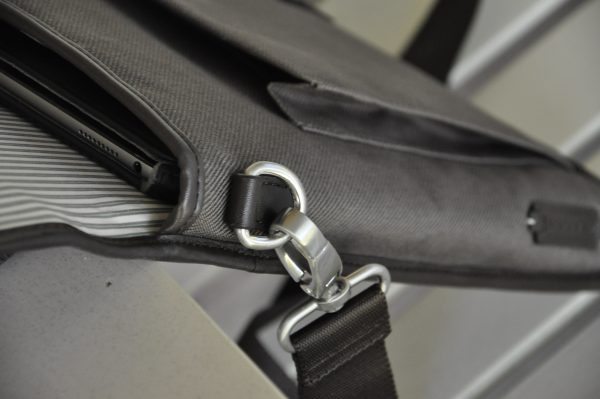 On each side are leather tabs with very heavy-duty D-rings. A strap is included, made from the same dark brown 1.5″ seat belt webbing and heavy-duty metal swivel clips. (As best I could, I weighed only the clips on the strap, just out of curiosity, and they are about 1.5 oz. each!) The strap can be extended to 53″ overall. It adjusts easily, yet holds the adjustment tightly.
In a pinch, I can carry both iPads, the K811, and not much else. More normally, I carry just the iPad Pro, the keyboard, and random items in the front pocket. This makes for a light, protective, and small (well, as small as a bag can be while holding a full-sized iPad Pro!) bag, with enough room for a cable, presentation dongle, or medicines for a long day out writing or touring.
The Brenthaven Medina is the best minimalist bag I've found, if all you're wanting to carry is an iPad Pro, full sized keyboard and a bit more. But if you truly need to travel for several days with all the little extras that are needed when you're out of town, you may need a bit more. Like the Collins, it's great as a day bay, but not as a "days" bag. Nonetheless, it's one of my favorite Brenthaven bags ever, and carries on a fine tradition of protection in style.
Source: The sample for this review was provided by Brenthaven. Please visit their site for more info and Amazon to order.
Product Information
Price:
$99.95
Manufacturer:
Brenthaven
Retailer:
Amazon
Requirements:

Thin laptop or tablet up to 13"

Pros:

Holds a single device and a few extras.
High Density Foam supports and surrounds laptop sleeve.
Lifetime Guarantee.

Cons:

Minimalist - not a general carry-all