We use affiliate links. If you buy something through the links on this page, we may earn a commission at no cost to you. Learn more.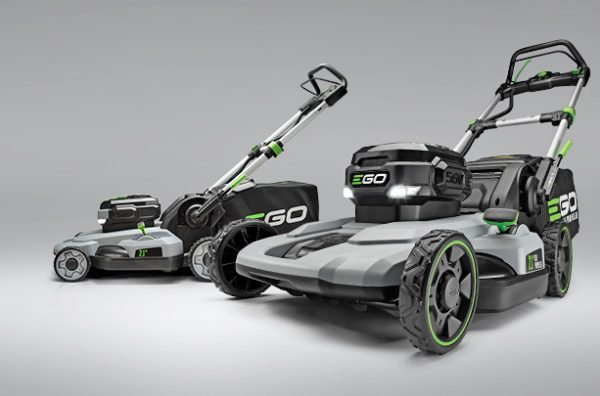 It's always interesting when a new brand of lawn equipment comes out of nowhere and captures the imagination—and wallets—of consumers. Introduced in 2014, EGO has spent the last ten years researching and developing the Power+ platform, resulting in a line of cordless outdoor yard equipment with the power and performance of gas without the noise, fuss, and fumes. Ego's products were designed and engineered by a global organization with a 20-year history of delivering breakthrough technology.
Battery-powered lawn equipment has been around for a few years, but power has always been lacking and battery life was severely restricted. EGO's research has led to advancements in battery technology that has resulted in much more powerful batteries coupled with a much longer life.
EGO states that "All EGO products are powered by the POWER+ Arc Lithium technology. Heat is the enemy of all batteries. Heat builds up during battery use and battery charging. EGO engineers achieved performance never thought possible while developing Arc Lithium by combining a unique battery shape, "Keep Cool" technology and the most advanced cell management software ever created for a home lawn and garden product. This is how EGO achieves POWER BEYOND BELIEF. The EGO Power+ system also boasts a revolutionary charging system. In just 30 minutes, a depleted 4.0Ah battery can be fully recharged, getting you back to it in 1/2 the time of other cordless outdoor power products."
There are five products currently in the EGO line: Power+ mowers, chainsaws, blowers, string trimmers and hedge trimmers. Also available are extra Power+ chargers and batteries so you never run out of power.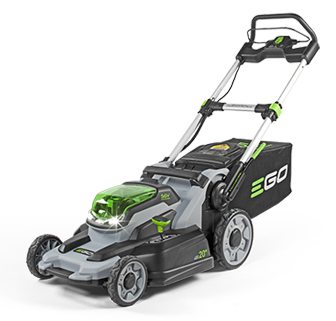 There are three Power+ mowers available— the 20", 21" and 21" (self-propelled) mowers cover any requirements a homeowner could want, from 1/4 to 1-acre lawn size, depending on the mower. All are weather-resistant, have 45-60 minutes of cut time (depending on mower), 3-in-1: mulching/bagging/side discharge, folding for compact storage, push-button start, LED headlights and all come with a 5-year limited warranty. Also, each mower comes with one battery and two models include chargers.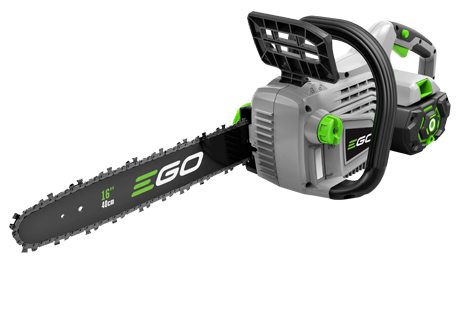 EGO offers a 14" and 16" Power+ chainsaw. The chain saw has a hi-efficiency brushless motor providing effortlessly smooth cuts. The brushless motor extends both the life of the tool and the run time delivering the performance of gas—again without the noise, fuss and fumes.
There is a choice of 480 and 530 CFM blowers. The blower is the most powerful cordless blower in the industry. The blowers also have with brushless motors. They are equipped with turbine fans, inspired by advanced aeronautics technology.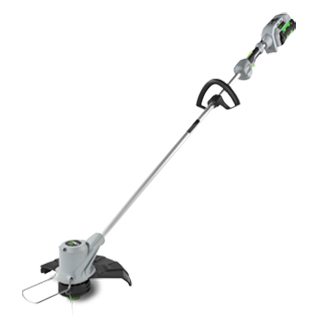 EGO has two string trimmer models with a 12" and 15" cutting swath. Features include weather-resistant construction, dual-feed, spiral twist 080" diameter line and a bump-head trimming system with easy string replacement. The 15" model comes with a brushless motor.
The power hedge trimmer has weather resistant construction, 24" dual action, hardened steel blades that generate 3,000 Strokes Per Minute (SPM) for clean, fast cuts and a large cutting capacity that allows the trimmer to cut branches up to ¾" thick.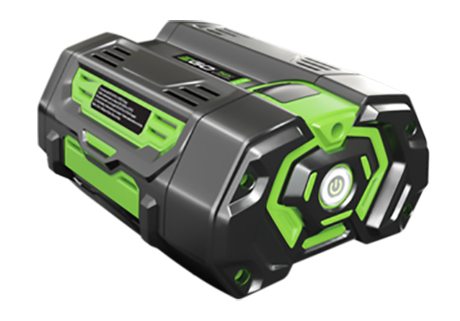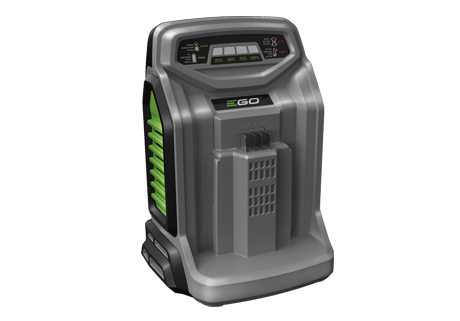 There are five different battery choices—all with different power levels. The 2.0, 2.5, 4.0, 5.0, 7.5 amp batteries feature the patent pending keep cool technology, which keeps each battery cell cooler for extended life. Each also has a power management system that protects the battery from harsh elements, along with an integrated fuel gauge that shows how much power is left in the battery. The EGO ARC Lithium battery is compatible with all EGO Power+ products.
With the new products EGO is offering, many gas-powered diehards (like me) may finally be convinced that it's time to switch over to a cleaner and quieter mode of doing yard chores. Naming a company EGO takes a lot of well—ego! However, in this case, the name may be justified.
For more information and pricing visit www.egopowerplus.com. EGO products are available at Home Depot.