We use affiliate links. If you buy something through the links on this page, we may earn a commission at no cost to you. Learn more.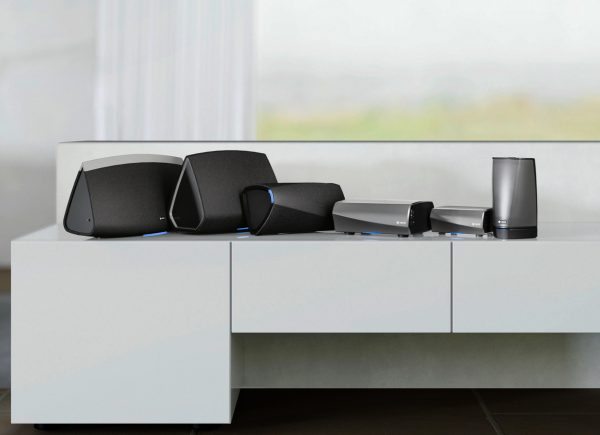 Audio company Denon has gone after multi-room speaker maker Sonos in a big way with their revamped HEOS HS2 line of speakers. When I reviewed the original Heos 1 wireless speaker, one of my complaints about it was it lacked Bluetooth—unless you bought the Heos Go Pack, a $100 addition which also included a rechargeable battery. I'm happy to say that the new Heos 1 speaker now includes Bluetooth at no extra cost. In fact Denon has added Bluetooth to all of the HEOS HS2 speakers: the Heos 1, 3, 5, and 7.

HEOS now also features compatibility with high-resolution audio files. Users can listen to uncompressed WAV (PCM), ALAC (Apple Lossless Audio Codec) and FLAC (Free Lossless Audio Codec) music files up to 24-bit/192-kHz over network or USB. And coming soon users will also be able to listen to DSD (DSD is the audio coding format of SACD) and AIFF (Audio Interchange File Format) audio tracks. "We are pleased to introduce this new upgrade to our HEOS platform that brings high resolution audio playback, built in Bluetooth, and a significant increase in processing power that will intensify performance and support new features that we can't wait to bring to the HEOS family!" said Brendon Stead, at Denon.
HEOS brings audio to any—or all—rooms in the home by connecting via Bluetooth or an existing Wi-Fi network through the HEOS app, available for iOS, Android and Amazon Fire devices. It gives users multi-room audio control playing music in every room from any HEOS device. There is also the ability to stream the Bluetooth content from one speaker to other speakers over the Wi-Fi Network. HEOS can be used to group several rooms together and play the same song from every room. Or play a different song in every room when everyone wants to listen to their own tune.
Denon states that In the future, the HEOS Series will continue to expand with new products. They have not announced how this upgrade will affect the HEOS 1 (now somewhat redundant) Go Pack. The revamped Denon HEOS HS2 system is available now in Black or white and where ever Denon products are sold and Amazon. Visit those sites for more information.