We use affiliate links. If you buy something through the links on this page, we may earn a commission at no cost to you. Learn more.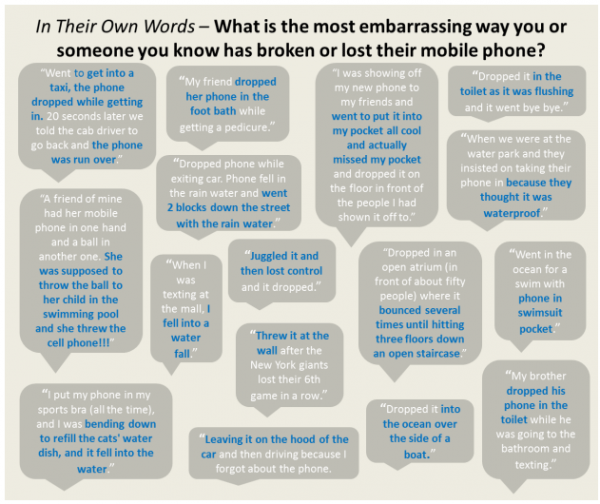 Chances are that in any public area you will see someone using a smartphone with a broken screen. It wasn't like this a few years ago-for one thing a lot less people had smartphones, but also phones had bigger bezels, smaller glass or plastic screens, were less likely to be used as a camera or video recorder, and were a lot easier to hold on to. The modern thin and light devices are therefore a lot more likely to suffer an untimely demise. A recent study conducted by Verizon Wireless in collaboration with KRC Research determined that nearly 49% of mobile phone owners in the US have lost or broken their devices at one point in time.
The survey was conducted on more than 1,000 consumers and determined that 57% of US-based mobile phone users have lost or broken more than one mobile devices over the years. The results of the survey show  51% of mobile phone owners have dropped them, 6% of them have damaged their phone by throwing it or sitting on it. Roughly 4% of the respondents have broken their phone by driving over it or submerging it. Most often phones are damaged at home (55%) or bathrooms (27%).  The study shows that 54% of mobile phone owners drop their handsets at least once a week, but some demographics have more buttery-fingers than others. Millennials drop their mobile phones twice as many times than previous generations. The survey also suggests that parents are 1.5 times more likely to lose or break their devices than owners who don't have children.
The graphic above lists some of the more embarrassing ways survey participants have broken their phone. Do you have an embarrassing smartphone-damaging story of your own? Leave it in the comments!
The survey and results can be accessed at Verizon Wireless.