We use affiliate links. If you buy something through the links on this page, we may earn a commission at no cost to you. Learn more.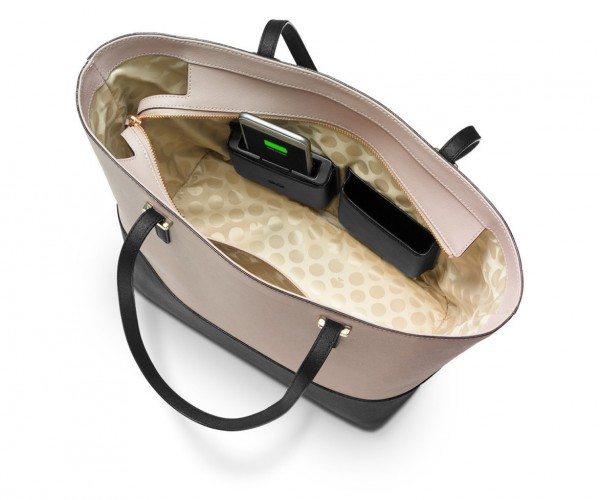 If I carried a purse, I think my phone would never be charged.  I'd put the bag down and forget to take out the phone, plug it in, etc. Everpurse has solved that problem!  You know that one spot at home or work where you always place your bag? With Everpurse, that special place now keeps you charged all day long. Place your handbag on top of the mat to recharge your bag. In the morning, slide your iPhone into the SmartPocket™. Everpurse tech allows your mat and bag talk to each other to ensure the perfect charging solution so your Everpurse bag battery lasts for years. When the mat LED turns green, you know you have a full-day's worth of power. At all times, our tech ensures that your iPhone battery is taken care of, for example, once your iPhone is full, the Everpurse tech will directly power your iPhone ensuring that the battery is kept fresh, at 100% and ready for you. 
We all hate cables, so there none are to be found in your Everpurse. To use your Everpurse, absolutely no special adapters, cables or cases are needed! In fact, you can use a brand new naked iPhone right out of the box or with your favorite Kate Spade case. The Everpurse's charging SmartPocket™ is lined with our smart-docking technology that perfectly guides your phone to an Apple lightning connector. Every Everpurse comes with a custom dock for all iPhone types currently on sale  and these docks are fully upgradable into the future. Everpurse technology is light, powerful and virtually invisible. It is airport travel-safe, credit card safe, and our USB powered charging mat is compatible worldwide.  The purses come in three sizes/styles for prices ranging from $198 to $698. Visit the Everpurse website for more info. There are a few styles available on Amazon.
There is also an interesting article in Forbes about the collaboration between Everpurse and Kate Spade that provided this woman centric wearable technology.  As the author put it, "the tiring anomaly of unwearable wearables that have left female consumers keeping their checkbooks closed."