We use affiliate links. If you buy something through the links on this page, we may earn a commission at no cost to you. Learn more.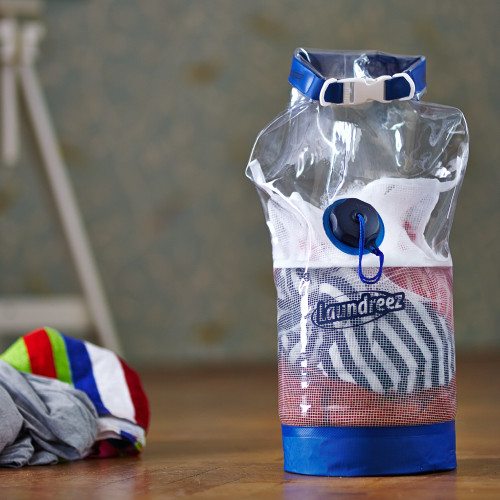 When imagining your travel plans, you try to ignore the pile of dirty laundry heading back home with you. Delaying the unpacking won't help. Here's something that might – the Laundreez Portable Clothes Washer. The Laundreez consists of a mesh bag held inside a waterproof bag. You place clothes in the mesh bag, which can also be used to scrub/pre-treat stains. You fold the top of the bag and clip it closed. There's a twist cap to open for adding water and detergent to the bag. Let the clothes soak for 10 minutes. Shake a minute or two more to loosen any dirt. Get rid of the water and refill the Laundreez. Repeat the shaking. Pour out that water, and add one more dose for the rinse cycle. Then let the clothes hang dry.
The Laundreez Portable Clothes Washer is promoted as letting people wash clothes in as little as 20 minutes. It weighs 12 ounces and takes less room than three pairs of socks, according to its Kickstarter campaign. Cleaning clothes isn't its only use. Laundreez can be used to keep drinks cold, carry wet clothes home from the beach, and just hold water. You can also use the waterproof container to hold valuables. Laundreez costs $35 and is available for purchase on Amazon.