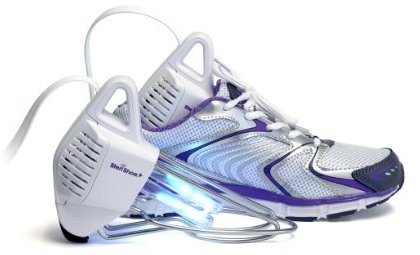 Our feet sweat. And when wearing shoes, this not only causes odor but also provides a breeding ground for microorganisms that cause foot infections. The SteriShoe is a shoe insert that is made from a steel frame and uses ultraviolet light to kill those microorganisms. Currently, SteriShoe is one of the few devices that has been studied and has had research published on it that can say that it "reduce[s] the levels of fungus in test pairs of athletic shoes and leather shoes" according to the Wall Street Journal (WSJ). The study (Journal of American Podiatric Medical Association 2012 Jul-Aug;102(4):309-13) found an 80% reduction in the fungus that causes athletes foot and toenail infections using an older model of the SteriShoe. It seems that only four shoes were tested in this study so obviously more studies are needed. Even so, scientists acknowledge that UV light is an accepted way to kill microorganisms which bodes well for products like SteriShoe. The newer model of SteriShoe treats the whole shoe from heel to toe in 15 minutes. It has a fan that dries out your shoes, a built-in deodorizing system that includes eight scent pouches, and a safety feature that will not turn on the UV light unless the light sensor is completely covered (you could put the shoes in a shoe box if they are sandals). It is a one-size-fits-most device that plugs into an outlet. According to the WSJ, "The device has received a Seal of Acceptance from the podiatric association. (In the group's seal program, a scientific committee reviews data on products before issuing the seal, which companies pay to use.)" So, if you are interested, SteriShoe is available from Amazon for $149.95. Please visit their website for more information. DISCLAIMER: This is not a medical device and does not treat foot infections.
Support The Gadgeteer
:
We may earn a small affiliate commission from purchases made from buying through links on our site. As an Amazon Associate I earn from qualifying purchases. Learn more.