We use affiliate links. If you buy something through the links on this page, we may earn a commission at no cost to you. Learn more.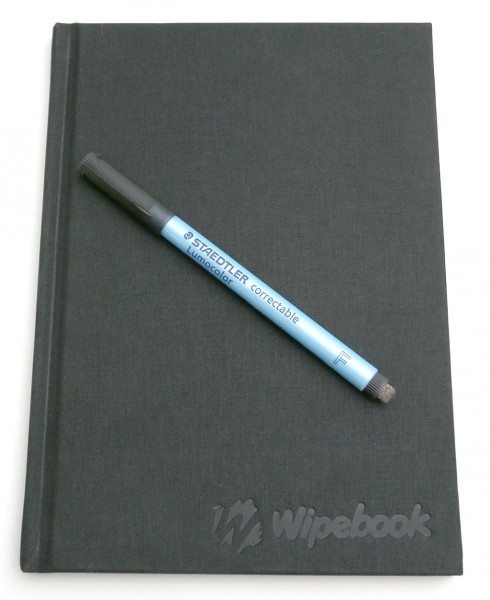 Refillable notebooks have been around for decades, but reusable notebooks are completely new. Imagine buying one notebook that you can use over and over again. Let me introduce you to the Wipebook. It's like having a book made of whiteboard pages. A notebook like this obviously isn't something you would want to use for a journal or a diary, but for temporary note taking, doodling, to-do lists, etc, it's perfect. Let me show you.
DON'T MISS: First Draft Co. notebook review
Specifications
Size: 5.8 x 8.25 inches (A5)
Paper type: Hypergloss film
# of pages: 24 sheets / 48 writeable pages
Page style: Available in ruled, graph, and plain
Binding type: Casebound
The Wipebook comes in several styles including spiral bound notebooks, workbook style notebooks and the hardback journal that was sent to me. The journal has a hard cover that is covered in a material that feels like a woven canvas.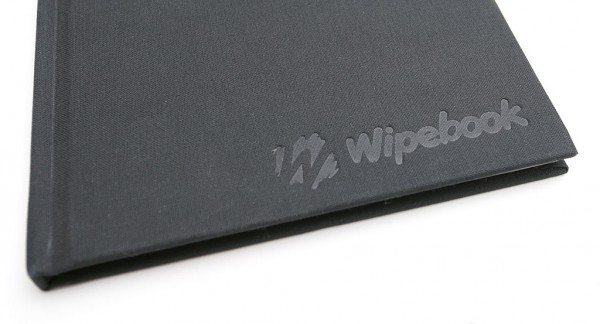 The notebook has the Wipebook logo stamped into the front cover. It isn't very noticeable, but I'd rather the logo be located on the back cover just because I prefer a plain front.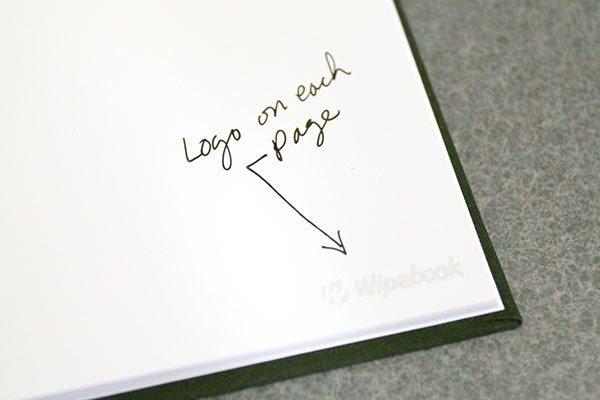 There's also a faint logo in the bottom right corner of each page.

This is a large sized notebook which is slightly taller than a large Moleskine notebook and is about an inch wider than a large Moleskine.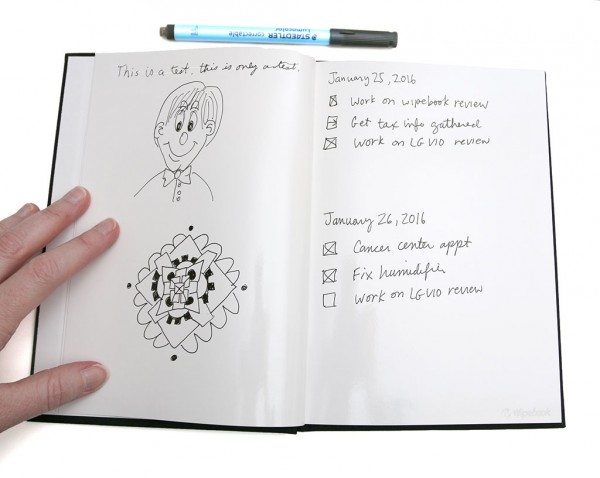 The pages in this journal are bright white and very glossy. They are not designed to be used with pencils or regular ink pens. You have to use this notebook with special dry erase markers. Although a pen isn't included with a purchase of a Wipebook, they do sell Staedtler correctable Lumocolor pens on their site and they included one with my review sample.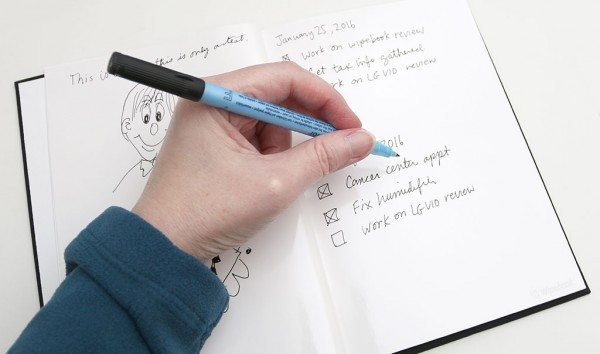 The pen looks like a typical fine line marker and writes like one too. The black ink of the Lumocolor pen dries relatively quickly and shows up perfectly on the Wipebook page. I'm a lefty and didn't have problems with the ink smearing as I wrote across the page. That's not to say that the ink won't smear, because it will if you write something and immediately rub your finger through it.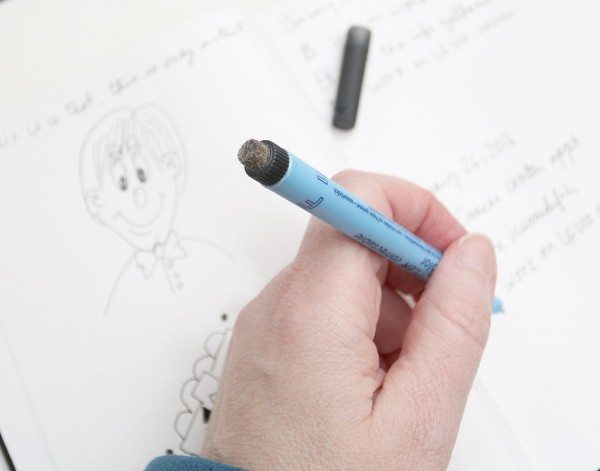 You can easily erase whatever you've written or drawn in the Wipebook by using the pen's built in eraser or a damp cloth. The ink erases with no residue, leaving the page looking blank and brand new. That means that you can use this notebook over and over again. I did notice that some of my writing left faint indentations on the pages that I could only see if I tipped the page at an angle towards the light. People who use less pressure when they write might not have this issue.
I used the Wipebook for several days to see if the ink would chip off the page or look degraded over time and I also rubbed my hand and sleeve over the pages where I had written notes days before to see if that would erase the lines. I'm happy to say that writing on these pages (using the Lumocolor) pen stand up extremely well over time.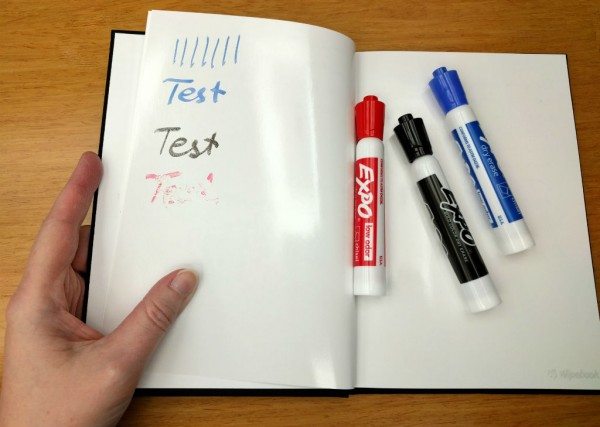 Next I tested the notebook with the EXPO dry erase markers. These are the short stubby style dry erase markers that you see being used with whiteboards. I expected them to work as week as the Staedtler Lumocolor marker, but was surprised that the ink smeared and wiped off the page even after allowing it to dry for several minutes – which it never actually dried.
The only other issue I have with the Wipebook is that it doesn't want to lay flat when opened unless you forcibly bend the covers all the way back. I like a book that you can open and it stays open on the page you're working on. The Wipebook really doesn't do that very well.
The notebook is very well made and also looks nice, but I think the price is too high for what it is. The fact that you also have to buy one of special dry erase markers brings the price up to $48.98. That's almost $50 for one notebook, that while reusable, seems extreme. If the binding style isn't important, Wipebook's other notebooks are less expensive. If price isn't a problem, the Wipebook is a great concept for people who don't like to waste paper for temporary notes. I like that this notebook is environmentally responsible because it can be "recycled" over and over again.
Source: The sample for this review was provided by Wipebook. Please visit their site for more info.
Product Information
Price:
$44.99
Manufacturer:
Wipebook
Pros:
Cons:

Expo dry erase markers don't work
Lumocolor pen not included
Expensive