We use affiliate links. If you buy something through the links on this page, we may earn a commission at no cost to you. Learn more.

Do you have a useful tip, trick or hack that you think other Gadgeteer readers can use to make their life easier? Then I need you to contribute them to a new series that I'm starting today. So many people have great ideas and they never share them. Let's change that. The tips, tricks, hacks and DIY ideas don't have to be strictly gadget related so share them with me even if you don't think they will fit The Gadgeteer. If I use your idea, hack or tip, I'll send you an awesome Gadgeteer sticker like the one you see above. In the mean time, click through to see our first hack from Sandee Cohen of New York City.

Use old coiled phone cords to tame your cable mess by Sandee Cohen
I am constantly inventing "hacks" for things around my house. One of my newest favorites is to use old coiled phone handset cords to tame wires. Buying the coiled cords is simple as there are many choices available at stores like Amazon with lengths from 3 to 25 feet. There are several different colors such as black (both gloss and matte), white, beige, gray, red, and ivory. I've even seen "Earth Day" mint green. The prices are very cheap. Even 25 feet is rarely more than $6. Compared to all the specialty cable holders, these are a real bargain.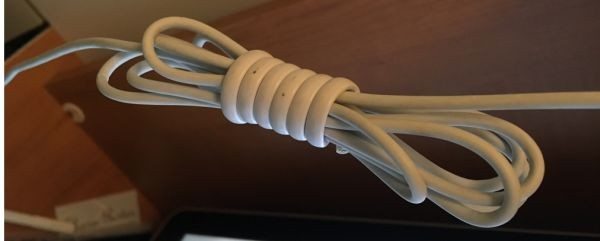 The cords are very easy to cut with a pair of ordinary scissors. Once cut, there are plenty of uses. My favorite is to use a short coil for my iPhone chargers. Some of the cords are thicker than others and are best for wrapping several power cords. Others are thinner which are good for controlling thin charging phone cords.
They are also thick enough to handle bulky power cables. I've got a thick black one joining the several cords coming out of my television. You can still see the cord, but it looks much neater coiled up.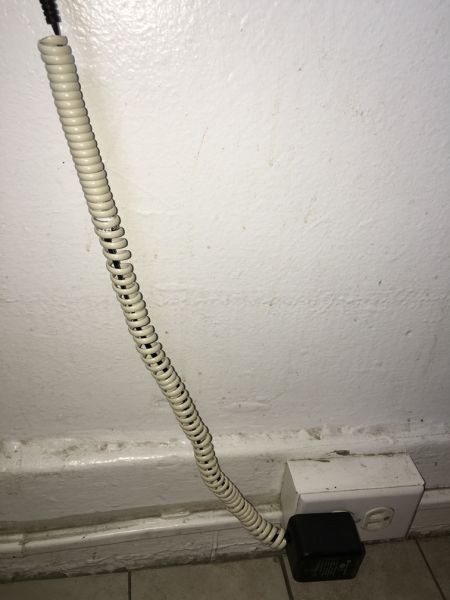 They also can be used just to cover a single cord to make it a different color.
The best part of using coiled phone cords for cable management is if you need something longer or shorter, they are cheap enough to just order new ones.
Share your tips, tricks, hacks and DIY projects with us. If we post your idea, you'll receive a Gadgeteer sticker. Send your ideas here.