We use affiliate links. If you buy something through the links on this page, we may earn a commission at no cost to you. Learn more.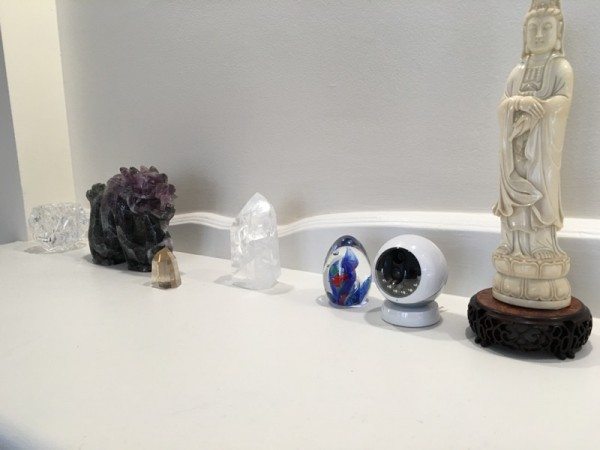 First it was portable USB chargers, then Bluetooth speakers.  Lately I'm seeing a lot of "web" cameras designed as security or monitoring devices.  Today I've got the Kidde RemoteLync Smart Home Camera to try out.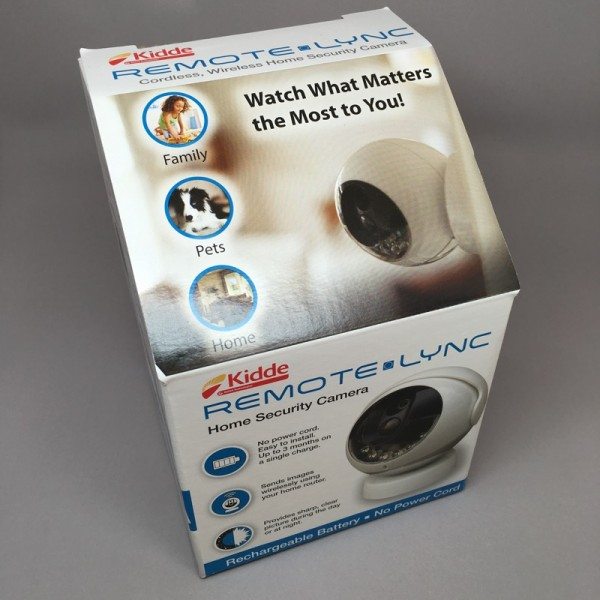 Wait, Kidde?  Yes, the people that make safety devices such as fire extinguishers and smoke detectors.  But a home security camera?  That was my first thought.
Cord-free, Install anywhere
Automatically alerts you when motion is detected.
Rechargeable battery that lasts 3 months.
One year warranty.
I could not find the specs online so I did a screenshot of the PDF specs instead.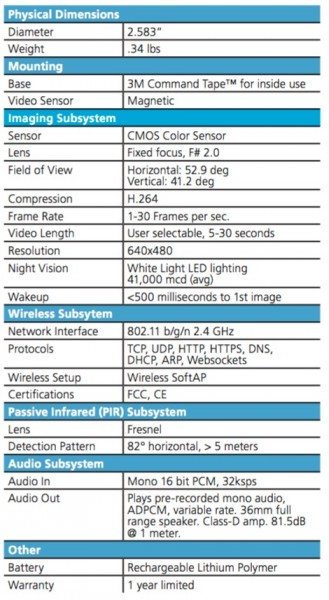 One thing jumped out at me:  640×480 resolution?  Most new cameras tout HD resolution at 1080p, so I was a little surprised.  But I think I know why it's "only" 640×480.  Read on.
There are many combinations of wired, wireless, indoor/outdoor cameras.  In this case, the Kidde Remote Lync has a built-in rechargeable battery, works over WiFi, and is for indoor use.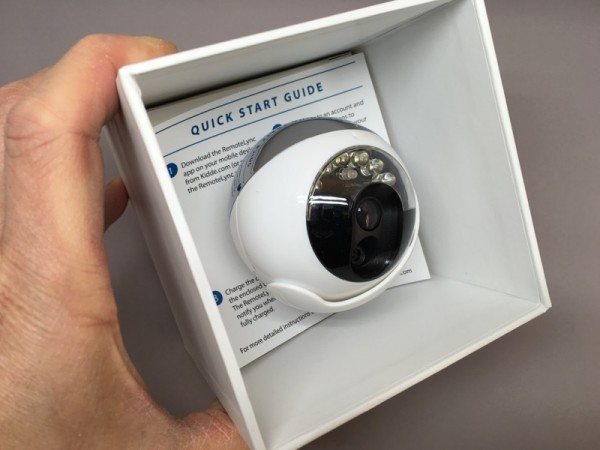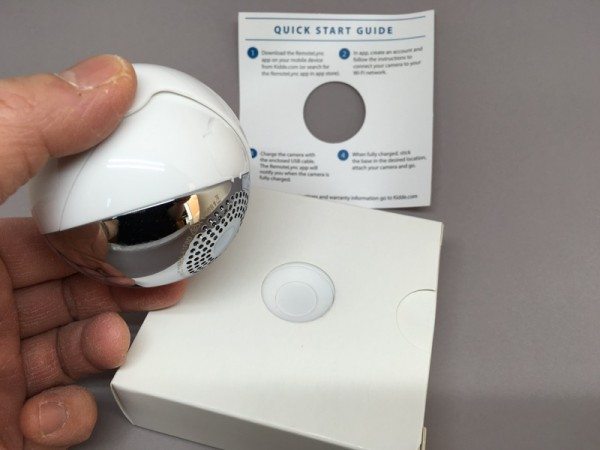 The packaging is rather novel.  Immediately, you'll notice the sphere-shaped camera is affixed to the magnetic base.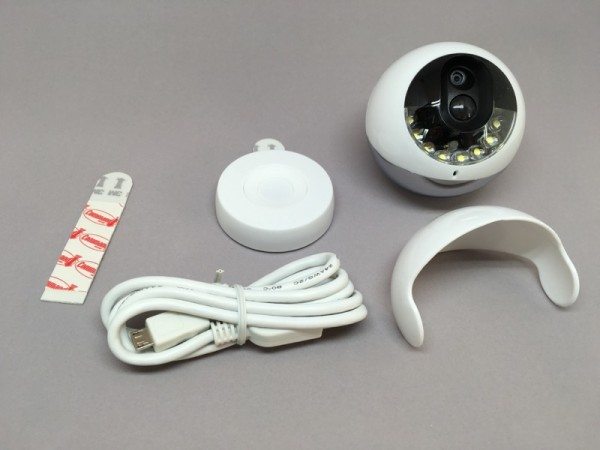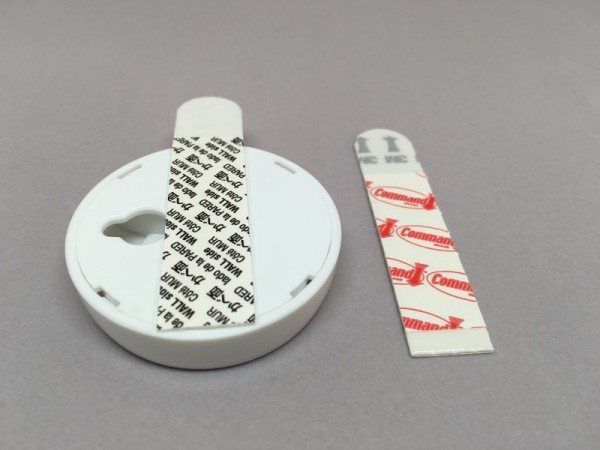 You get the round magnetic base, an extra "command strip" adhesive, microUSB cable, and a privacy hood for the lens.  Notice the hanging hole on the bottom side of the magnetic base.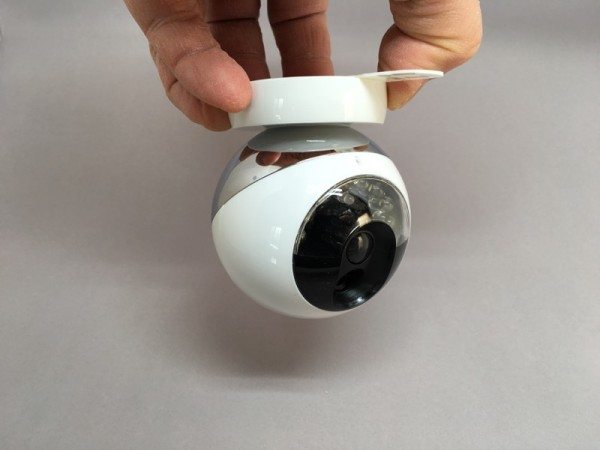 The magnet is quite strong.  Here I am holding it upside down.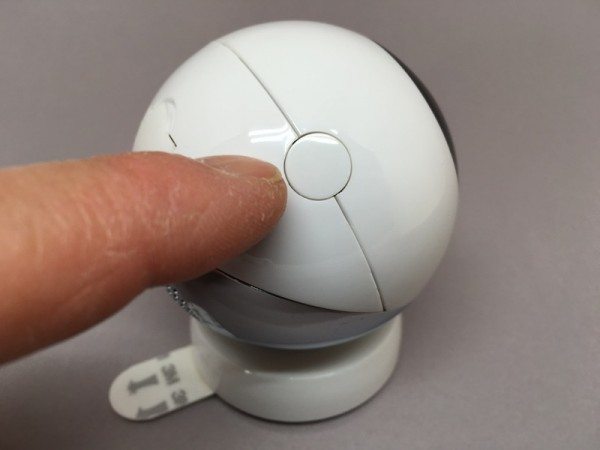 This unmarked button is for setup.  You'll press it twice to begin startup.  No worries, the smartphone app will walk you through it.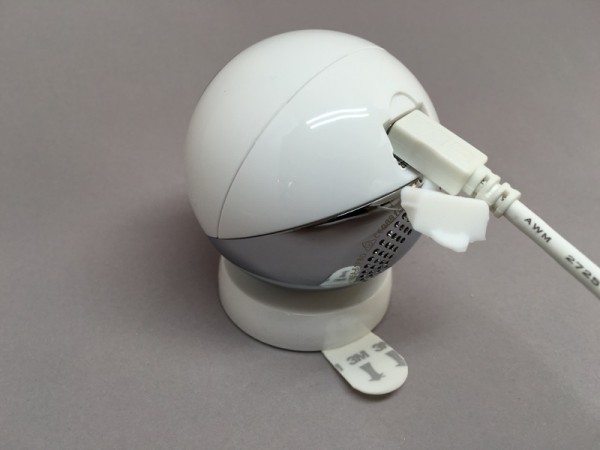 On the back is the microUSB charging port behind a rubbery dust cap.  I say dust cap, because this camera isn't rated for outdoor use, so I wouldn't try getting it wet.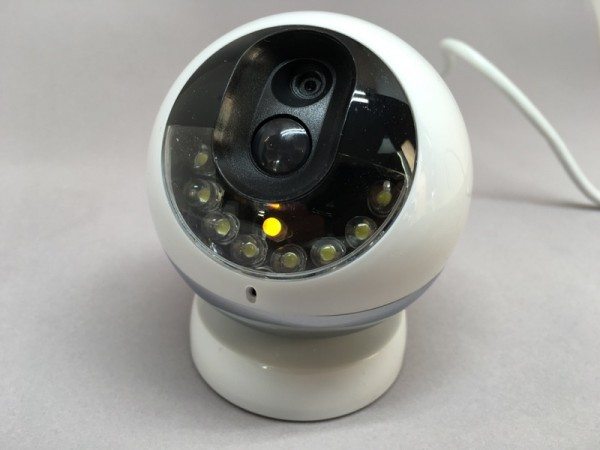 Here's a front view of the camera.  Notice the array of 8 LEDs in a semicircle.  These are white lights used for recording in low light.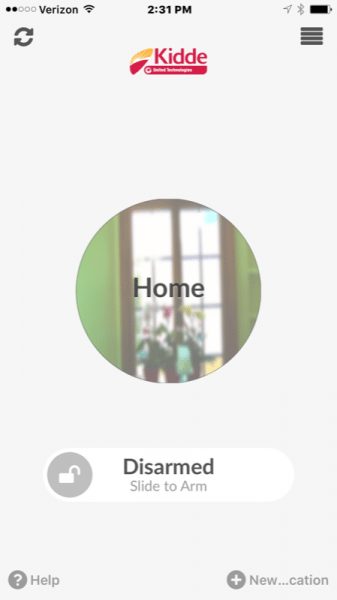 Setup is very straightforward.  When you first launch the app, it'll walk you through with VERY clear instructions.  (You will connect your smartphone's wifi directly to the camera at first, just for setup only).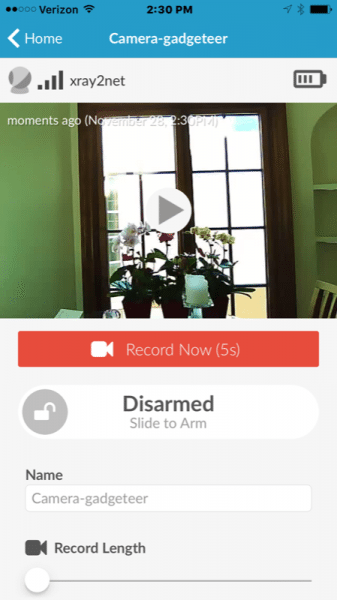 After setup, it's time to play!
This particular screen shows what the camera just recorded.  You can record on demand at anytime.  Since I was trying to point and aim the camera, I was looking for a "live view" function.  No such luck.  The best I could do was to aim by guessing, create a short recording (5 second minimum, shown here) and play it back.  It's a little cumbersome this way, but you'll only need to do it once.  Or twice.  Or… some of the settings include: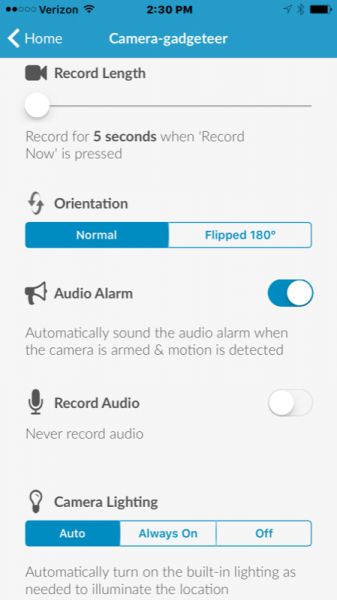 Some of the controls are shown here.  I've got it set to the minimum recording length of 5 seconds, since this isn't really a "live streaming" camera.  It's more of a "capture, store to cloud, play back" camera.
It can also be set as an alarm.  I discovered this quickly when I accidentally set off the alarm.  With Audio Alarm set to on, the camera sets off a siren sound.
(Warning:  This clip has audio.  Don't say I didn't warn you.)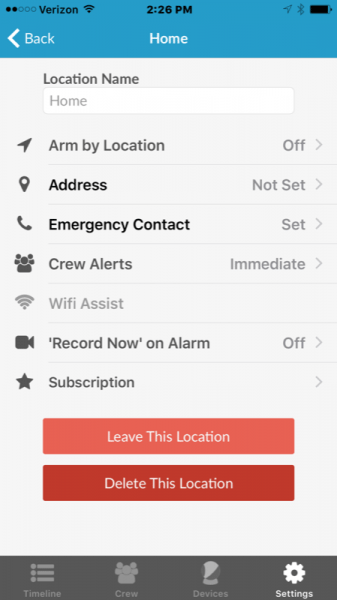 Of note is the "arm by location" feature.  Using your smartphone's GPS, you can set a geofence of varying size around your address so the camera is armed and ready to record motion, with or without audio alarm, when you leave home.  Once you arrive home, the system disarms.  I tried it and it totally works on my iPhone 6S Plus.  The downside is you'll have to let the app access your GPS in the background, of course.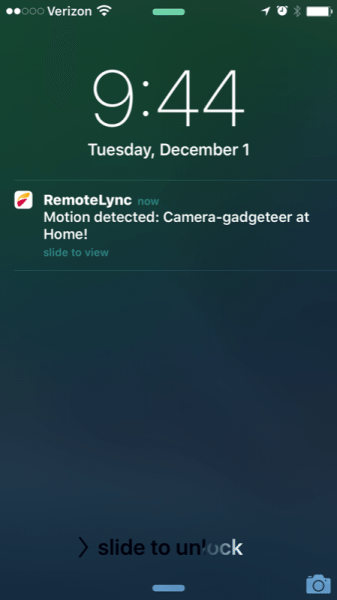 Speaking of being away, you can set up your smartphone to receive alerts if you wish.  This worked for me whether I was at home on WiFi, or away on the cellular network.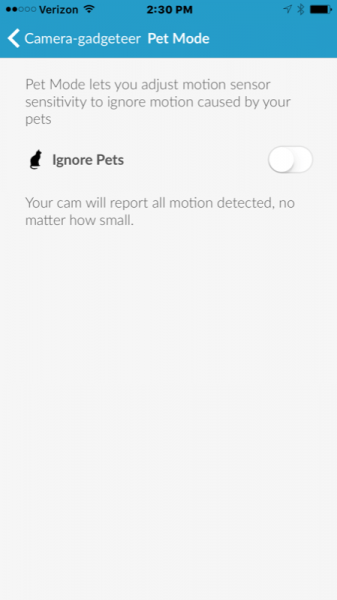 Got pets?  There's a pet mode for that.  I had no pets to test this with.
So how well does this work?  I set the camera in the kitchen to catch a pajama-clad refrigerator "thief".  I recorded this under three conditions:  Some light, no light but with LED camera lights, and zero light.
Look at this dork!  I've got a few lights on in the room next to the kitchen.  The camera's built-in LED lights were set to off.
Next, I turned of nearly all the house lights and let the camera's automatic LEDs turn on.  Otherwise, it was very difficult to see without the camera LEDs.
And finally, no room lights (except two rooms over) and no camera-assist LEDs.  You can't see much of anything.
I noticed that the camera seems to miss the first few moments of motion, so you may end up missing key details.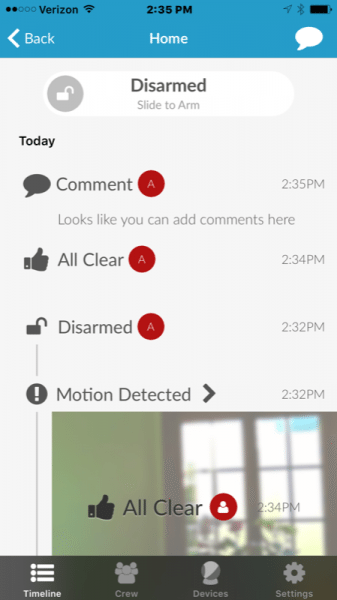 The Kidde app uses a timeline view to organize events.  This is handy if you want to "go back in time" to see what else the camera captured.  There's also a comment section, which is nice if you share the camera with different family members.
Next I moved the camera into the garage to see what else I could do.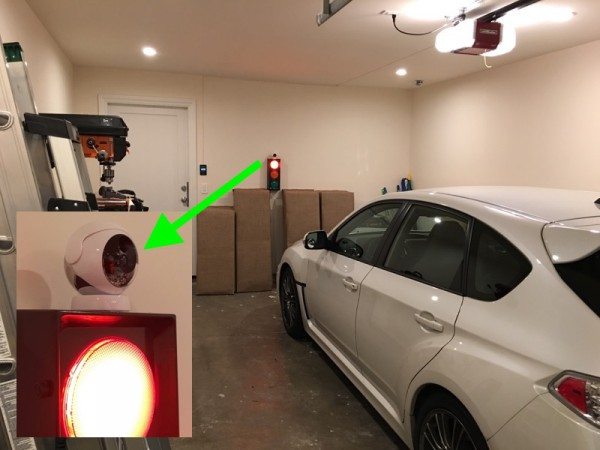 In this setup, I propped the camera atop my homebrew parking stoplight.  (Yes, it glows green when I come home and turns red when I've pulled in far enough).  Let's see how this worked out.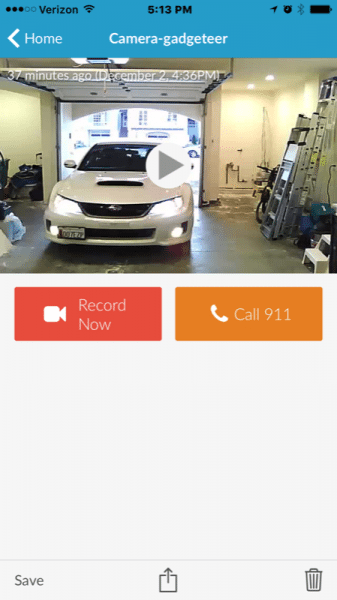 This is what you'll get on the iPhone.  How did the video look?
Once again, the camera seems to miss the first few seconds of action.
I was a little frustrated by this.  I wish there was some kind of adjustment for sensitivity.  I figure the designers decided to sacrifice sensitivity, ditch HD (it's only 640×480) and "live view/streaming" functions in favor of long battery life.  That makes perfect sense for a totally wireless camera.
So if you can't live with the slight lag, what's it good for?  I had another idea.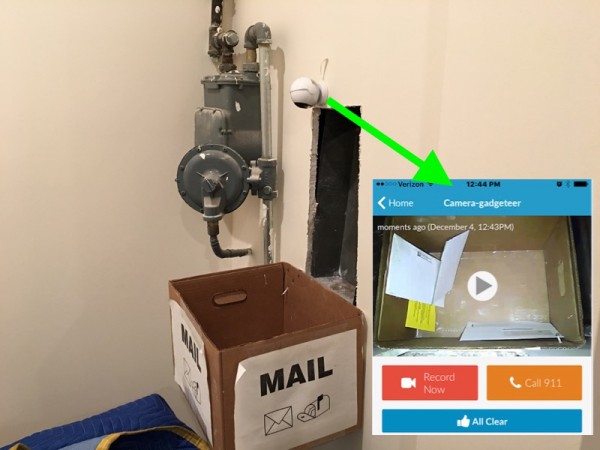 When the house was remodeled, my mail kept spilling out onto the garage floor, so I had the workers nail up a cardboard box to catch the loose mail.  It's been there ever since.  I mounted the camera above the box, and presto:  I have a mail viewer.  I don't need immediate, real-time down to the second video, and the motion sensor still alerts me to changes in the box contents.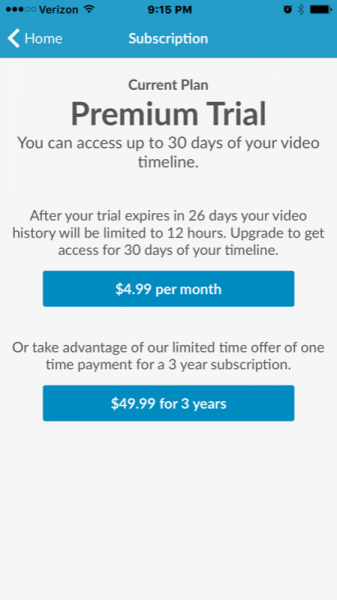 The camera is free to use without a mandatory subscription.  This screenshot explains there's a 30 day free trial.  After that, the limit is 12 hours.
I'm a little conflicted over this camera.  It won't stream live and let you "rewind" a continuous feed like a Nest/Dropcam.  There's no weather-resistance or adjustability like the Netgear Arlo, which is completely wireless, expandable and cheaper.  Also absent are any night-vision modes, which both the Nest and Arlo feature.
I think the focus of the Kidde Remote Lync camera is different.  It's strictly indoor, but you can easily set up a geofence for automatic arming/disarming.  You can have different family members set up on their smartphones for access.  And, it'll serve as a rudimentary alarm system with the very annoying audio siren.
No you can't talk to your pets via two-way audio.  If you don't need to, maybe the Kidde RemoteLync will suit your needs.
Source: The sample for this review was provided by Kidde. Please visit their site for more info and Amazon to order.

Product Information
Price:
$199 MSRP
Manufacturer:
Kidde
Retailer:
Amazon
Requirements:

Wifi, smartphone (iOS or Android)

Pros:

Wireless and built-in rechargeable battery
Can double as a basic alarm system
Geofence arming tested and works
Can set up multiple users via app

Cons:

640x480 resolution
Motion-activated recording can sometimes "miss" action
No live-view mode, not even for aiming