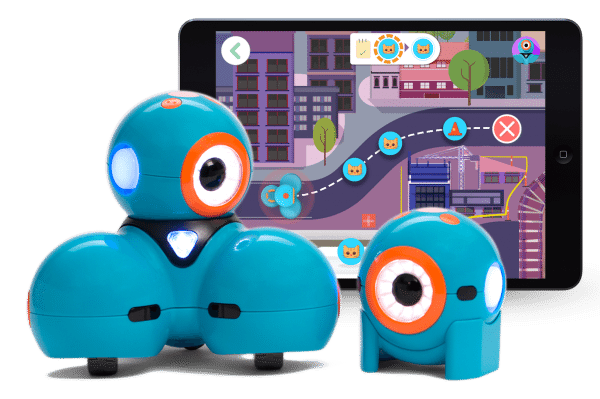 Like most parents, my wife and I prefer to have our kids playing as opposed to zoning out in front of the TV. We do our best to try to incorporate learning into playtime, but it's not always easy. Fortunately, educational toy makers like Wonder Workshop do their best to make playtime fun and educational. Recently, I was given the chance to review their Dash and Dot robot pack with my children. Dash and Dot is supposed to be a fun way to introduce children to coding.
In the Box
Dash robot
Dot robot
Two building brick connectors
Charging cable
Quick start guide
Design
The kit comes with two robots, Dash and Dot. One robot is mobile, while the other is stationary.
Dash is the mobile robot. The front of it contains a large "eyeball" made up of several LEDs. Dash contains several sensors on the front and back of its body. The body also contains a speaker, a small power button, and a microUSB port for charging. Its head contains several buttons that you can use to interact with it. The bottom of Dash has two large rubber wheels and a small wheel that moves 360 degrees.
Dot is the stationary robot. It too has a large "eyeball" in the front. Its body also contains several sensors, a speaker, a power button, and a microUSB port. Dot's head contains 4 buttons for interacting with it. The bottom of Dot has rubber feet to keep it from sliding around.
They are both friendly looking robots that will get your children's attention. They feel sturdy and should survive the bumps and bruises that all children's toys inevitably experience.
Setup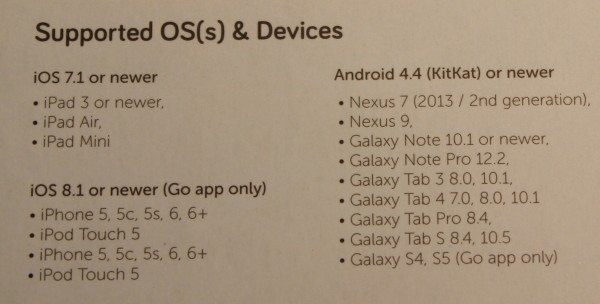 The first step to setting up the robots is to download the app for your device. As you can see above, the app is supported by many different devices. I used my Nexus 9 Android tablet to download the app.
The quick start guide instructs you to go to www.makewonder.com/start from your device. Doing that will direct you to your device's appropriate app store – in my case the Play Store.
Once you download the app, you open it up and begin the setup process. The first step is to pair your robots via Bluetooth. Once it locates your robots, you press and hold their picture to pair them with your device. As soon as I paired mine I was informed there was an update for both Dash and Dot. I chose to update the robots immediately.
Unfortunately, while attempting to update the robots, I kept experiencing problems. Halfway through the update process I would get an error message indicating the process failed. The app also crashed several times during setup. I tried using the app on my wife's iPhone 6+, but experienced similar problems.
Eventually, I was able to update the robots by taking the following steps:
Entering in my tablet's settings menu
Selecting Apps
Selecting the GO app
Clearing App data
Restarting my tablet
Restarting the robots
Restarting the Setup process
It was far more of a complicated process than it should have been.
Apps
Once you finally get the robots paired, you can start playing in the Go app. The Go app essentially turns Dash into a remote control robot. You are presented with several different control panels.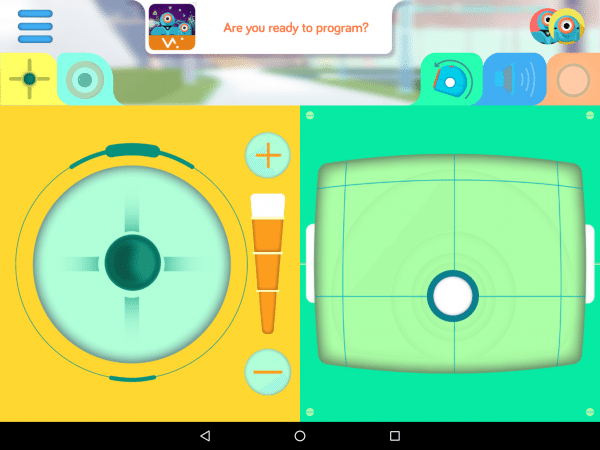 In the above screenshot, the orange panel contains the control stick used to make Dash go forward, backward, left and right. This panel also contains the speed control – the volume like control next to the control stick. The green panel is a control stick for Dash's head, it can be moved left, right, up, and down.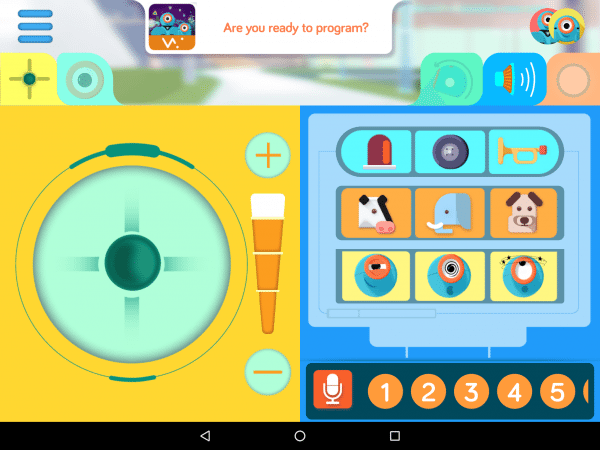 The right panel in this screenshot is the sound panel. It allows you to play pre-recorded sounds or record your own sounds.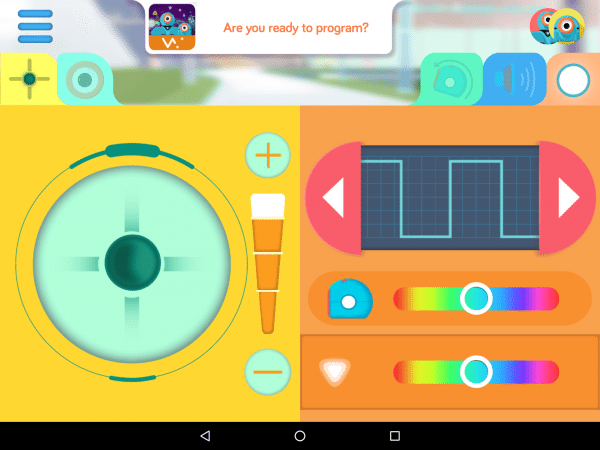 In this picture, the right panel changes the color and frequency Dash's LEDs light up.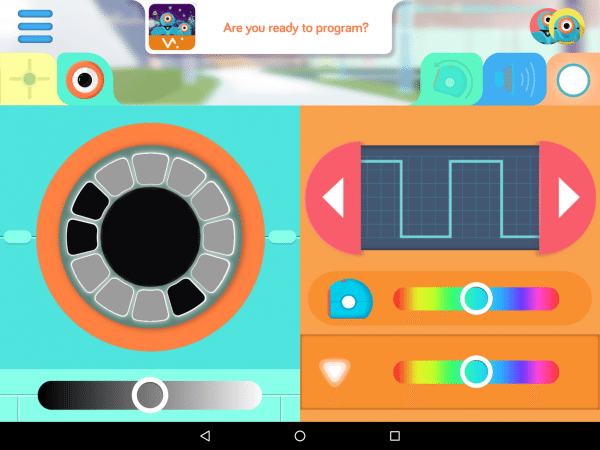 Finally, in this last photo, the panel on the left controls Dash's eyeball. You can turn individual LEDs on and off and determine their brightness.
Dot works with this app as well, everything works the same except for the movement controls.
My kids really enjoyed playing with this app. They used it to chase each other around the house and often asked my wife and I to chase them with Dash.
The next app you can play with is "Path". It's a very basic programming app for Dash.
It works by displaying a "recipe" at the top of the screen. In the above example, the recipe is Pig – > Cow -> Tractor. To successfully complete the recipe, you draw a path with your finger from the onscreen Dash to wherever you like. You then drag the symbols from the bottom of the screen onto the path so they match the displayed recipe. You then touch the onscreen Dash and he travels the path. As the onscreen Dash follows the path, the real Dash travels along your floor in a corresponding path. When the virtual Dash reaches a recipe symbol, the real Dash plays a noise. For example, he "moos" when he reaches the cow symbol. If the recipe was duplicated correctly, you are awarded a new symbol to be used in future recipes.
Both my kids enjoyed this app; although, they didn't always use it correctly. They enjoyed making long, circular paths and watching the real Dash cruise around our living room.
The next app is called Blockly. It is a programming app that can be used with both Dash and Dot. It's described as a drag and drop programming tool. According to the app description, it was developed by Google.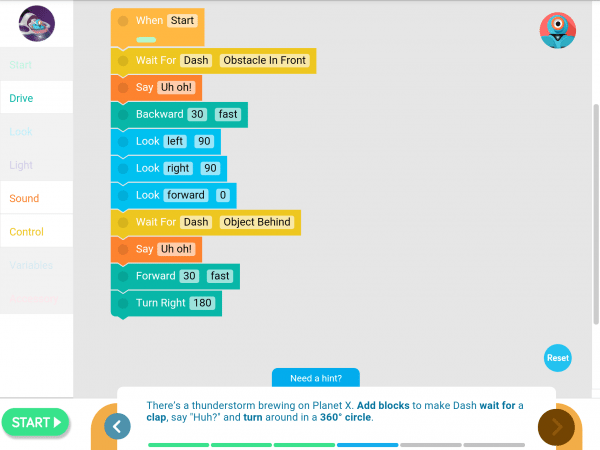 This app presents a goal at the bottom of the screen. It's up to you to take the proper commands and place them in the right order to execute the goal. When you hit the start button, the robots executes the commands line by line.
In my opinion, Blockly has the potential to be a really great introduction to programming; unfortunately, my kids never really used this app. My oldest son is now just learning how to read; this app was a bit above his skill level, but I'm hoping he will really get into in a few months.
The last app is called Wonder for Dash and Dot.
This app is somewhat of a blend between Path and Blockly. Like Blockly, you are given a goal to complete. You are then brought to a screen where you connect various symbols; it's similar to creating recipes in Path, but more advanced. Once you string together the proper commands, you push the start button and watch as your virtual and real Dash complete the commands. If you've done everything correctly, you proceed to the next challenge.
This is a really cool app to get your kids into programming. Again, it's slightly above my children's skill level because of all the reading involved, but I hope it's something they enjoy as they become more proficient readers.
One final thing about the apps. You can use Dot in most of them, but having a stationary robot isn't much fun. I often found it was just sitting on the floor, not getting any attention from my kids. Perhaps as you progress through the apps, it becomes an integral part of the program, but from what I saw it seemed mostly like an afterthought.
Performance
I was a little nervous about how well Dash would perform at my house. We have carpets in almost every room and other toys have struggled to drive properly. Fortunately, this wasn't even the slightest bit of an issue with Dash. The robot traveled across my floor without the slightest hint of trouble.
The only issue I had with the robots was when they would require updates. I had already explained the difficulties I experienced when trying to set up the apps, but I also had similar problems throughout the review. It seemed like each time I installed a new app I had to update the robots. Additionally, several times during the review the robots received updates. While it is great that Wonder Workshop is working hard to keep the robots up to date, a quarter of the time I had to go through the earlier process to get the update to go through. Aside from that issue, the robots and apps performed great.
Conclusion
My kids really enjoyed the apps they were able to play with, and I can see them enjoying the other apps when they are a bit older. I think this can be an excellent way to introduce your children to programming; however, I have two areas of concern that hold me back from recommending people run out and buy this immediately.
First, the difficulty with the updates. It was hard for me to find a work around and I'm pretty tech savvy.
Second, the cost of the package; $199.95 is a lot of money to shell out for any toy. While my kids did enjoy playing with Dash and Dot, after two weeks they forgot all about them. I'd hate to see anyone spend that much money only to have the toys end up collecting dust in a closet.
If you are certain your kids are budding programmers and can afford the kit, it would be a wonderful investment. If not, I'm sure you can find a much cheaper way to get your children involved in programming.
Source: The sample for this review was provided by Wonder Workshop. For more information visit their site.
Support The Gadgeteer
:
We may earn a small affiliate commission from purchases made from buying through links on our site. As an Amazon Associate I earn from qualifying purchases. Learn more.
Product Information
Price:
$199.95
Manufacturer:
Wonder Workshop
Retailer:
Wonder Workshop, Amazon, and Apple
Requirements:

Apple iOS 8.1 or great
Android version 4.4.2 or greater
Bluetooth 4.0 / Low Energy
Compatibility chart can be found at https://www.makewonder.com/compatibility

Pros:

Fun
Educational
Easy to use after updates are complete
Seems durable

Cons:

Update process needs refining
Expensive