We use affiliate links. If you buy something through the links on this page, we may earn a commission at no cost to you. Learn more.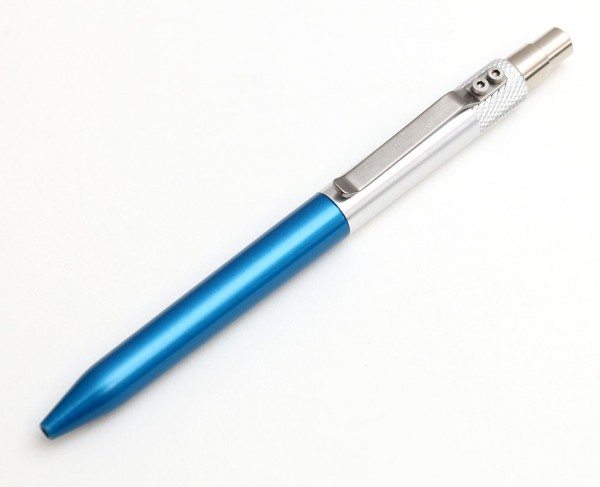 My fascination with pens started as a child when I discovered a box in our shed that held some very old mechanical pens and pencils from my Dad's parents time. I remember "borrowing" those pens to play with them. I wish I still had those writing instruments today, but unfortunately for me and my Dad, I have no idea what happened to them. I probably lost them or they were thrown away by mistake or even worse, on purpose. Today I am constantly looking for unique pens that are well made and are enjoyable to use. The newest pen that I've had the opportunity to try is the RETRAKT pen from Karas Kustoms. I love the way it looks and also love writing with it, but it has one issue if you happen to be an obsessive "clicker".
Note: Images can be clicked to view a larger size.

The Karas Kustoms RETRAKT is made in the USA of 6061-T6 aluminum (the RETRAKT is also available in brass and copper versions). It weighs 1.0 ounces and is 5.625″ inches in length. In the image above you can see how it compares to a Bic stick pen as far as length and width.

The pen features a two-piece, two-color barrel with a thick strong stainless steel pocket clip that is connected to a knurled top with two hex screws. The Aluminum version of the RETRAKT is available in 10 colors for the bottom barrel. I was sent the blue version.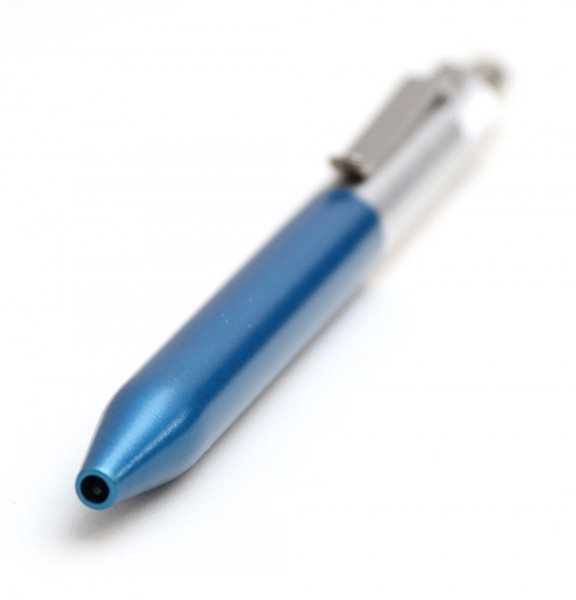 Both the top and bottom barrels have a smooth satin finish that looks nice and feels great in your hand.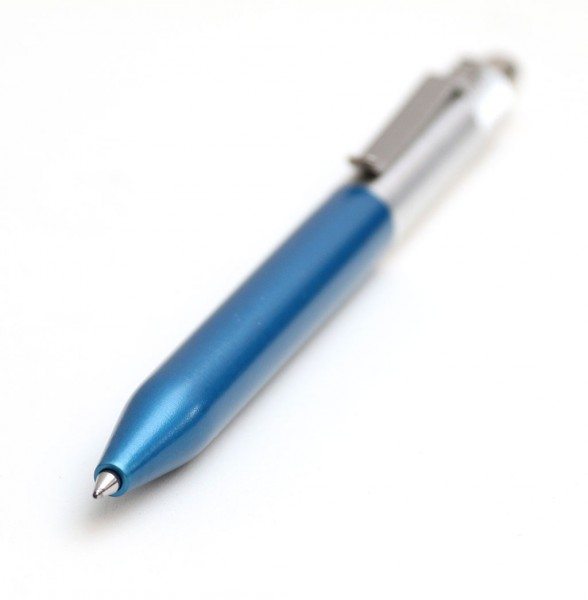 The pen is light weight but still has a very nice balance. I personally don't want a pen that weighs a pound because writing for prolonged periods with something heavy makes my hand cramp up.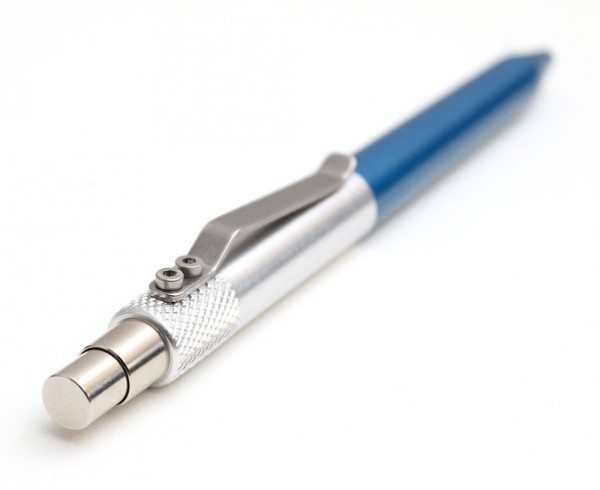 The RETRAKT's clicker is large and flat, making it easy to press with the pad of your thumb. Pressing the clicker extends the pen tip in a smooth motion which is almost silent.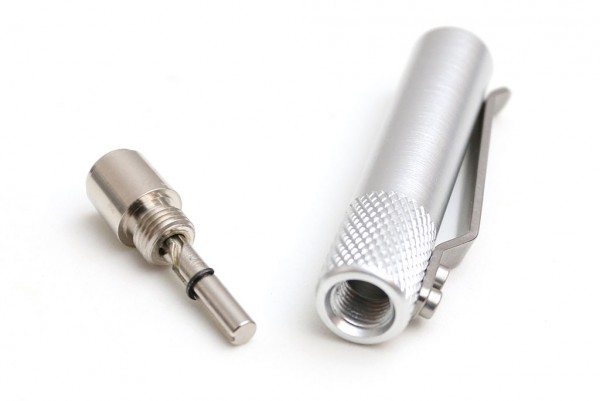 As I hinted in the opening paragraph of this review, there is an issue with the clicking mechanism. It is a precision machined assembly that has not been designed to hold up to an aggressive clicker. You know the type of person I'm referring to, who can't stop playing with their click style pen. The Karas Kustoms RETRAKT has not been designed for that type of wear and tear. Pair that with the fact that the clicker does not actually "click" and some people might be disappointed. I'm not an obsessive clicker, so it didn't really bother me other than knowing that I shouldn't obsessively click it over and over, made me want to obsessively click it over and over 😉  One good thing to know though is that you can buy a replacement mechanism for just $5.

The RETRAKT uses the popular Pilot G2 refill (or Parker ballpoint compatible). Mine came with a Schmidt ink refill which I didn't really like and switched out with a Pilot G2 refill. Disassembling and reassembling the pen is not difficult. You don't really have any need to dissemble the clicker mechanism, I just did so to show you the parts. To change the refill, you just need to unscrew the barrel. Make sure you don't lose the spring though.
I like everything about the Karas Kustoms RETRAKT Aluminum pen from the way it looks, to the way it feels in my hand. The issue with the clicking mechanism is the only thing about this pen that I think needs to be improved in order to make a very nice machined pen even better than it already is. I can keep myself from aggressively clicking it, but I'd like it to make an actual click sound when I do. Call me crazy, but I like my clicky pens to click.
Source: The sample for this review was provided by Karas Kustoms. Please visit their site for more info.

Product Information
Price:
$55
Manufacturer:
Karas Kustoms
Pros:

Great looks
Nice feel in hand
Compatible with the Pilot G2 refill
Replacement parts are available

Cons:

Click mechanism sensitive to overuse
Doesn't have a satisfying click sound