We use affiliate links. If you buy something through the links on this page, we may earn a commission at no cost to you. Learn more.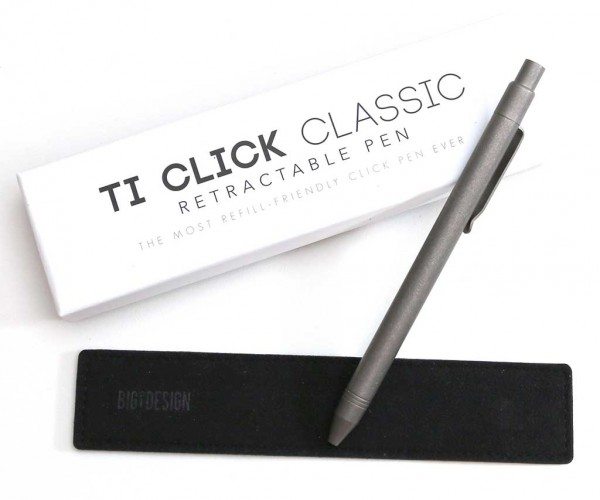 When it comes to journaling, I prefer using paper and a pen. Writing and drawing with pen on paper has always been more enjoyable for me than using my smartphone or computer. In the past, I have had a bad habit of starting to journal only to give up after a few days or weeks. But I'm currently on a six-month stretch of writing regularly and am pretty proud of myself. In addition to finding a good system for keeping track of tasks, what keeps me coming back day after day to my journal are the tools I'm using. It goes without saying that a pen is the most important tool when it comes to writing. I prefer click pens like the Big Idea Design Ti Click Classic. Let's check it out.
Note: Images can be clicked to view a larger size.
You've probably already guessed that the Ti Click Classic is made of Titanium, and you would be right. To be exact, it's made from TA2 Titanium and can be purchased with a raw or black finish. I chose the raw version. As you can see from the image, the Ti Click Classic is approximately the same length as a Bic pen.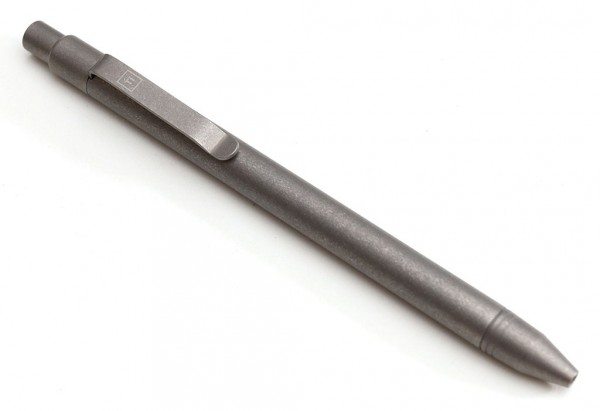 Big Idea Design makes several pens, including ones that have a built-in stylus. But like I said at the beginning of this review, I like click pens. I don't want to remove a cap only to lose it. I want to click and write, then click again and put the pen away until the next time I need to write. The Ti Click Classic looks simple, but it's a pen that been designed to last for years.
The tumbled raw version has a bead-blasted matte finish which is smooth to the touch with a cool industrial vibe. I like the raw finish because it won't show scratches unless you really gouge it.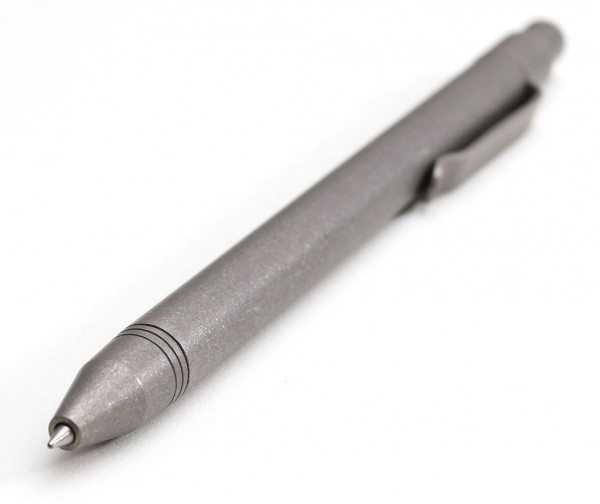 The pen has a smooth barrel with three anti-slip grooves cut into the end to provide grip. The grooves are pretty shallow, so I don't think they really provide that much in the way of grip. But they give the otherwise plain look of the pen a little bit of decoration.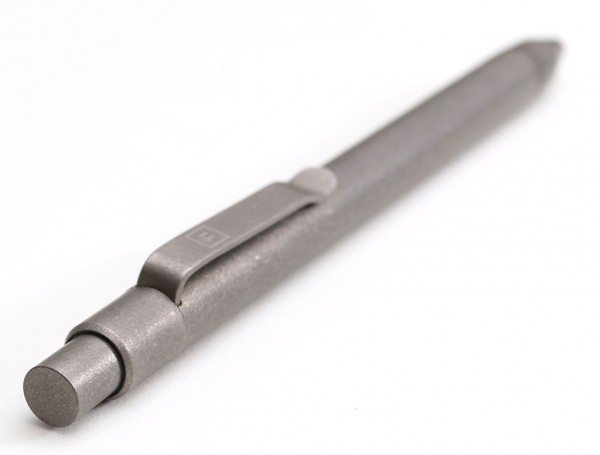 The Ti Click Classic has a Titanium pocket clip that does what all pocket clips are designed to do, clip to something. But the clip also keeps the pen from rolling off your desk.
The pen's clicker is nicely sized to make it easy and comfortable to press with the pad of your thumb. Pressing it results in a nice "click" sound with just a tiny bit of spring squeak and some nice physical tactile feedback.


Disassembling the pen is straight forward. All you have to do is unscrew the top clicker section and the bottom section which includes a rubber o-ring.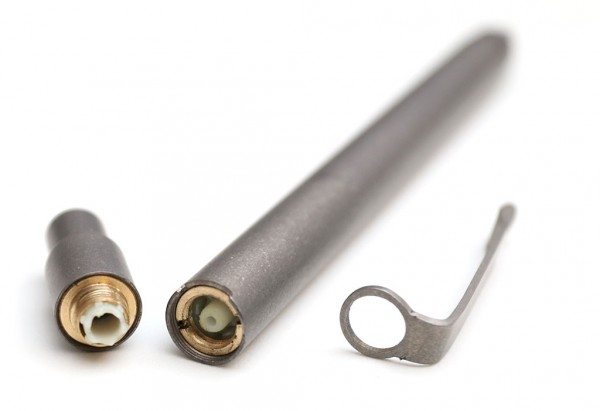 The clicking mechanism is made with plastic parts which concerns me a little. I wonder how well it will hold up over time especially if you happen to be a compulsive pen clicker.
The clip separates from the barrel of the pen and the ink refill is easily removed. Speaking of refills, the Ti Click Classic can accept over 45 different refills from Pilot, Uniball, Zebra and many others. There's a list on the Ti Click Classic product page with a full list of compatible refills. Included with the pen is a Uniball 207 0.7mm black gel ink refill.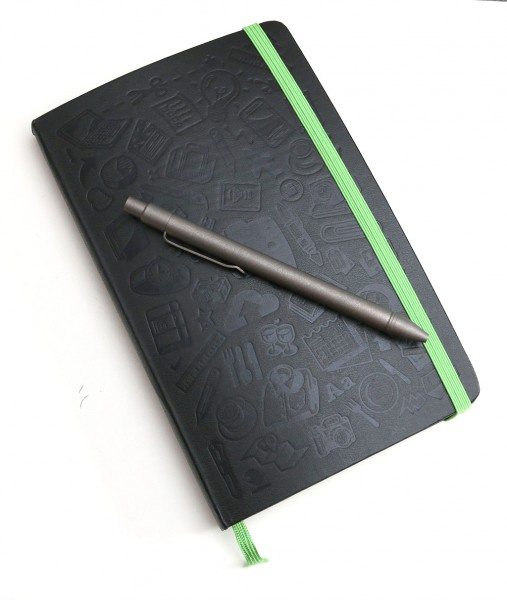 The Ti Click Classic is comfortable to hold and use. It only weighs .8 oz, so it's not very weighty. Some people might not like that fact, but heavy pens can fatigue your hand quickly. That doesn't happen with this pen.
I like the Big Idea Design Ti Click Classic retractable pen quite a bit. The fact that there are so many refills that work with it is terrific and the look and feel of the pen is unique. This pen is an attractive writing tool that should for last years with proper care and might even inspire you to write more.
Update 10/25/15
This pen is compatible with a lot of different refills, but when I tried to switch out the Uniball refill that came installed with a Pilot G2 refill (my current favorite), it didn't work very well. When I emailed Chadwick at Big Idea Design and asked him about it, he told me that I could cut the end off an old refill to use as a spacer. Since I didn't have an old refill that I wanted to sacrifice, I forgot about it. The Uniball 207 0.7mm black gel ink refill wasn't that bad.
After I posted the review, I received an email from our own Gadgeteer team member Andy Chen saying that he had the same pen and had discovered a solution for getting the Pilot G2 refill to work in it by using a LEGO piece. I hadn't even mentioned my issue with the Pilot G2, so great gadget minds think alike. Although Andy obviously is the better Gadgeteer because he found a solution. I thought I'd share Andy's solution since the Pilot G2 refill is pretty popular with pen fans. Now I just have figure out where I stowed my LEGO buckets so I can find one of these parts. Or I can order one directly from LEGO if need be since they only cost .15 each through their Pick A Brick store. It's called a Connector Peg W. Knob.
Source: The sample for this review was provided by Big Idea Design. Please visit their site for more info.
Product Information
Price:
$89.00
Manufacturer:
Big Idea Design
Pros:

Can be used with over 45 refills from different companies
Easy to disassemble
Not too heavy
Good balance

Cons:

Could feel too light for some people