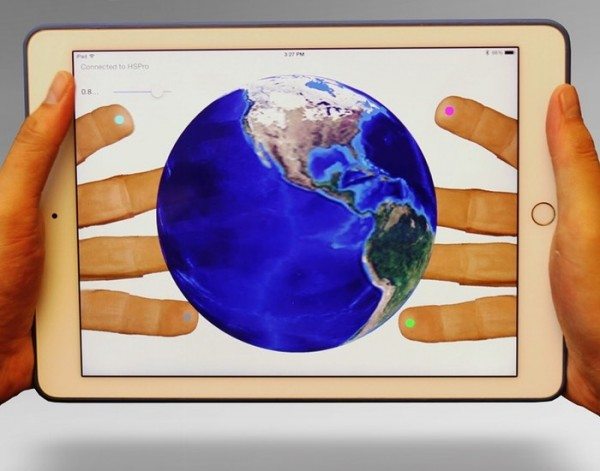 HandScape has developed a new case called HandyCase for your iPhone 6/6+, iPhone 6S/6S+, iPad Mini 1, 2 & 3, iPad Air 2, and iPad Pro. This fascinating case allows you to pop in your device, turn on the case, connect it via Bluetooth Low Energy, then start using all of your fingers to select things, zoom in on things, or play games; however, it only works on applications that use the HandScape API which they say is easy for app developers to implement (I don't think there are many apps available if any at the moment). When you purchase a HandyCase you'll need to download the HandScape app which includes the following functions: camera, web browser, photo viewer, book reader, map, keyboard, and games. When you use the case with the HandScape app or applications that have implemented the HandScape API, you can actually see a digital image of your fingers on your screen as if you could see through your device. You can control the transparency of your fingers or even select options to make your hands look like robot hands or x-ray hands. The case looks like it would be fun to use, but it is expensive. The Kickstarter campaign has just ended so the iPhone cases will be available next week for pre-order from HandScape in four colors: Neon Green, Rose Gold, Gold and Silver with prices starting at $119 for iPhone cases and $159 for the iPad cases. The estimated delivery date is April 2016.
Support The Gadgeteer
:
We may earn a small affiliate commission from purchases made from buying through links on our site. As an Amazon Associate I earn from qualifying purchases. Learn more.