We use affiliate links. If you buy something through the links on this page, we may earn a commission at no cost to you. Learn more.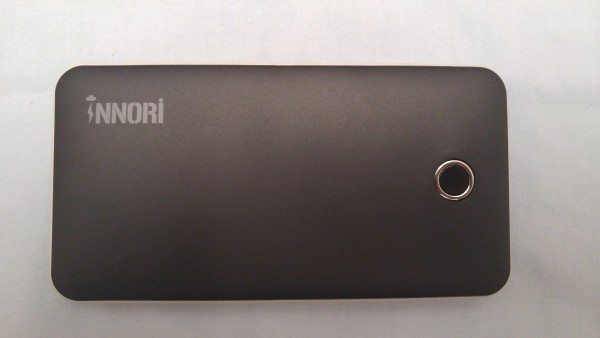 There are few things worse than realizing your phone or tablet is running out of juice and there isn't a power outlet in sight. Fortunately, power banks are dropping in cost while increasing in storage abilities. Recently, I was given the opportunity to review one such device, the Innori 12000 mAh power bank.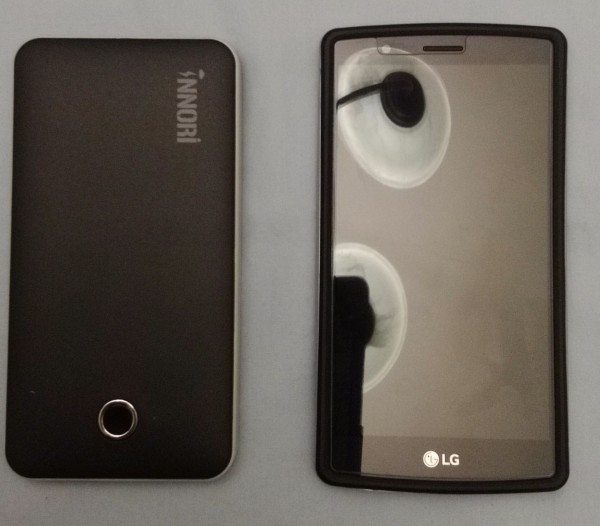 The Innori power bank weighs 220g and measures 5.71″ x 0.59″ x 2.95″. As you can see above, it's about the same size as my LG G4 and slightly thinner than a deck of cards. You'll most likely be able to fit the Innori in your pocket, but it may be uncomfortable.
The Innori packs an impressive 12000 milliamp hour (mAh) battery capacity. Most newer smartphones have a battery capacity of approximately 3000 mAh, meaning you should be able to fully recharge your phone 3 to 4 times.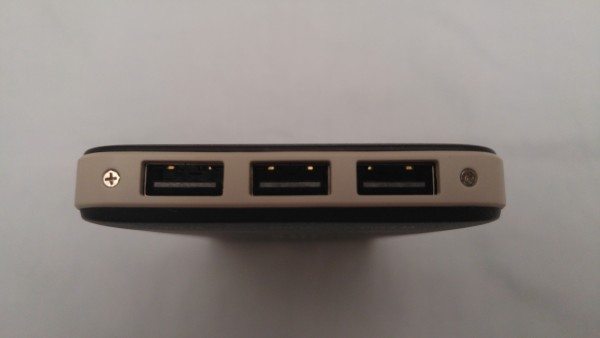 One end of the Innori contains 3 USB ports for charging your devices. Two of the USB ports have a 1A output, while the last has a 2.4A output.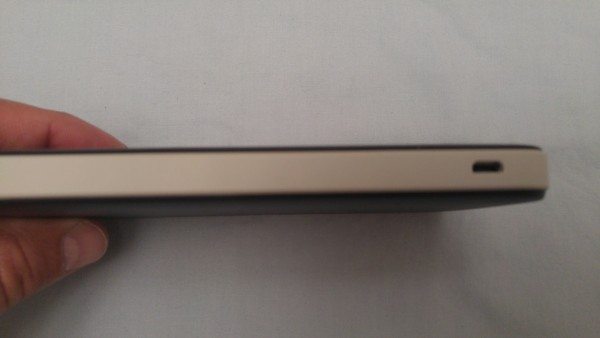 On the side of the Innori is a microUSB port used to charge the power bank.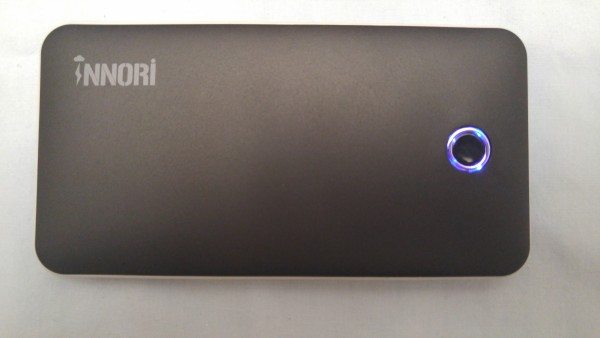 The top of the Innori has a button surrounded by 4 blue LED charge indicators. Pressing the button illumates the LEDs and provides the current charge status. Each LED represents approximately 25% of battery life.
The Innori comes pre-charged and includes a USB charging cord, so it is ready for immediate use. Using the Innori to charge your phone is rather easy, you simply plug one end of the charging cord into the USB port and the other into your phone's charging port. The Innori automatically detects the connection and begins charging; there is no need to push any buttons.
Recharging the Innori is just as easy. Plug one end of a charging cord into a power source and the other end into the device's microUSB port. It took me approximately 8 hours to charge the power bank. That may seem like a long time, but it's pretty reasonable considering its battery capacity.
I didn't experience any issues while using the Innori power bank. I used it while I was on vacation and didn't always have multiple receptacles available. It was extremely convenient being able to charge three devices at once. At one point, I was charging my phone, my tablet, and my son's Kindle all at the same time. Obviously, the device connected to the 2.4A USB port charged the fastest, but even the devices attached to the 1A USB port charged in a reasonable amount of time.
Overall, the Innori power bank is an excellent device. It's definitely a bit bulky and will weigh your pants down if you plan to use it on the go; however, at $21.99, you're getting a ton of bang for your buck. If you need enough backup power for multiple devices or multiple recharges for one device, the Innori power bank is the way to go.
Source: The sample for this review was provided by Innori. Please visit their site for more information and Amazon to buy one.