We use affiliate links. If you buy something through the links on this page, we may earn a commission at no cost to you. Learn more.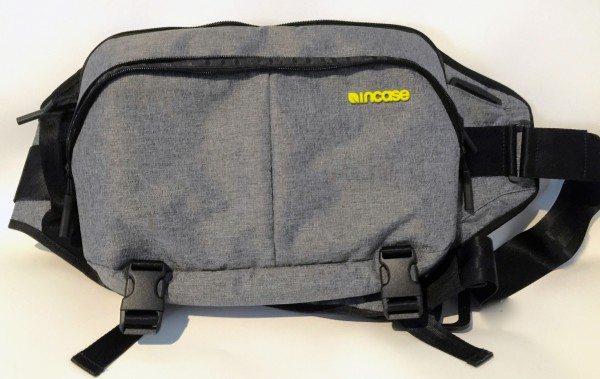 After several weeks of using the new Incase Reform Sling bag, I am conflicted by its unique design, its great organizational features, and its limitations because of the above.  The Reform sling bag was specifically designed to hold the new 12" MacBook.  While I do not have one of these MacBooks (I have a 13.3" MacBook Pro), I do have an iPad Air, which I take everywhere, along with my iPhone 6+.  I love sling bags as they can be pulled around front for easy access to its contents, and I own several.  I also use shoulder bag style iPad cases, but they have their own limitations.
Let's get to the bag.  The specifications of the bag are as follows:
Dimensions:  14.5" x 9.5" X 3"
Compatibility:  MacBook Air 11", MacBook 12", iPad, iPad Air, iPad Air 2, iPad Mini, iPad Mini 2, iPad Mini 3, iPad Mini 4, any other tablet in the 7"-11" range
Material:  Durable 300D heathered-weave Ecoya eco-dyed poly
Strap:  Quick-release strap attachment formatted to allow easy shifting from back to front or for on-the-go access
Storage:  Dedicated device compartment with padded protection. Zippered compartment with internal organization
The Incase Reform Sling Bag is a sturdy, well-made bag that has plenty of pockets and organizational features.  A lot of thought went into the design of this bag to ensure that owners can carry a balanced load of personal technology gear, as well as the capability as an EDC (Every Day Carry) bag for other minimal personal gear (i.e., wallet, keys, smartphone, pens, etc.).
The main compartment includes a padded sleeve pocket for your tablet/MacBook, and 2 small zippered pockets good for such items as earphones, change, USB cables, thumb drives, etc.  The bag also includes a front organizational panel pocket.  This section has a lot of pockets, including pockets large enough to carry your AC Adapters, smartphone, pens, Chargers, and any other small items.  Wait…there are still more pockets.  There is a hidden 4" X 2" pocket on the shoulder strap that is covered by part of the strap.  There is also a very nice sized hidden zippered pocket on the back of the bag. This is where I have been keeping my wallet.  As you can see in the below photo, the Incase Reform Sling bag has plenty of room to carry your gadgets! In the front panel organizer pocket, I have stored my iPhone 6+, a Power Bank (in the drawstring pouch), Kleenex, my Lynktec Apex Fine Point Rechargeable stylus, my Apple EarPods, a good flashlight, and my iPad Air AC Charger with USB/Lightning cable.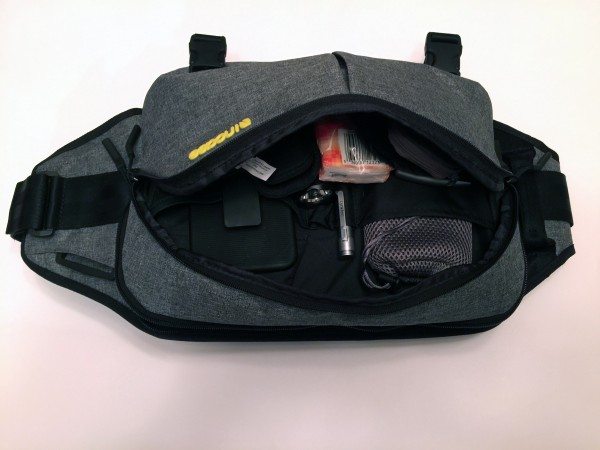 In the below photo, you can see the main compartment with my iPad Air, my Kindle Voyage, and my LG Bluetooth Headphones: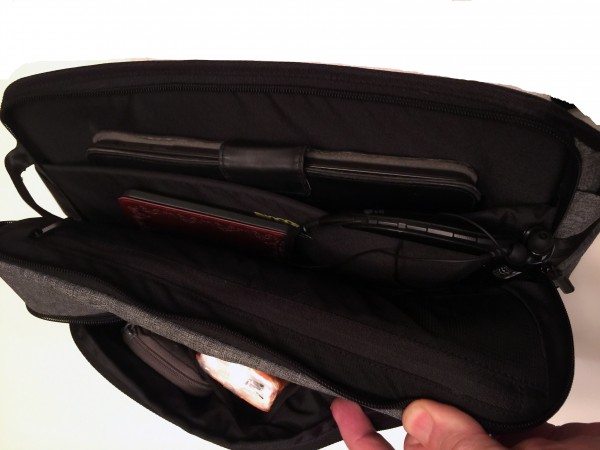 Speaking of the back of the bag.  The back of the Incase Reform Sling bag is extremely well padded and soft, making the bag extremely comfortable on the back.  The bag is fitted with two large padded areas (the bottom one is where the secret zippered pocket is located). As someone with a history of back problems, comfort is a primary feature I look for in a bag.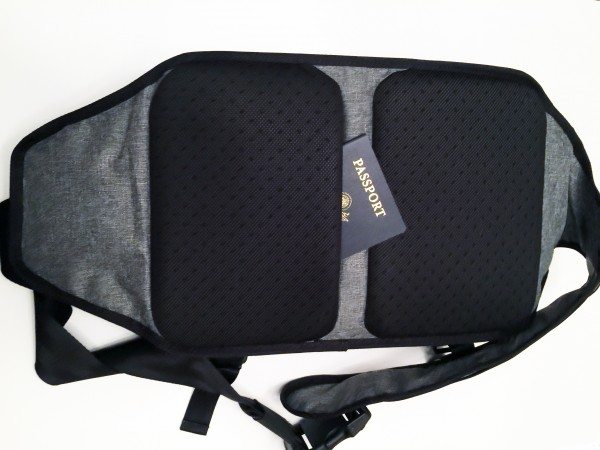 The styling of the bag is conservative with its heather gray color with black contrast. I would say that it could easily be used for office work, commuting bag, day bag, and everything a modern, urban, active user could need for carrying their tablet, small MacBook, and other daily essentials.
So I've gone over many of the positives for this bag.  It is spacious, well planned, shows attention to detail, and more than enough organizational features.  Now comes the bad news. The shoulder strap is just too short for me.  As can be seen by the below photos, while the straps work well for my 19 year old son, Zach, it doesn't work too well for me.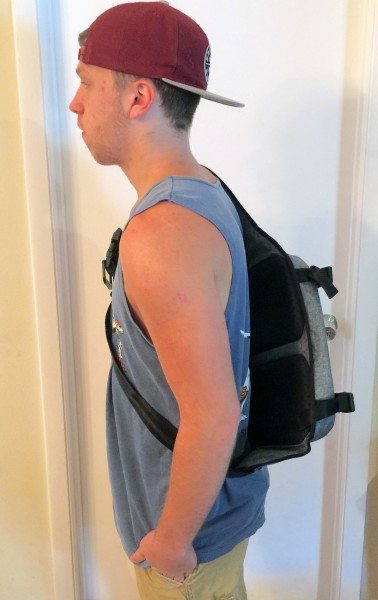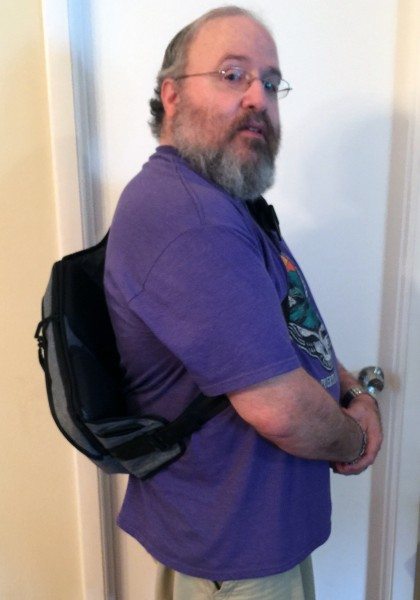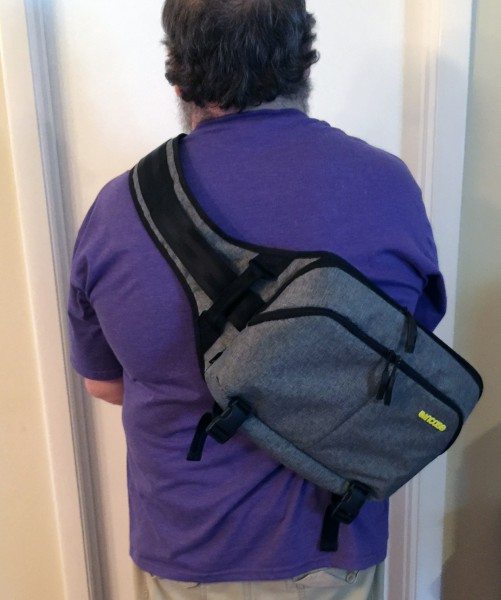 Don't get me wrong. I like the bag. It is spacious, not too large, and has enough pockets to hold my stuff. I wish the strap was longer though. As it is I have to use it more like a shoulder bag, or use the carrying handle.
Is the Incase Reform Sling bag perfect? No.  Does it have its place among your Gadgeteer gear bags?  Absolutely!  I really like this bag.  My only complaint is the length of the shoulder strap.  I have owned several Incase products and this one is definitely a keeper.  Just keep in mind that if you enjoy eating as much as I, this bag might not be the one for you.
Source: This bag was provided to me by Incase. Visit their site for more info and Amazon to order one.

Product Information
| | |
| --- | --- |
| Price: | $99.95 |
| Manufacturer: | Incase |
| Retailer: | Amazon |
| Requirements: | This bag is designed for the 12" MacBook and smaller, iPad - iPad Air, iPad Air2, iPad Mini - iPad Mini4, all Kindle tablets, all Android tablets up to 12" |
| Pros: | Well made, strong fabric and zippers, excellent organizational features, well-padded, comfortable to carry, nice color |
| Cons: | Shoulder strap is too short. |