We use affiliate links. If you buy something through the links on this page, we may earn a commission at no cost to you. Learn more.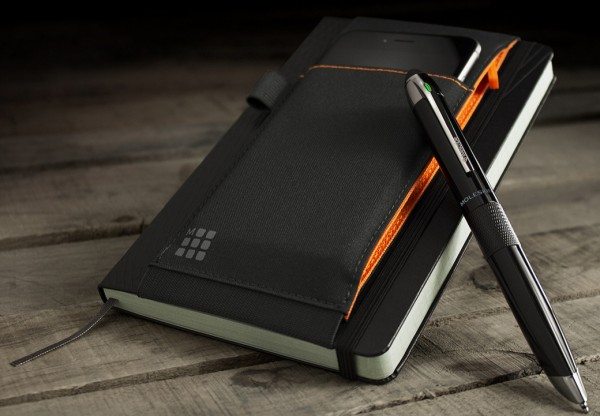 If you prefer manual act of writing with a pen on paper, to writing with a stylus on a glass screen, the collaboration of Livescribe and Moleskine will be of interest to you as it combines analog with digital. According to Gilles Bouchard, CEO, Livescribe:
With the Livescribe 3 Moleskine Edition, we are continuing that partnership, and further marrying the timeless process of writing on paper with the benefits of connected devices to the full variety of consumers – business people, writers, students – everyone who understands that there is something uniquely compelling about writing and drawing on paper.
Last year Livescribe launched Livescribe notebooks by Moleskine, but this new collaboration allows iOS and Android smartphone and tablet users to take their notes to the next level when they can be tagged, organized, searchable or even converted to digital text. As you write and draw with the Livescribe 3 smartpen in the Moleskine notebook, your handwriting instantly appears on your smartphone or tablet in the Livescribe+ mobile app. The app allows you to sync with recorded audio in the form of a pencast.
You can purchase a bundle which includes a Moleskine-branded Livescribe 3 smartpen with a stylus cap, 9 ink cartridges, a Livescribe Notebook by Moleskine, a Moleskine tool belt, a one-year subscription to Evernote Premium, and the free Livescribe+ mobile app, which is available for iOS and Android. The Livescribe 3 smartpen Moleskine Edition is currently available for preorder for $229.95 at www.livescribe.com, and will begin shipping later this month.